Welcome to Shippers and Carriers of USA. DispatchRay specialize in auto transport service across USA. From individuals or to other shipper sponsors, we can efficiently move cars fast and easy with qualified insured professional carriers. DispatchRay will connect you fast with thousands of carriers through our network or like greater network Central Dispatch. How does DispatchRay offer a better deal than others? Find out more by joining our car transport network for free. No monthly members fee for Shippers and Carriers! Our network system will organize your car shipment easy and fast. We have over 10 years of experience with the best auto shippers and best auto transport companies! Use our Free estimated auto shipping rates in USA.Our dedicated Auto Transport Agents team will give you the best deal on moving cars through our network. DispatchRay also provides auto carriers to list themselves for free! You can choose the right auto carrier company and get a free quote directly from them. Select auto transport service and find out if they can offer you a good deal! Remember that 75% of Auto Transportations providers online are Brokers! Search on Google or any search engine. Running from broker to broker makes no sense. Why do you need a car transport broker? DispatchRay will provide you a good quality peace of mind with auto transport service in USA! What are you waiting for! Come and join us free today.

Dispatch Ray
112 Carriage way Dr. Unit 204A
Burr Ridge, IL 60527
Phone: 708-298-4496
Email: info@dispatchray.com
WebSite: www.dispatchray.com
Click here to see Autobahn's ad in the AutaBuy Magazine.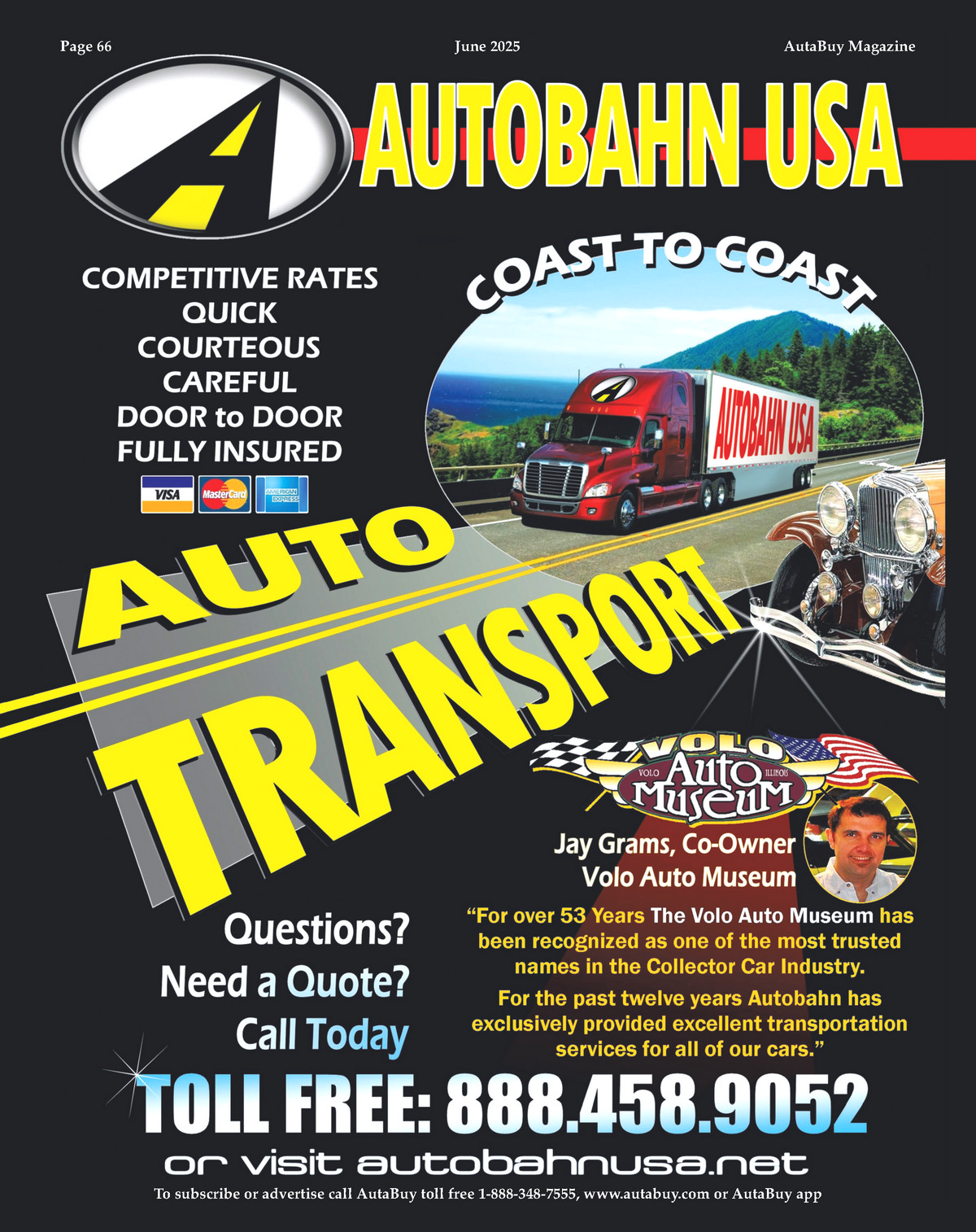 Autobahn Transportation Services, Inc.
12799 Archer Ave.
Lemont, IL 60439
Phone: 888-458-9052
Email: 4info@autobahnusa.net
WebSite: www.autobahnusa.net
Berkley Classics has been insuring collector vehicles for more than 40 years and takes great pride in delivering peace of mind through personalized service, flexible insurance solutions and advancing technology. We insure a wide range of vehicle types including antique or classic cars, pickups and motorcycles as well as street rods, modified or customized show cars, muscle cars, sports cars, modern collectibles, exotic vehicles, replicars, antique trucks, vintage military vehicles, historic tractors and vintage snowmobiles. 99% of calls are answered immediately or returned same day by our friendly, dedicated team, many of whom own collector vehicles themselves or have received specialized training. We offer an agreed value policy with nine different deductible options as well as discounts and coverage options to customize insurance to client needs and price point. Our online quote tool can provide an initial price estimate in as little as one minute.

Berkley Classics
PO Box 500
Luverne, MN 56156
Phone: 800-603-3330
Email: kmoore@berkleyclassics.com
WebSite: www.berkleyclassics.com
Being the largest Automobile Lender of it's type in the country, J. J. Best is recognized by Antique, Classic, Exotic, Muscle, Hot Rod and Sports car enthusiasts and dealers as the leader in the Classic Car automobile finance industry. Offering long terms and low rates, financing is available for most model cars ranging from 1900 to today. With the most knowledgeable staff available, your loan could be approved within 5 minutes and you maybe driving that dream car within 48 hours!

J. J. BEST BANC & CO.
60 North Water Street
New Bedford, MA 02740
Phone: 800-USA-1965
Email: info@jjbest.com
WebSite: www.jjbest.com
Page 1 of 2 (8 Matching Listings) click below for more pages