European Autobody, Inc.

5801 Congress Ave.
Boca Raton, FL 33487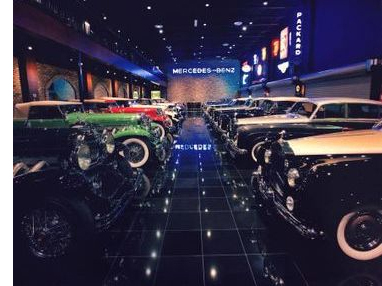 European Autobody, Inc has been in business for over 30 years sharing our expertise in locating fine automobiles all over the world.
Our showroom includes many award winning vehicles from Amelia Island, Boca Raton Concourse d'Elegance, Pebble Beach and the Winter Concourse d' Elegance. We also have a vast array of contacts to help you locate that new or pre-owned investment vehicle on your wish list. At European Autobody, Inc. we house over sixty high-end investment quality automobiles.
We offer Sales, Service, Restoration and Indoor Storage
Current listing for European Autobody, Inc. (70 Listings)

1964 Rolls-Royce Silver Cloud III

1964 Rolls-Royce Silver Cloud III Stock # 310 Engine: Transmission: Automatic Exterior Color: Maroon Interior Color: Tan VIN: LSEV367 Miles...

European Autobody, Inc.

561-498-5600

1956 Lincoln Mark II

Black with Red interior, fully restored, show winner, beautiful classic. Price: $125,000 (#172) Description: Complete Restoration, Concourse Show...

European Autobody, Inc.

561-498-5600

1976 Cadillac Eldorado Convertible

Blue with Blue interior, VERY LOW MILEAGE 8,850, original, running & driving, A/C, beautiful inside & out! Price: $29,000 (#331)

European Autobody, Inc.

561-498-5600

1976 Cadillac Eldorado Convertible

Chestnut with Tan interior, runs & drives, cold A/C. Price: $35,000 (#267)

European Autobody, Inc.

561-498-5600

1974 BMW 2002 TII

Blue with Tan interior, running & driving, nice interior. Price: $21,000 (#C5)

European Autobody, Inc.

561-498-5600

1947 Chevrolet 3100 Pickup

Red with Brown interior, complete restoration, running & driving, beauty inside & out. (#329)

European Autobody, Inc.

561-498-5600

1974 Rolls-Royce Silver Shadow

1974 ROLLS-ROYCE SILVER SHADOW. Blue with Tan interior. Only 64,265 miles! $24,000 (#328)

European Autobody, Inc.

561-498-5600

1983 Rolls-Royce Corniche

Blue with Blue interior, well serviced, only 71,354 miles. (#325)

European Autobody, Inc.

561-498-5600

2011 Bentley Mulsanne

Black with Black interior, runs & drives, excellent condition, beautiful inside & out. (#326)

European Autobody, Inc.

561-498-5600

1987 Rolls-Royce Silver Spur Limo

1987 Rolls Royce Silver Spur Limo Stock # 47 Engine: Transmission: Automatic Exterior Color: Black Interior Color: Tan VIN: SCAZN42A1HCX16316...

European Autobody, Inc.

561-498-5600

1929 Packard 2 DR. Convertible

Cream & Peach exterior with Tan interior, mint condition, beautifully restored. Show quality! Price: $119,000 1929 Packard 2 Dr. Convertible...

European Autobody, Inc.

561-498-5600

1928 Ford Model A "fresh Fish Company" BOX Truck

Black with Black interior, rebuilt motor, sealed beam headlights. Ready to drive anywhere. Price: $29,000 (#322)

European Autobody, Inc.

561-498-5600

1966 Renault Project Car

1966 Renault. Stock# 320 Engine: Transmission: Manual Exterior Color: Red Interior Color: Black VIN: R11330131502 Price: $5,000 Description: Project...

European Autobody, Inc.

561-498-5600

1966 Renault Caravelle Convertible

1966 Renault Caravelle Convertible. Green with Black interior, project car, needs restoration. Runs and drives. (#321)

European Autobody, Inc.

561-498-5600

1961 Rolls-Royce Phantom V

1961 Rolls-Royce Phantom V. Stock # 66 Engine: Transmission: Automatic Exterior Color: Silver Interior Color: Black VIN: 5BV99.

European Autobody, Inc.

561-498-5600

1921 Ford Model T

1921 Ford Model T. Black exterior, 4 cyl. engine, manual trans. Stock #313. Price: $20,000

European Autobody, Inc.

561-498-5600

Wood Packard Sign

Wood Packard Sign. 209a

European Autobody, Inc.

561-498-5600

Ford GT40 Kidde Ride

Ford GT40 Kidde Ride. 176

European Autobody, Inc.

561-498-5600

Conoco Sign

Conoco Sign. 52d

European Autobody, Inc.

561-498-5600

Auto Repair Storage Sign

Auto repair Storage Sign. 49d

European Autobody, Inc.

561-498-5600

Genuine Ford Parts Sign

Genuine Ford Parts Sign. 48d

European Autobody, Inc.

561-498-5600

Wood Cadillac Sign

43d n2 Wood Cadillac Signs (white). 43d & n2

European Autobody, Inc.

561-498-5600

Cadillac Sign

Cadillac sign. 41d

European Autobody, Inc.

561-498-5600

GTO Neon Sign

GTO Neon Sign. 23b

European Autobody, Inc.

561-498-5600

Shell Sign

Shell Sign. 22d

European Autobody, Inc.

561-498-5600

1 2 3 Next»