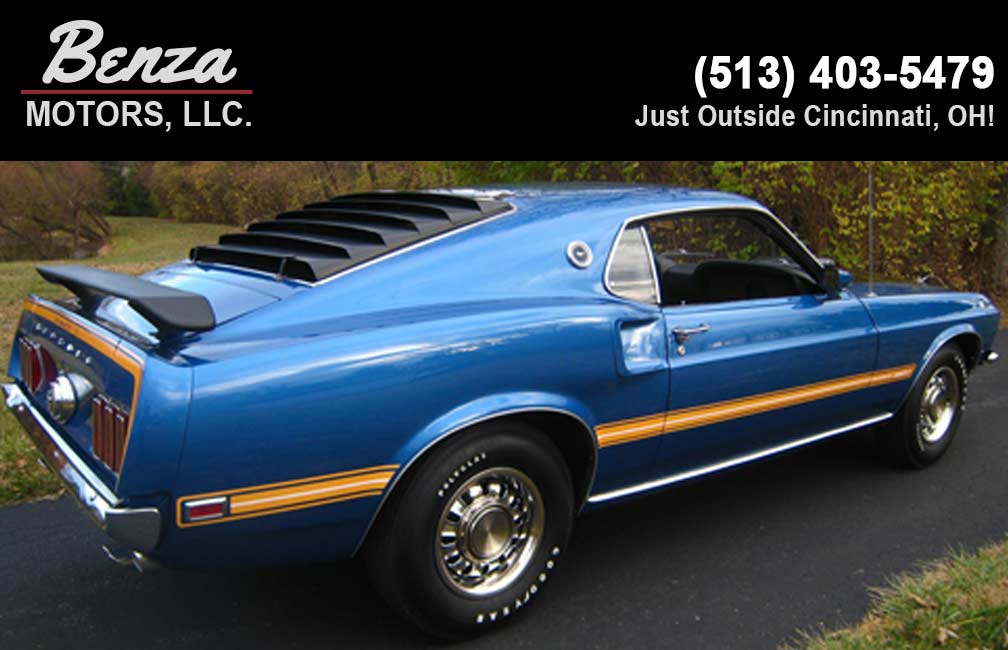 Welcome to Benza Motors
Benza Motors, LLC specializes in buying, selling and the restoration of 67'-70' Mustangs and Shelbys. Our cars promise to provide its customers with not only fun cars to drive and enjoy, but cars that can truly be considered INVESTMENTS. We focus on rare, hard to find cars that possess a quality and uniqueness that you can trust will always be in demand and increasing in value. We specifically focus on the 1969 Mustangs, Mach 1's and Shelbys with the famous R-code, 428 Cobra Jet Engines.
Mustang Restoration
We offer a full range of Services; from complete rotisserie restorations that would prepare a car for Concourse show level competition, down to making your dream car a reality by building it exactly how you always want it. We are experts in 1969 Mustangs and specifically the Cobra Jets, so expect to find we have more experience, parts and information in this category, then anyone else in the industry.
Visit our website - 50 photos of Each Car!
Current listing for Benza Motors LLC (16 Listings)

1969 Ford Mustang

Benza Motors LLC

513-403-5479

1969 Ford Mustang

Benza Motors LLC

513-403-5479

1969 Ford Mustang

$24,900

98,127 Miles

Blue

Benza Motors LLC

513-403-5479

1969 Ford Mustang

Benza Motors LLC

513-403-5479

1969 Ford Mustang

$95,000

100 Miles

Grabber Green

The efficient 3.6-litre naturally aspirated V6 engine with four overhead camshafts benefits from a lightweight construction. A balance shaft reduces...

Benza Motors LLC

513-403-5479

Shelby GT500 - 1 of 1

1969 Ford Mustang

$149,900

63,953 Miles

Orange

1969 GT500, 63,953 ACTUAL Miles, Very RARE 1 of 1 car. (see elite Marti report) The coolest thing about this...

Benza Motors LLC

513-403-5479

1969 Ford Mustang

$119,900

99,328 Miles

Red

1969 Ford Mustang Mach 1, Factory R-code, 4-speed, Candy Apple Red. Title shows 99,328 Actual miles. Full Concourse Restoration is...

Benza Motors LLC

513-403-5479

1969 Ford Mustang

Project car. With 2 build sheets and Marti report. Warning; this car is VERY rough and will need a LOT...

Benza Motors LLC

513-403-5479

1969 Ford Mustang

$119,900

18,708 Miles

Black

1969 Mach 1, factory R-code. Title shows 18,708 Actual miles! Originally Black Jade with White interior R-code. This car has...

Benza Motors LLC

513-403-5479

2006 Ford GT

Benza Motors LLC

513-403-5479

2013 Ford Shelby

$79,900

1,800 Miles

White

Benza Motors LLC

513-403-5479

2005 Ford Mustang

Benza Motors LLC

513-403-5479

1970 Ford Mustang

$59,900

34,100 Miles

Grabber Orange

Benza Motors LLC

513-403-5479

1970 Ford Mustang

Benza Motors LLC

513-403-5479

1970 Ford Mustang

$139,900

58,417 Miles

Yellow

Benza Motors LLC

513-403-5479

1969 Ford Mustang

$17,900

0 Miles

Champagne Gold

Benza Motors LLC

513-403-5479