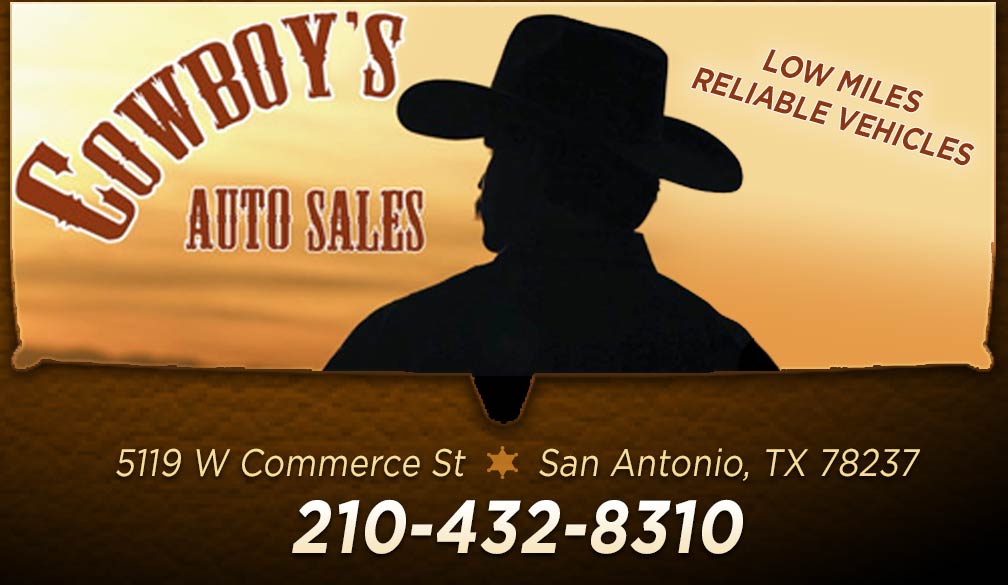 We can help you save money when
buying a used reliable car!
We would love to help you get the car you are looking for! Take advantage of our great prices and easy credit approval. Don't have credit? DON'T worry! Qualifying for our Buy Here-Pay Here program DOES NOT require good credit, a DL or SSN.
Current listing for Cowboys Auto Sales (7 Listings)

2013 Ford F-150

$9,998

165,390 Miles

White

Cowboys Auto Sales

210-432-8310

2019 Mitsubishi Mirage G4 ES 4DR Sedan CVT

$9,998

14,370 Miles

White

Cowboys Auto Sales

210-432-8310

2017 Nissan Rogue SV 4DR Crossover (midyear Release)

$12,999

62,150 Miles

Silver

Cowboys Auto Sales

210-432-8310

2017 Nissan Rogue SV AWD 4DR Crossover (midyear Release)

$14,499

77,953 Miles

Gray

Cowboys Auto Sales

210-432-8310

2018 Nissan Frontier S 4X2 4DR King Cab 6.1 FT. SB 5A

$16,499

49,055 Miles

White

Cowboys Auto Sales

210-432-8310

2013 Jeep Grand Cherokee Laredo X 4X2 4DR SUV

$11,299

101,670 Miles

Silver

Cowboys Auto Sales

210-432-8310

2018 Ford Fiesta SE 4DR Hatchback

$10,699

19,850 Miles

Silver

Brand NEW tires!!!

Cowboys Auto Sales

210-432-8310