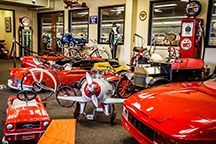 Since 1994, St. Louis Car Museum & Sales has provided quality special interest vehicles, motorcycles, boats and aircraft for collectors around the globe. Our variety of inventory is a testament to our passion for all things motor-related and allows our staff to cater to a wide range of automotive enthusiasts.

Here at the St Louis Car Museum we actively buy, sell, consign, and trade everything from sought after antique cars to highly collectible muscle and European sports models. Our experienced staff also works closely with specialty motorcycles, vintage boats, and automobilia. All items are expertly displayed in our climate-controlled, 85,000+ sq. ft. facility, complete with premiere Swisstrax Tile Flooring to ensure each vehicle is properly preserved.

Our packed classic car showroom is a "Go-To" destination!
Current listing for St. Louis Car Museum and Sales (35 Listings)

1971 Plymouth Road Runner

Coming soon.

St. Louis Car Museum and Sales

314-993-7104

1956 Packard Caribbean

Coming soon.

St. Louis Car Museum and Sales

314-993-7104

1955 Ford Thunderbird

Coming soon.

St. Louis Car Museum and Sales

314-993-7104

1934 Ford 40B Deluxe Fordor 1934 Ford Deluxe Fordor

Regarded by many Ford enthusiasts as one of the finest designs to own, the 1934 model year is quite the...

St. Louis Car Museum and Sales

314-993-7104

1972 Chevrolet Corvette

Attractive color combination on this very original, number's matching Corvette! Hails from California with prior owner of 31 years! The...

St. Louis Car Museum and Sales

314-993-7104

1960 Chevrolet Biscayne Sedan Delivery

Offered here is a 1960 Chevrolet Biscayne Sedan Delivery finished in a Black and Red two-tone combination over a Red...

St. Louis Car Museum and Sales

314-993-7104

2010 Lincoln Navigator

$22,900

Royal Red Metallic

We are pleased to offer this 2010 Lincoln Navigator 4x4 SUV finished in striking Royal Red Metallic with Premium Stone...

St. Louis Car Museum and Sales

314-993-7104

1940 Cadillac Fleetwood Sixty Special Town C 1940 Cadillac Fleetwood 60 Special

Cadillac Motor Company would reveal several new models in 1940 and say goodbye to others, marking the last year for...

St. Louis Car Museum and Sales

314-993-7104

1962 Ford Thunderbird Sports Roadster

Previously sold at the St. Louis Car Museum is a very low mileage 1962 Ford Thunderbird Sports Roadster surviving beautifully...

St. Louis Car Museum and Sales

314-993-7104

1962 Bentley S2 Saloon 1963 Bentley S2 Saloon

Post-war Rolls Royce and Bentley models are arguably one of the most beautifully sculpted, and most recognizable luxury vehicles ever...

St. Louis Car Museum and Sales

314-993-7104

1990 Nissan 300ZX Twin Turbo 1990 Nissan 300ZX Turbo

Nissan stepped up its game within the sportscar market in 1990 with the introduction of the new Z32 Generation Fairlady...

St. Louis Car Museum and Sales

314-993-7104

2019 Mercedes-Benz Metris

Offered here is a 2019 Mercedes Benz Metris Passenger Van professionally converted by the Springfield Coach Group, better known as...

St. Louis Car Museum and Sales

314-993-7104

1986 Lincoln Town Car

$14,900

Antique Gold Glamour Metallic

Offered here is a brilliantly maintained, 2-owner 1986 Lincoln Town Car with just 44,925 original miles! Finished in its factory...

St. Louis Car Museum and Sales

314-993-7104

1947 Kurtis Kraft V-8/60 Midget Race Car 1947 Kurtis Kraft Midget Racecar

In response to the fast-rising costs of racing in the 1940's, Frank Kurtis offered Midget racing cars in both complete...

St. Louis Car Museum and Sales

314-993-7104

1931 Ford Model A400 Convertible Sedan 1931 Ford Model A A400

History About Ford's Model A400 Example: As the original Ford Model A production was nearing completion, Ford announced a special...

St. Louis Car Museum and Sales

314-993-7104

1960 Alfa Romeo Giulietta Spider Veloce

History About Alfa Romeo's Giulietta Model: Since their inception, Alfa Romeo was a company born to race. Much like their...

St. Louis Car Museum and Sales

314-993-7104

1965 Colcock 17' Hydroplane Race Boat 1965 Colcock 17' Hydroplane

Offered for sale, and on display, at the St. Louis Car Museum is a custom built 1965 Colcock 17-foot Hydroplane...

St. Louis Car Museum and Sales

314-993-7104

1961 Dodge Dart Phoenix D-500

History About The Dodge Dart: Chrysler Corporation elected to divide the Dodge and Plymouth dealership network in 1960 allowing showrooms...

St. Louis Car Museum and Sales

314-993-7104

1973 Jaguar XKE Series III

For sale and proudly on display at the St. Louis Car Museum is a super original Jaguar Series III XKE...

St. Louis Car Museum and Sales

314-993-7104

2008 Jeep Wrangler Rubicon

Offered here is a 2008 Jeep Wrangler Rubicon 4x4 finished in Flame Red over new Red/Black combination leatherette interior. This...

St. Louis Car Museum and Sales

314-993-7104

2012 Mercedes Benz CL600

The third generation of the CL-Class Mercedes-Benz was introduced in 2006 and carried the line through to its production end...

St. Louis Car Museum and Sales

314-993-7104

1968 Ford Mustang Shelby GT500E 1968 Ford Shelby GT 500E

The list of iconic movie cars is long, and sometimes the sole basis for many car collectors worldwide. From popular...

St. Louis Car Museum and Sales

314-993-7104

1932 Ford Highboy 1932 Ford HI-BOY

Early Ford body designs have been a notoriously popular platform for customization into street rods for many years. Particularly the...

St. Louis Car Museum and Sales

314-993-7104

1949 Packard Super Eight Touring 1949 Packard Super Deluxe

After World War II, most manufacturers fulfilled the public's desire for new automobiles with continuations of the pre-war body designs...

St. Louis Car Museum and Sales

314-993-7104

1965 Chevrolet Corvette Fuelie 1965 Chevrolet Corvette

The 1965 Chevrolet Corvette continued on the success of the mid-year String Ray with subtle changes. The hood vents were...

St. Louis Car Museum and Sales

314-993-7104

1 2 Next»