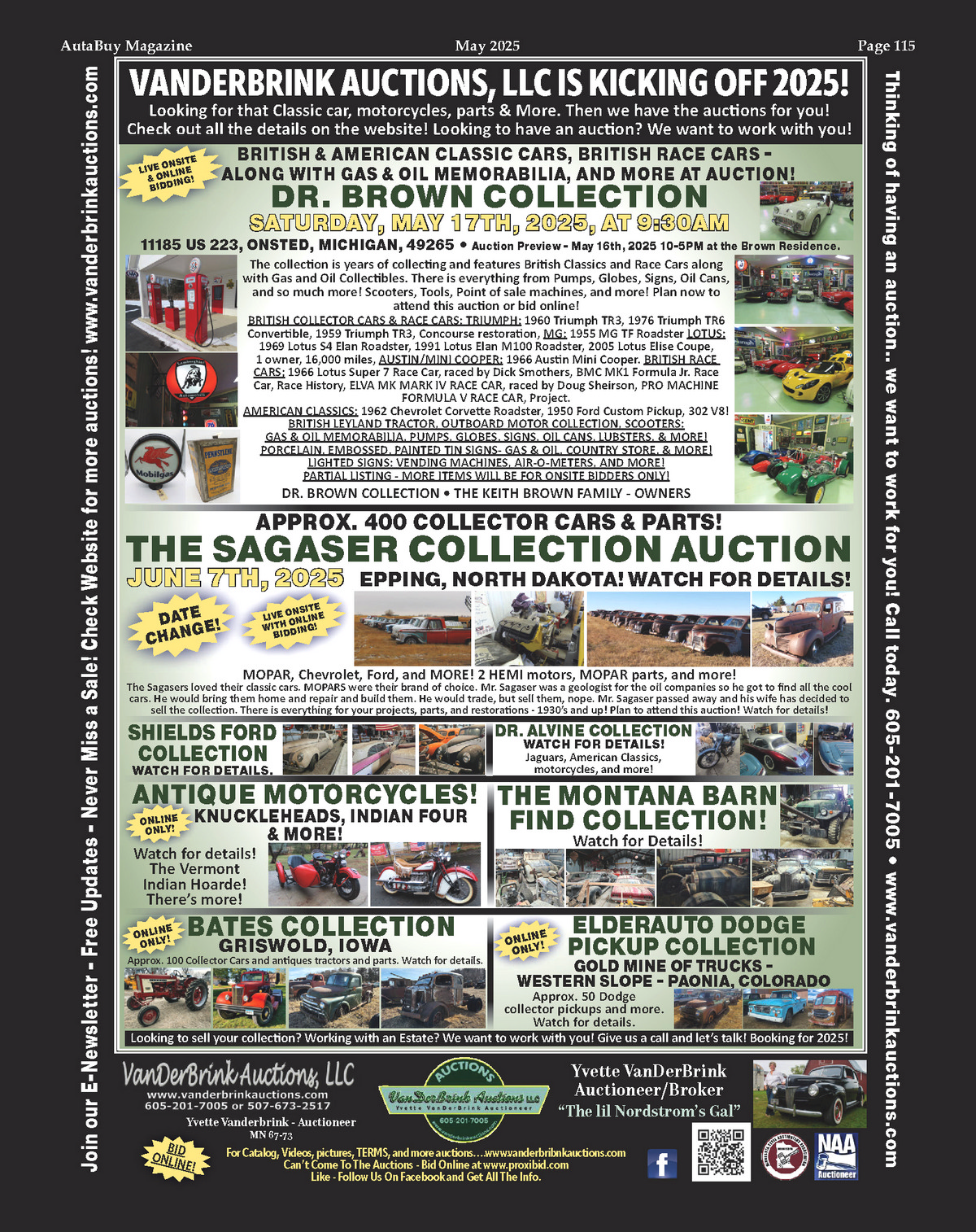 The following vehicles will be auctioned at:
Fabulous Chevrolet Collector Cars - The Don Beneveti Collection Auction :: Jul 25 Granger IA
AMAZING GM COLLECTOR CARS AT AUCTION-INCLUDING CARS WITH MSO
THE DON BENEVENTI COLLECTION
SATURDAY JULY 25TH, 2020 AT 10 AM

TO BE HELD AT THE BENEVENTI CHEVROLET DEALERSHIP- WILLIS AUTO GROUP
3333 IA 141
GRANGER, IOWA 50109

VanDerBrink Auctions is pleased to bring you the Don Beneventi collection. Lifelong collector Don Beneventi, and his family, have been in the car business for over 80 years. Since that first Chevrolet they sold in 1932, the Beneventi family has provided high quality service and sold vehicles all over the United States. Don Beneventi, recently sold his Chevrolet Franchise to the Willis Auto Group, and now will sell a portion of his amazing collection. The collection has been meticulously maintained and or restored to original factory condition. Many cars in the collection have never been offered for sale till now and still with window stickers and MSO documentation. This amazing collection will be sold in a celebration of GM and the Beneventi family for their life-long commitment to Chevrolet. Plan now to attend this amazing auction at the Willis Auto Group-Beneventi Chevrolet in Granger, IA.
The Beneventi family has sold Chevrolet cars since starting their dealership in 1932. Don and his family served the Iowa area and beyond with customer service and just the plain love of Chevrolet Cars and Trucks. Over the years, Don has saved back many new vehicles and trades. He has now sold the dealership to Willis Auto Group and he has opened the doors and will offer great Chevrolet Muscle, still on MSO, trades, Demos, and more. These fabulous 21 vehicles are like no other and you won't want to miss this auction. July 24th, 2020 will be a celebration and preview at the Dealership in Granger, IA.

Open house details
Friday July 24th, 2020 10 to 6PM. Come and preview the cars and celebrate the Don Beneventi Collection!