1950 HUDSON COMMODORE 8 4 DOOR SEDAN
PRICE DRASTICALLY REDUCED TO ONLY $2,500. Original Unrestored 1950 Hudson Commodore 8. 4 door sedan. Original 8 cylinder engine/transmission, not running. Car was parked in 1962, and still has the 1962 license plates on it. Has good floors, good trunk floor. There is some rust out in the front edge of the hood. Interior is original and in need of restoration. Is missing the radio. There are some of the dash pieces lying on the floor. Body has some damage to the right rear quarter panel, it is creased. Solid rockers. This is not a Rusty Car! If you are looking for a neat car to build, this is a good one. NOW PRICE IS ONLY $2,500 WAS $3,400. YES YOU WILL GET A CLEAR CLEAN TITLE TOO. Shipping is available. For more information call Bill at Motion Unlimited Museum and Old Car Lot, Rapid City, South Dakota. 605-348-7373.
Phone: 605-348-7373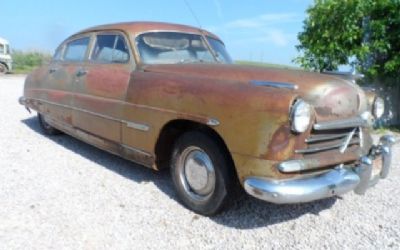 Click on the image for a larger picture.