1984 CADILLAC ELDORADO BIARRITZ SORRY JUST SOLD!!
This is an all original car that has always been serviced by Cadillac. Everything is in working order. The Vin Number to the 1984 Cadillac Eldo is 1G6AL 6782E E6715 81 No body damage straight as and arrow very nice paint top looks good and clean some service needed on the top of the back window (zipper?) just 54,000 miles original with Lots of paperwork. This car doesn't need anything that I can see just serviced by Cadillac. No rust now or ever solid car looks great over and under. Clean and solid body everything works!!!!!REAL GM ORIGINAL ELDORADO CONVERTIBLE LOW PRODUCTION !! ONLY 53,896 MILES !! !! AFFORDABLE CONTEMPORARY CLASSIC !! NEW TOP, like new POWER LEATHER FRONT SEATS, CRUISE CONTROL, TOURING SUSPENSION, Convertable top BOOT, NEW TIRES, GREAT DRIVER LOOKS LIKE A NEW BUMPER FILLERS, Show and go anywhere a true Classic!!!!!
Phone: 856-373-0911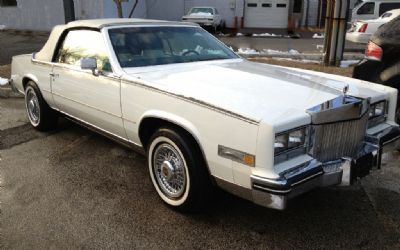 Click on the image for a larger picture.