Antique, Classic, and Highline car transportation service. Single or two car enclosed, two car open, or rollback. Serving New England to Florida. 25 years Bonded Licensed, and Insured.

Carroll Street Auto - Transport
68 Carroll Street
Manchester, NH 03102
Phone: 603-627-5595
Email: classiccarguy@comcast.net
WebSite: www.carrollstauto.com
Click here to see Autobahn's ad in the AutaBuy Magazine.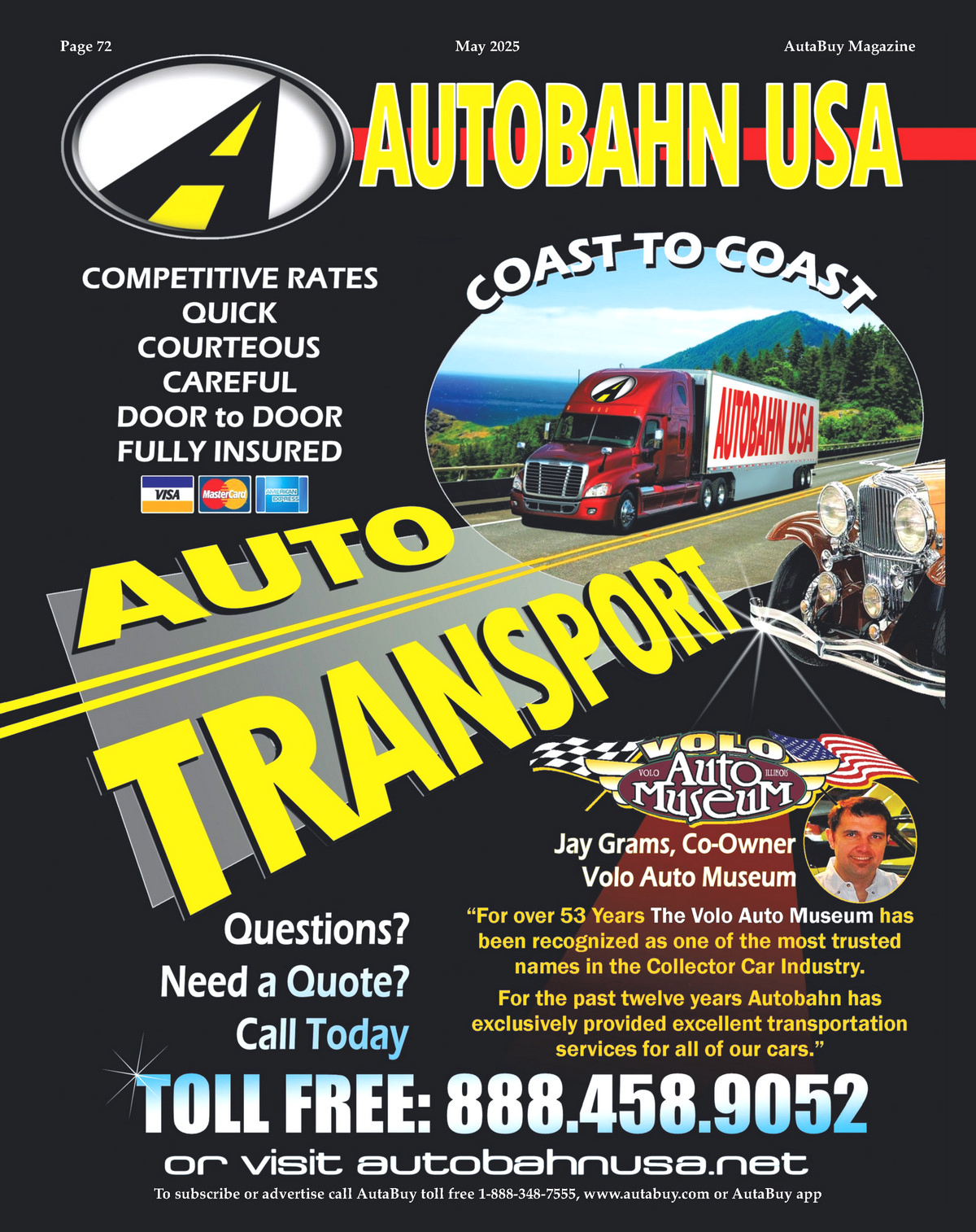 Autobahn Transportation Services, Inc.
12799 Archer Ave.
Lemont, IL 60439
Phone: 888-458-9052
Email: 4info@autobahnusa.net
WebSite: www.autobahnusa.net

I started Car Credit Counselor because I saw the need to educate the public about the auto finance process. I have learned that the more people know about what they are doing, the better the decisions they are likely to make. Everyday I spend 30+ minutes telling one person or one family at a time, information they never knew about why auto finance works the way it does. I can see the light switch go on in their faces as this new found knowledge sinks in and their decisions become more clear and easier to make. After being told over and over again that I should give seminars on this topic, I decided that I did need to find a way to get this information to as many people who wanted it as I could. So I wrote the "Guide to Buying a Car," and CarCreditCounselor.com was born! Don't go it alone with your credit. Get the advice and tips you NEED in these difficult financial times. GET EMPOWERED!!

Car Credit Counselor
Email: info@carcreditcounselor.com
WebSite: www.carcreditcounselor.com
Being the largest Automobile Lender of it's type in the country, J. J. Best is recognized by Antique, Classic, Exotic, Muscle, Hot Rod and Sports car enthusiasts and dealers as the leader in the Classic Car automobile finance industry. Offering long terms and low rates, financing is available for most model cars ranging from 1900 to today. With the most knowledgeable staff available, your loan could be approved within 5 minutes and you maybe driving that dream car within 48 hours!

J. J. BEST BANC & CO.
60 North Water Street
New Bedford, MA 02740
Phone: 800-USA-1965
Email: info@jjbest.com
WebSite: www.jjbest.com
Page 1 of 2 (7 Matching Listings) click below for more pages