You auta tell them you saw the ad in AutaBuy when you call or email.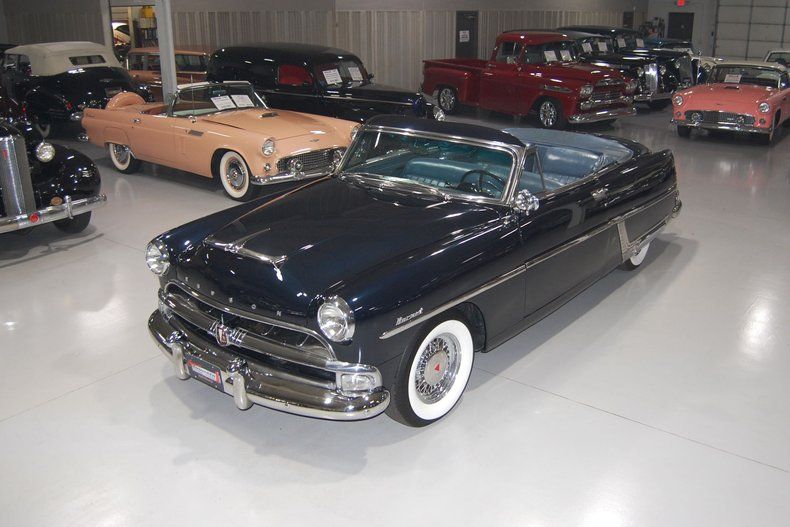 Exterior Color
Beret Blue
Stock #
8670

Estimated Monthly Payment
1954 Hudson Hornet Convertible Brougham
This 1954 Hudson Hornet Convertible is a stunning example that truly exemplifies the "Fabulous Hudson Hornet" moniker. 1954 was, to say the least, an eventful year for the Detroit-based Hudson Motor Car Company. On January 14, 1954, the board of directors voted to merge with the Nash-Kelvinator Corporation to form the American Motors Company, with Hudson and Nash (and Kelvinator) each becoming a division of the newly formed AMC. The merger was deemed official on May 1st following a vote of the shareholders on March 24th thereby creating the 4th largest American automobile manufacturer behind the "Big Three" (GM, Ford, and Chrysler). While Hudson was seen by some as the "underdog" in the consolidation effort, many inside the new American Motors Company did not see it that way, especially since many Hudson "people" took leadership positions in the new venture. Hudson's merger with Nash was also not without tumult in the early months, with the untimely death of George Mason and the company's failure to entice Packard from purchasing bodies from Hudson. Nonetheless, on October 3, 1953, Hudson became the first American automaker to introduce 1954 models to the public including the "Queen of the Hudson Hive," the Hudson Hornet. The Hornet was known as Hudson's top-of-the-line performance model and the 1954 models did not disappoint. The '54 Hornets featured new "Flight Line Styling" which took its inspiration from the growing aviation industry. The interior cabins were plush and due to Hudson's exclusive "Step Down Design" they also touted as being roomier and smoother while cruising down the road. This particular Hornet comes to us from a collector who truly enjoyed owning and caring for this iconic automobile. Under the hood on this '54 Hornet is a 308 Cubic Inch Inline 6 equipped with the optional aluminum head and "Twin-H Power" dual 1 barrel carburetor setup. The 308 Hornet Big Six is hooked up to an Automatic Transmission ensuring that just about anyone can take this baby for a spin around the block. Being that the Hornet was the top-of-the-line model for Hudson, they (like this one) came loaded with many options! With power steering, getting in and out of those tight parking spaces at car shows or your local drive-in is a breeze. Power front disc brakes make bringing this 3800 pound beast to a stop much easier. A modern air conditioning system has also been tastefully added so that you can stay cool even on the hottest summer days. One of the coolest features on any 50s Hudson is the light up emblem in the center of the grille and this one works great! The black canvas convertible top is in wonderful condition and goes up and down with the simple flick of a switch, and when down, tucks neatly under a blue vinyl boot. The exterior on this Hudson Hornet has been refinished in Beret Blue giving the car a truly elegant look. Riding on wide whitewall radial tires with chrome wire rims, this classic 50s Hudson has a fantastic look and even better ride. The interior this Hornet Convertible is absolutely gorgeous! The front and rear bench seats have been beautifully reupholstered in Blue leather that complements the exterior look of the car. The dash, upholstered door panels and steering wheel all appear to be in their stock configuration and are in wonderful shape as well. The power windows work great, going up and down with ease. The dash is equipped with a 120 MPH speedometer, temperature gauge, fuel gauge, clock and a push button radio. A Stewart Warner amp gauge and oil pressure gauge, as well as an accessory temperature gauge have also been tucked neatly under the dash for improved performance information output while cruising. Whether you're looking to buy your very first classic car or you're an avid Hudson collector, this 1954 Hudson Hornet Convertible Brougham would make an excellent choice. Give us a call today!
*308 Cu. In. Inline L-Head 6
*'Twin H' Dual 1 Barrel Carburetors
*Automatic Transmission
*Power Front Disc Brakes
*Black Cloth Power Convertible Top
*Power Steering
*Upgraded Air Conditioning
*Power Windows
*Beret Blue Exterior
*Blue Leather Interior
*Stock Instrumentation
*Odometer Reads: 7,354 Miles
If an inaccurate automobile price is inadvertently listed on this Website, Seller reserves the right to NOT honor the erroneous price.
For more information and a current list of vehicles, call 763-428-7337.
Exterior Color
Beret Blue
Stock #
8670

Estimated Monthly Payment
Ellingson Motorcars LLC

Call 763-428-7784

ROGERS, MN

Mention

AutaBuy.com

when you call.
Do you have a similar car to sell? List It Now!