You auta tell them you saw the ad in AutaBuy when you call or email.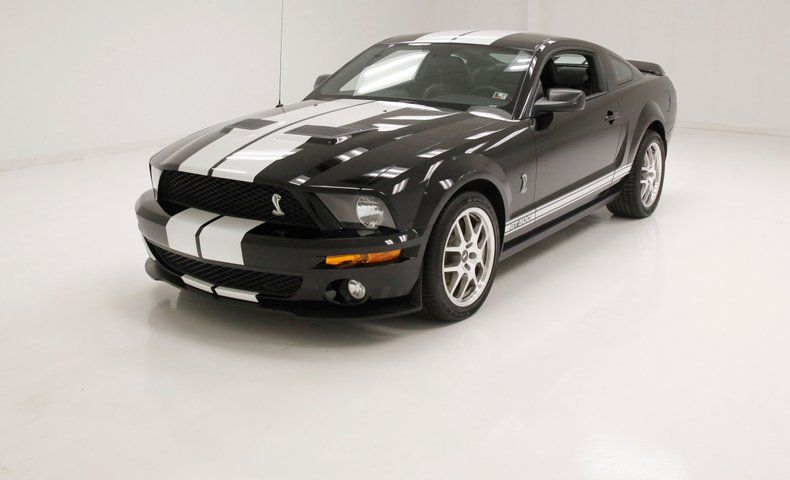 Exterior Color
Black
Stock #
3888

Estimated Monthly Payment
2008 Ford Mustang Shelby GT500
2008 Ford Mustang Shelby GT500
Any organization that is still thriving over 100 years after its founding is bound to have a number of important people come and go throughout its history, and this especially rings true for the Ford Motor Company. Beginning with Henry Ford himself, many members of the Ford family left their mark and carried the mantle for their namesake's company throughout the 20th Century and beyond. Many memorable people have come and gone over the years, but one of the most influential men in the history of Ford was never a full-time employee of the company. That individual was Carroll Shelby. From the early 1960s all the way to his death in 2012, Carroll Shelby had a relationship with the Ford Motor Company, which, like the American automotive industry, had its share of peaks and valleys.
For consignment the result of a collaboration with Carrol Shelby and the blue oval, and you know it has some pumped up HP's (500) from a serious engine (5.4 Liter Supercharged V8). It is also exuberantly draped in Ebony with a racing stripe, and has an eye popping appealing and mesmerizing comfortable leather interior. Purchased by our consignor's husband from his friend, and the gentlemen took a nice ride together in the car, but sadly shortly after this ride our consignor's husband passed away. Now here in our East Mallway with a mere 851 actual miles and waiting for you to add to your collection.
Exterior
Maintaining the throwback look of the original Mustang with their brooding grille and horizontal hooded headlamps, to the now lack of a hockey stick cove in the front quarters and doors, to the B pillar vent now a window, and rear spoiler, we see a draping of glossy sinister Ebony on straight steel panels, and dual wide racing stripes in shining white, running up the center front bow to stern. 18-inch polished factory spoked mag style wheels are on front and rear wearing their original tires but do show with some delamination of the clear coat on each wheel. The 3 grouping of the vertical rectangle tail-lamps also goes back to its roots of design, as does the now louver-less rear glass which sweeps downward toward the trunk lid. Thin white stripes with GT 500 logoing graces the rocker panels, speak loudly and carry a big stick!
Interior
Door panels make use of some perforated vinyl inserts as well as textured molded plastic and even the design of this panel is reminiscent of model years that have come before. Beautiful high back buckets for the front have tuck and roll inserts and smooth black leather bolsters. Embroidered within the backs between the seat back and integrated headrest is a Cobra badge looking ready to strike. The 2 plus 2 rear seats are tight but comfortable and covered all in leather the same as the buckets. A center console houses the shifter, and some storage rises from the center hump and provides room for the AM/FM/CD Shaker 1000 stereo. To the drivers dash we turn our eyes and more retro with the dual round deep-set speedo and tach, with a central info screen in digital form. This is fronted by the original leather wrapped and red stitched steering wheel complete with cruise control buttons. Black carpet covers the floors and is protected by black carpeted floor mats.
Drivetrain
Is 500 horses enough for you? It is all buttoned up under the hood in a very clean engine bay, and it presents itself as a DOHC 5.4 Liter V8 that just so happens to be supercharged. EFI and a TR6060 6-speed manual transmission with a Ford 8.8-inch 3.73 TracLoc rear axle move you forward.
Undercarriage
Save for some surface rust on the suspension and untreated components the undercarriage could be considered showroom. A stainless exhaust runs underneath, and still is wrapped by the factory part id bands. We can note independent with coil springs in front, and a 3 link with Panhard bar suspension on the rear. Power Brembo disc brakes are dealt out on the front, power discs on the rear and all is looking excellent underneath. An advance trac stability system is also on this unit.
Drive-Ability
One needs to be very gentle with a car that produces 500hp, and even more careful with such a low mileage count we kept our drive short and our right boot light. Lights right up and has a menacing growl as we made our way to the test track. Acceleration is neck snapping, handling is on rails, and steering response is lightning quick. It is a nice cruiser especially in 6th gear, it feels like it could go on forever, but sadly our test drive had to come to an end.
Holy Hooks! would sum this car up, with eye popping HP, skin hugging leather seats, plenty of conveniences and loads of fun, this throwback design is very modern and stylish as well as super clean lines, which does not allow the earlier models to even hold a candle to this performer, but it pays tribute to those that have come before it.
VIN DECODE
1ZVHT88S585197130
1ZV-Automotive Alliance International Ford Passenger Car
H-Manual Belts, Front & Side Airbags
T88-Shelby GT 500 Coupe
S-5.4L V8 500hp
5-Check Digit
8-2008
5-AAI: Flat Rock, MI Assy Plant
197130-Sequential Unit Number
Classic Auto Mall is a 336,000-square foot classic and special interest automobile showroom, featuring over 650 vehicles for sale with showroom space for up to 1,000 vehicles. Also, a 400 vehicle barn find collection is on display.
This vehicle is located in our showroom in Morgantown, Pennsylvania, conveniently located just 1-hour west of Philadelphia on the I-76 Pennsylvania Turnpike. The website is www.classicautomall.com and our phone number is (888) 227-0914. Please contact us anytime for more information or to come see the vehicle in person.
Exterior Color
Black
Stock #
3888

Estimated Monthly Payment
Classic Auto Mall

Call 888-227-0914

MORGANTOWN, PA

Mention

AutaBuy.com

when you call.
Do you have a similar car to sell? List It Now!