You auta tell them you saw the ad in AutaBuy when you call or email.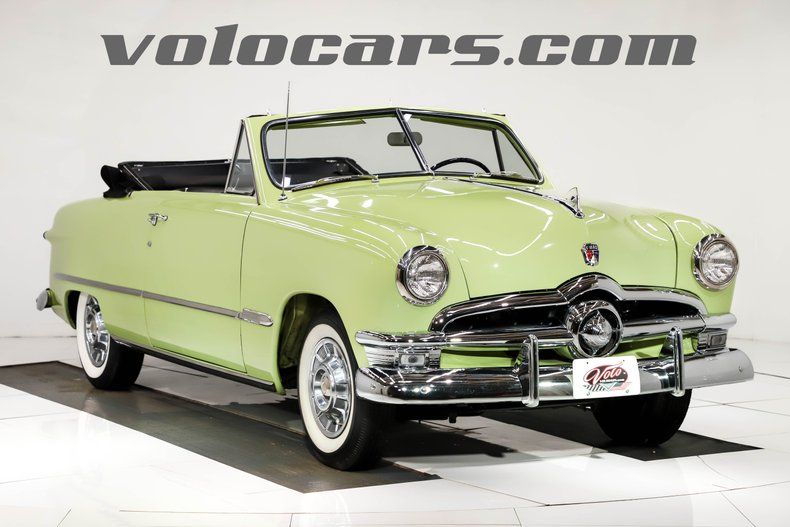 Exterior Color
Sportsman Green
Stock #
V20259

Estimated Monthly Payment
1950 Ford Custom
We just acquired this from a local collector. It is beautifully restored- glass finish paint, genuine leather upholstery and a rebuilt flathead that runs as quiet as a mouse in slippers. He took the car in for inspection and service right before bringing it to Volo.
EXTERIOR: The body is excellent. It is straight, no dents, damage, bubbles or problem areas. The body panels fit square and flush. The 3 rib fender skirts are painted and included. The car is repainted original Sportsman green. It is polished like glass. I did not find any cracks, chips or scratches. The chrome and stainless trim looks like it's been all replaced. It has a rich black cloth convertible top. Weatherstrips and gaskets were replaced. It has reproduction whitewalls and a popular 50s upgrade- Sombrero hubcaps.
INTERIOR: The seats are reupholstered in genuine leather, they are in excellent shape. Door panels are redone. The metal trim is repainted smooth and glossy. Overall the knobs, heater controls, steering wheel, gauge cluster look great. It has rubber mat in front, carpet in the rear, both in great shape. The interior lights work, horn works, blower switch was just rebuilt.
ENGINE COMPARTMENT: Completely rebuilt flathead V-8. Wow, this is how all Flathead should run, it is sooo smooth. The block was magnafluxed and bored 60 over. The crank was reground and the balanced along with the clutch and flywheel assembly. The cam and main bearings were replaced. Pistons, wrist pins, rings, cam gear, oil pump were replaced. The valves and seats were reground. Oil was just changed. Every component looks proper and clean. The engine bay is painted very smooth and glossy.
TRUNK COMPARTMENT: Rock solid metal very nicely painted. The well liner, rubber mat and weatherstrip were replaced.
UNDERSIDE: The brakes were just serviced. Replaced master cylinder, brake switch, rear hose and rebuilt wheel cylinders. Front end was inspected, idler arm and bracket were replaced. Looking up at the motor, trans and driveshaft they are very clean. It has the manual 3-speed with overdrive. The overdrive unit looks recent. Rear end lube was changed. It has a hole in the tailpipe, that's a perfect reason to put dual glass packs on!
This is one of those cars that became more impressive the closer I looked. I'm going to call it show quality and it runs so nice too.
I, Jay Grams, take pride in personally writing the descriptions for virtually every car for about the last 30 years now. A significant amount of effort goes into fact checking. What I am offering is my professional impression of the vehicle.
Our salesmen are happy to assist with descriptions and making sure your questions are answered. One great suggestion is letting us do a walk around video that explains the car's condition in detail.
**These cars are displayed in a museum. If interested in a particular car make an appointment with a salesman to see that car. Without an appointment there is an admission fee to enter the showroom. If you buy a car, your admission will be refunded and you will be given a 1 year membership.
815 385 3644 9-5 central
Sales@volocars.com Answered ASAP
Overdrive
Fender skirts
Whitewalls
Sombrero caps
Leather upholstery
Price: $39,998.
Price: $36,998.
Exterior Color
Sportsman Green
Stock #
V20259

Estimated Monthly Payment
Price: $39,998.

Price: $36,998.

Volo Auto Museum

Call 815-385-3644

VOLO, IL

Mention

AutaBuy.com

when you call.
Do you have a similar car to sell? List It Now!