You auta tell them you saw the ad in AutaBuy when you call or email.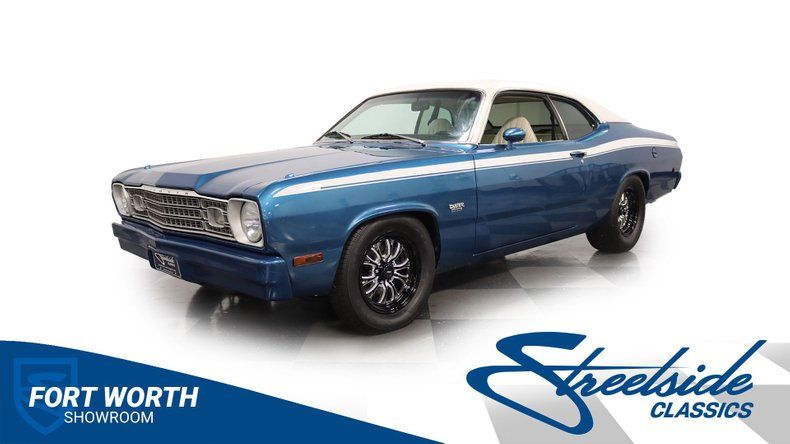 Exterior Color
Blue
Stock #
5499-DFW

Estimated Monthly Payment
1974 Plymouth Duster Restomod
The Plymouth Duster has always been about affordable, lightweight fun. Well, things just got serious with this 1974 Duster Restomod coupe, which gets all the traditional Duster stuff right (light weight, conservative styling, cool look) and adds a 21st century twist in the form of a fuel-injected 5.7 liter Hemi and a modern automatic transmission, 4-wheel disc brakes, and an A/C interior, creating one heck of a cool Mopar resto-mod.
There's just no way you could build this car yourself for the asking price, and if this car is still in the showroom two weeks from now, I'll be shocked. The blue metallic paint is a close approximation of B5 Lucerne Blue, which was a very popular color for Mopars in the '70s, and it looks awesome stretched over this semi-fastback A-Body. Finished to a strong driver-grade, the paint is properly shiny and very handsome with only minor imperfections to speak of, about what you'd expect on a vintage muscle car built to drive. It's the perfect blend of pretty and blue-collar, a combination that's worked on the Valiant/Duster cars for years. White Duster 'billboard' decals slash down the profiles to break up the blue paint and add a performance look, matching the new white vinyl top perfectly. Add in the color-matched bumpers and the aggressive rake with the big slicks out back, and you get a compact package that looks like fun and wants to run. Again, it's not perfect, but rather pure, great-looking driver-grade, and there's no shame in that, especially since it will be even more adept at luring in unsuspecting drivers on the street who figure it's just another garden-variety small block Duster. The decals are recent, so they're crisp and nicely rendered and the sheetmetal and panel gaps are quite good throughout, so it's obviously been a clean car all its life. Add in a few discreet HEMI emblems on the front fenders, however, and this car is going to generate a few double-takes.
The interior got a nice makeover, too, but doesn't lose any of its honesty and working-class roots. White bucket seats straddle a factory center console and set the sporty theme, and the white vinyl upholstery is in good order with no splits or tears. Matching white door panels are in good order as well, recent black carpets look good and offer protective carpeted mats, and the fat Grant steering wheel feels great during white-knuckled driving. The original black dashboard is intact but the gauges are now modern black-faced units that look awesome inside a bright bezel, and a big Pioneer multi-media head unit was installed in the center of the dash to handle the entertainment, and it's matched with a Kicker stereo system with upgraded speakers in the cab and a big amp in the trunk. Inside the woodgrain adorned center console, a tall Lokar shifter allows do-it-yourself shifting of the modern-tech automatic gearbox, and the under-dash A/C system is all there but needs a little service to blow cold once again. There's also a reasonably spacious back seat and a giant trunk that was neatly finished with gray carpeting throughout.
Big bucks were spent under the hood, where room was made for a thumping 5.7 liter HEMI V8 that's neatly fitted inside the painted and detailed engine bay. The fuel-injected unit provides the instant starting, easy idling, and good fuel economy that we've come to expect from our modern daily drivers, and it pulls the rather lightweight Duster with relative ease. It's a big performance boost over the original wheezing 318 and service access remains very good, with modern accessories and components that can be worked on at just about any Chrysler/Dodge dealer. A giant aluminum radiator and open-element air cleaner keep things cool, all the wiring and plumbing is very clean and organized, and a modern alternator and belt system cranks this powerful beast right up every time. Underneath you get a 4-speed automatic transmission (although the builder reports that the 4th gear was purposely not hooked up), so this is a very easy cruiser and that injected HEMI sounds awesome exhaling through a custom Magnaflow X-pipe dual exhaust system with turndowns just underneath the rear bumper. 4-wheel disc brakes improve stopping power tremendously, tubular A-arms, coilovers, a big sway bar, and a power rack-and-pinion steering system were all added up front and steady the handles, and that killer stance is set with 165/80/15 front Nexens and 275/60/15 rear Mickey Thompsons wrapped around a slick set of Jegs alloys.
A very slick resto-mod that's read for the road today, this Duster already has all the hard work finished. All it needs now is a willing dance partner. Call today!
Price: $35,995.
Price: $34,995.
Exterior Color
Blue
Stock #
5499-DFW

Estimated Monthly Payment
Price: $35,995.

Price: $34,995.

Streetside Classic Cars Dallas

Call 817-764-8000

FORT WORTH, TX

Mention

AutaBuy.com

when you call.
Do you have a similar car to sell? List It Now!