You auta tell them you saw the ad in AutaBuy when you call or email.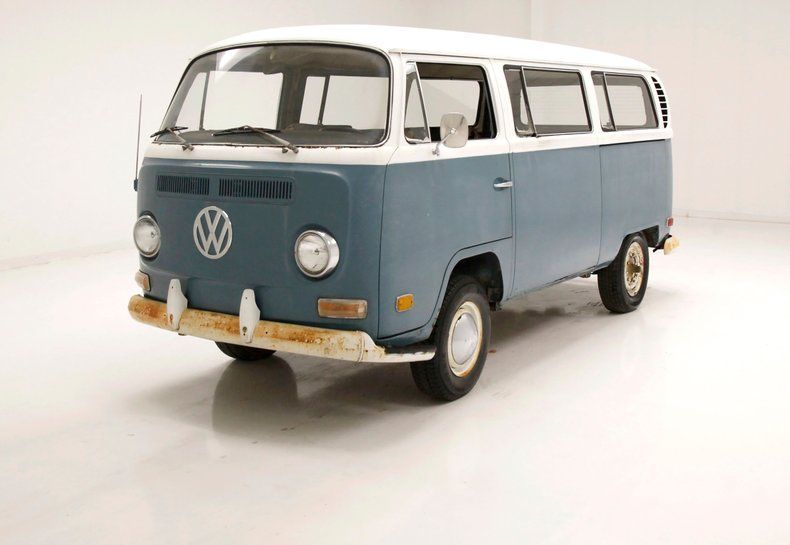 Exterior Color
Blue
Stock #
3917

Estimated Monthly Payment
1970 Volkswagen BUS
1970 Volkswagen Bus
The Volkswagen Type 2, known officially, (depending on body type), as the Transporter, Kombi or Microbus, or, informally, as the Bus (US) or Camper (UK), Po de Forma (Loaf of Bread...Portugal) is a forward control light commercial vehicle introduced in 1950 by the German automaker Volkswagen as its second car model. Following " and initially deriving from " Volkswagen's first model, the Type 1 (Beetle), it was given the factory designation Type 2.
A windowed passenger bus smack dab in the middle of the "Hippie" era, we have a consignment like no other microbus in our Hallowed Halls. This barn find example had some mechanical work performed, (check out that engine), but still is in need of exterior and interior work all the while retaining its familiar design with an aged look. Rust stained painted bumpers, a bit of rust, dents and dings, mere battle scars of a life lived in service to its owners. A diamond in the rough, awaiting your capable hands to create something special....retro style.
Exterior
Bathed in its faded blue and white paint, there is plenty of wear off from the passage of time. Slight surface rust on various areas and some invasive rust, both new and peeking through prior repairs is noted. Gone was the 11, 13, 15, 21, 23 window design. In its place was a body with big and long windows on front, rear, on either side. And no more the split window. Passenger versions dumped the double doors, replaced with a single right-side sliding door. The face has totally changed, the new bus has a flatter brow with less character but stronger bumpers and better headlamps. Chrome trimmings are present and accounted for, and these include the door handles, and the VW round front badge. Rust stained bumpers adorn both the front and rear of the bus and at the rear we see louvered inlets up high on either side to help the air cooled flat 4 cylinder breath and stay at optimal temperature. Surface rusted white painted steel wheels are on all 4 corners with the fronts being dressed with lightly tarnished VW poverty caps.
Interior
With a swing of the front door we are met with a full unrestored interior. Black vinyl door panels grace both front doors and sliding side right side door with all presenting in original but worn condition and in need of a good cleaning. This vinyl covering is also installed on all interior side panels in matching condition. Front bucket seats, in more black vinyl, appear to have been on the losing end of an encounter with a Bengal tiger and will need recovering. The factory steering wheel sits in front of the black padded dash, complete with black textured finish, inset round gauges, heater slides and the factory AM/FM radio. Moving rearward we see a center bench seat in white vinyl with seating for 2 and a rear bench in black vinyl to accommodate 3. Thes seats, while not torn, are in need of a good cleaning. Hanging above is a soiled but complete white vinyl headliner and down below we see bare flooring with some areas of invasive rust. As a final note, under the dash we see a spaghetti nest of wiring hanging and some groovy deep pile blue shag carpeting.
Drivetrain
Opening the rear engine bay, we see a like new 1600cc powerhouse engine that appears to have been recently rebuilt. This is topped with a 1-barrel carburetor and has a 4-speed manual transmission. A 4.857 rear axle is on and transfers power seamlessly to the rear wheels.
Undercarriage
Plenty of surface rust seen on the frame and rockers, and some spotting of rust on the ribbed floor pans. A few areas of invasive rust are noted, and we see that the driver's front bumper mount has rusted away from the sub-structure. We see independent suspension front and rear and for stopping power we have front disc brakes and rear drums. A single exhaust system with dual tips handles the exhale.
Drive-Ability
With the new power plant, this van fired right up, and accelerated and handled the test track with flying colors. While this bus drove well, speeds were kept low due to severe dry rot of the tires.
Despite its aged exterior appearance, this bus has potential to become anything you want, be it an advertising marquis for your business or a retro throwback hauler for you and your buddies to tour the country following your favorite band and enjoying the devil's lettuce. With a seemingly rebuilt engine, the only limit is your imagination. Dude! Pass the dutchie to the left hand side man!...and pick up that chick we just passed by with her thumb out, it's off to Haight Ashbury man.
Classic Auto Mall is a 336,000-square foot classic and special interest automobile showroom, featuring over 650 vehicles for sale with showroom space for up to 1,000 vehicles. Also, a 400 vehicle barn find collection is on display.
This vehicle is located in our showroom in Morgantown, Pennsylvania, conveniently located just 1-hour west of Philadelphia on the I-76 Pennsylvania Turnpike. The website is www.classicautomall.com and our phone number is (888) 227-0914. Please contact us anytime for more information or to come see the vehicle in person.
Price: $18,000.
Price: $16,500.
Exterior Color
Blue
Stock #
3917

Estimated Monthly Payment
Price: $18,000.

Price: $16,500.

Classic Auto Mall

Call 888-227-0914

MORGANTOWN, PA

Mention

AutaBuy.com

when you call.
Do you have a similar car to sell? List It Now!