You auta tell them you saw the ad in AutaBuy when you call or email.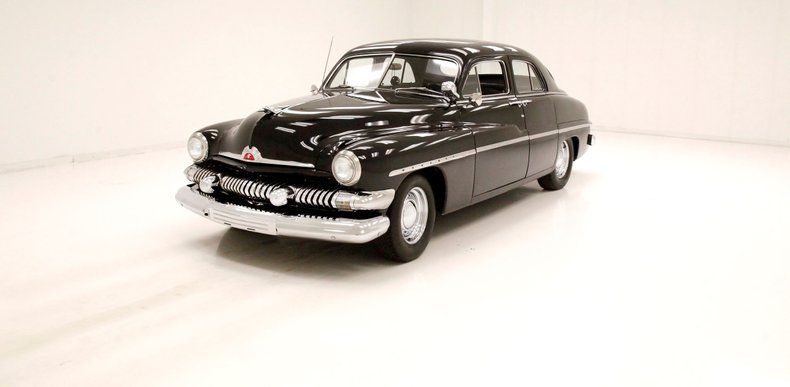 Exterior Color
Black
Stock #
5105

Estimated Monthly Payment
1950 Mercury Eight Sedan
1950 Mercury Eight Sedan
Mercury is a defunct division of the U.S. automobile manufacturer Ford Motor Company. Marketed as an entry-level premium brand for nearly its entire existence, Mercury was created in 1938 by Edsel Ford to bridge the price gap between the Ford and Lincoln vehicle lines. The Mercury division got an all-new platform and body shell for 1941, shared for the first time with the Ford passenger car line, which was also redesigned that year. The Mercury version sported a wheelbase of 118 inches, four inches longer than its Ford stablemate, while the overall length was an expansive 202 inches, creating a package that was in Pontiac/Oldsmobile territory in size and price. Mercury was also distinguished in these years by its larger, more powerful engine: 239ci and 95hp, compared to the Ford's 221ci and 90hp. Naturally, this explains why the Mercury version of the venerable flathead V8 was particularly prized by hot rodders.
For consignment, a 1950 version of the Mercury Eight Sedan. This 50's "looker" is adorned with lots of chrome, black paint and 4 doors. It has a nicely rounded design, updated like new top pine gray interior, and a powerful 355 V8 mill under the hood. A real jellybean of a car in its looks, you can roll down the road in Mercury style and class, and the exhaust gurgle will give you away.
Exterior
With this car I need to start at the very beginning which means the back. Yes the back, with its rounded over trunk line, rounded rear quarters on either side, and curved around lower chrome bumper. Curve around horizontal tail lights are on these fenders and these sport large chrome bezels. A trim spear runs the length of the car and is chromed with front and rear spear points. An elongated oval rear glass is just above the trunk, and this frames the back of the rounded roofline. The rear doors have a wing window in them for extra ventilation and are surrounded in stainless trimmings. The bulbous front quarters encroach into the front doors just a bit, then die before the latch handles. These have round headlights in their front partisans and work as accomplices to the wide rounded over "aero" hood. This hood has a chromed stylized airplane hood ornament, and an art deco inspired Mercury badge on its very front surface. This part is floating just above the chromed shaver styled vertical ribbed chrome grille that sport dual chromed "Dagmars" on either side. Below is another big chrome bumper that wraps around the front quarters. 15-inch chromed steel wheels are all around and have moon cap centers and wide trim rings with them. These are all wrapped in 215/75R15 rubber from the 13th week of 2010.
Interior
A swing of any of the 4 doors reveals a two tone black leatherette upper and armrest, and a gray suede lower with chrome thin delineating trimming. The very lower horizontal panel is in gray carpeting. Inside, gray tuck and roll square pattern tweed is covering the front and rear benches. These benches have some smooth charcoal vinyl in their centers along with gray piping and bolsters. They also have a rounded design and appear as new. The back bench sports some squared off tweed and black vinyl stitched armrests on either side. In the center is a plastic gray cupholder/storage bin and a long Hurst shifter on the hump. The lower dash remains in its original vertical chromed ribbed state, with a gold background, however upper instrumentation has been modernized with a behind glass single instrument cluster in black face and white letters and pointers. The odometer is digital. Plenty of original shaped pulls and knobs are on the vertical ribbed lower section as well. The original black with circular chrome horn ring steering wheel is fronting this retro-modern dash and it has a jet age nose chromed center with a badge. Clean gray carpeting floods the floors, and above is a nice tight like new headliner is above all this menagerie. All looking very new and tight with no soiling anywhere.
Drivetrain
Under the hood is truly impressive with the new 355ci V8. It has plenty of shiny and polished surfaces and add ons. Also aluminum heads are on this mill. On top under the open air cleaner covering is a single 4-barrel Edelbrock carb and a Weiand intake. On the back is a Tremec 5-speed manual tranny that hands power off to a Ford 9 inch rear axle. Headers are on for the easy exhale, and Smithy mufflers give it the gurgle. Looking good under this machine age hood.
Undercarriage
Some very light surface rust is on some surfaces but mostly black painted straight structurally sound steel framing and stamped floor pans. New electrics snake their way throughout the bottom and providing the ride is independent coil springs for the front, and leaf springs for the back. Now on power disc braking for the front and power drums for the back. Note the rack and pinion steering is newly installed and works like a charm.
Drive-Ability
She fired right up as expected from a mill with this "look". Off to the test track in a flash where it cornered nicely given its weight, and ran very smoothly with nice acceleration, bias free braking on the panic stop test, and all functions were working just swimmingly. The interior is just beautifully appointed in old and new looks and functions.
A neat 50's Merc, not a lead sled, but it fits the part of an "aero" design, and jellybean curves. Start saving gas, well maybe not, but at least start turning heads fer sur.
5OME41426M
50-1950
ME-Metuchen, NJ Assy Plant
41426-Sequential Unit Number
M-Mercury
Classic Auto Mall is a 336,000-square foot classic and special interest automobile showroom, featuring over 850 vehicles for sale with showroom space for up to 1,000 vehicles. Also, a 400 vehicle barn find collection is on display. This vehicle is located in our showroom in Morgantown, Pennsylvania, conveniently located just 1-hour west of Philadelphia on the I-76 Pennsylvania Turnpike. The website is www.classicautomall.com and our phone number is (888) 227-0914. Please contact us anytime for more information or to come see the vehicle in person.
Price: $54,500.
Price: $52,500.
Exterior Color
Black
Stock #
5105

Estimated Monthly Payment
Price: $54,500.

Price: $52,500.

Classic Auto Mall

Call 888-227-0914

MORGANTOWN, PA

Mention

AutaBuy.com

when you call.
Do you have a similar car to sell? List It Now!