You auta tell them you saw the ad in AutaBuy when you call or email.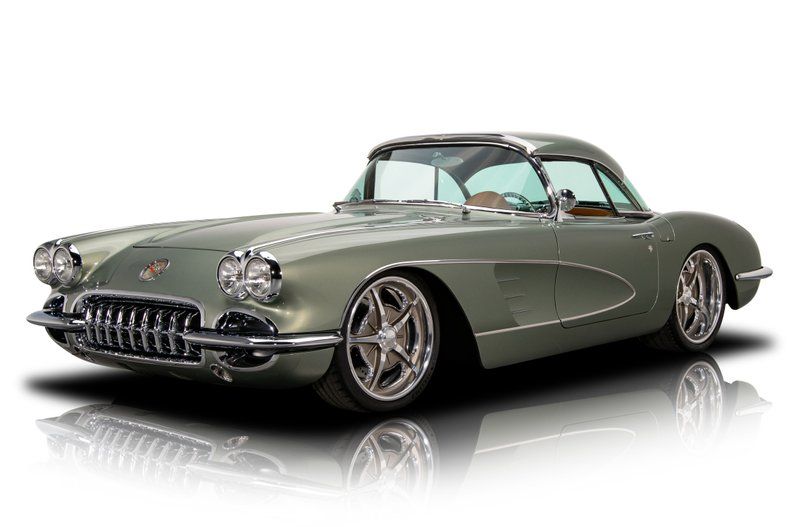 Exterior Color
Silver Green Effect
Stock #
137536

Estimated Monthly Payment
1959 Chevrolet Corvette
The pro-touring movement, keenly summarized as mixing wicked performance with classic good looks, began gaining popularity about 30 years ago. And today, with technology that continuously blurs the lines between street beast and track king, transforming a storied classic into a technological tour de force has become one of America's favorite pastimes. A super slick showstopper that's been honored at multiple Goodguys events and featured in multiple publications, this awesome Corvette combines picture-perfect aesthetics with serious mechanical prowess. And whether you're looking for invigorating performance, a lust worthy parade queen or just a cool car to own and enjoy, it's a great candidate for your next classic!
PUTTING THE MOD IN RESTO-MOD
When it comes to appeal, modern society operates on a myriad of unspoken rules that ultimately determine the winners and the losers. On the surface, judgements might seem shallow or fickle. But a deeper look reveals a pattern or, 'algorithm' if you will, that highlights the value of basic attributes. Take the iPhone, for example: it's relatable, it's charmingly attractive and it's incredibly engaging. Or Facebook, a service that's easy to use, visually appealing and highly addictive. That 'just right' mindset feels like the perfect way to describe this Corvette's killer appearance. Simply put: the car is a winner. It's handsome without being too traditional. It's fresh without being too outlandish. And it manages to be unique while mastering the art of mass appeal.
This Chevy's professional build, a 4.5-year affair that was acutely focused on modern performance, generous technology and lavish luxury, was completed by the pros at RPL Customs of Royce City, Texas. And naturally, that assembly looks simply stunning in a glossy coat of custom Standox Silver Green Effect two-stage that was sprayed by Royse City's own Vastine's Paint Garage. At the front of that svelte pigment, a gleaming grille plants polished bumpers beneath stainless-trimmed headlights and a body-matched header emblem. Behind that header, a color-keyed hardtop caps green-tint Auto City glass, which laces ornate stainless between polished mirrors, polished RainGear wipers and polished door handles. Speaking of polished stainless, it looks great against this Vette's matte coves. And out back, polished bumpers reflect a second body-matched roundel between classy taillights.
CHEVROLET PERFORMANCE
Tilt this coupe's bonnet and you'll find 6.2 liters of divine GM small block. Officially known as the Chevrolet Performance LS3, that trusty engine twists a respectable 430 horsepower into 425 lb./ft. of pavement-slaying torque straight out of the crate! At the front of the block, a remote filter element slinks breeze through a custom, color-keyed tube and a proven GM throttle body. That wire-driven box feeds a composite GM intake, which rides between custom, Corvette-themed coil covers and an attractive, color-keyed engine cowl that was sourced from Greening Auto Company. Smooth electronic fuel injection sprays rectangular-port L92-style heads. A nodular crank, powdered connecting rods and hypereutectic pistons provide stout 10.7 to 1 compression. A hydraulic roller cam maximizes intake efficiency. Speaking of breathing, that smooth valvetrain funnels spent gases through coated Art Morrison headers. There's a lightweight AutoRad radiator that's slid in front of a broad puller fan. A Vintage Air Front Runner serpentine drive spins a painted alternator opposite a painted AC compressor. The aluminum mill rolls in a clean, matte-finished bay that's detailed with niceties like trick dipsticks, color-keyed tubes and a color-keyed brake booster. And, thanks to dyno tuning by New Braunfels, Texas's Henderson Performance Technologies, it all adds up to an easy 487 horsepower!
NOT STOCK AT ALL
Park this Vette on a lift and you'll find a full Art Morrison chassis that makes excellent use of 2-inch drop spindles and a full set of Strange coil-over-shocks. At the middle of those world class bones, a smooth 4L65E 4-speed deals power to a 9-inch Ford axle. That pumpkin, built with 3.70 gears, a limited-slip differential and a Strange S-Series center section, works extremely well with enlarged wheel tubs. Easy turns come courtesy of power rack-and-pinion steering. Smooth and solid stops are provided by 14-inch drilled and slotted rotors, which scrub 4 and 6-piston Wilwood calipers. Exhaust roars through custom pipes, throaty MagnaFlow mufflers and traditional bumper outlets. And torque meets the pavement through gorgeous Schott Accelerators, which twist 245/35ZR19 Michelin Pilot Sports in front of 295/30ZR20 Michelin Pilot Sports.
DRESSED TO IMPRESS
Swivel this classic's doors and you'll find a tasteful custom cockpit that combines timeless first-generation Corvette style with premium touchpoints and modern technology. Sculpted Curry buckets wrap tight Ultraleather around big bolsters and short frames. A leather-trimmed dash tilts glowing Dakota Digital VHX telemetry beside billet-trimmed Vintage Air climate control. A custom, matte-finished console props a short Lokar shifter on fade-free carpet. Custom side panels front quick power door locks and smooth power windows. The driver spins a snazzy Billet Specialties steering wheel around billet foot pedals, pushbutton ignition and a quality Ididit column. And a Bluetooth-controlled Kicker head unit, concealed in the car's glovebox, bumps crisp Infinity kick speakers.
The goal of this Corvette's build was simple: create a world-class resto-mod that's the best at everything. The result is a car that, in addition to offering an unforgettable driving experience, wraps timeless, all-American style around effortless athleticism and exceptional detail. Ready to experience 'muscle motoring' at its very finest? Call, click or visit https://www.RKMotors.com!
HIGHLIGHTS
World class first-generation Corvette resto-mod that's the product of a 4.5-year professional build
Earned the PPG Dream Car Pick at the 2018 Goodguys Lone Star Nationals
Earned a Builder's Choice Award at the 2017 Goodguys Lone Star Nationals
Featured in both MotorTrend Magazine and Vette Magazine
6.2 liter Chevrolet Performance LS3 crate engine with 487 horsepower
4L65E 4-speed automatic transmission
Ford 9-inch rear axle with a Strange center section, 3.70 gears and a limited-slip differential
Modern air conditioning
Power rack-and-pinion steering
Wilwood 4-wheel power disc brakes
Full Art Morrison chassis with an adjustable coil-over-shock suspension
Custom Curry Ultraleather interior with a modern audio system
Power windows and power door locks
Custom Standox Silver Green Effect paint with matte coves
Custom Standox Silver Green Effect hardtop
19 and 20-inch Schott Accelerator wheels with Michelin pilot Sport tires
Custom through-the-bumper exhaust with Art Morrison headers and MagnaFlow mufflers
All RK Motors vehicles receive a comprehensive, multi-point inspection
We can ship your new classic anywhere in the world
· Color: Silver Green Effect
Price: $427,900.
Price: $397,900.
Exterior Color
Silver Green Effect
Stock #
137536

Estimated Monthly Payment
Price: $427,900.

Price: $397,900.

RK Motors

Call 704-817-2448

CHARLOTTE, NC

Mention

AutaBuy.com

when you call.
Do you have a similar car to sell? List It Now!