You auta tell them you saw the ad in AutaBuy when you call or email.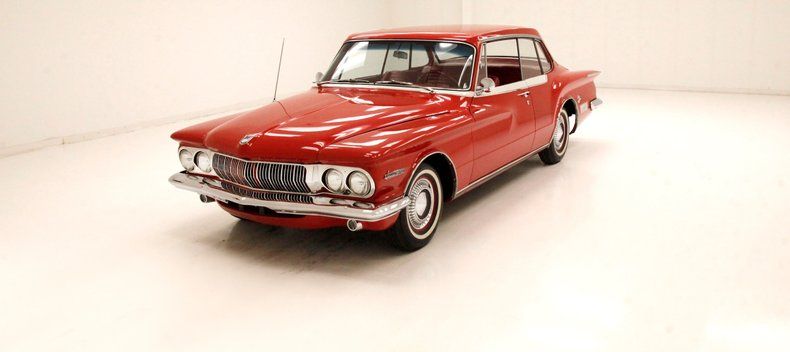 Exterior Color
Vermillion Red
Stock #
5533

Estimated Monthly Payment
1962 Dodge Lancer GT Hardtop
1962 Dodge Lancer GT Hardtop
Rare, interesting, original, and exceptionally affordable - the 1962 Dodge Lancer GT is a distinct classic often mistaken for the Valiants of the 1950's. Somewhat quirky in their design it is definitely a head turner, so if you think the classic car experience is about driving something cool and talking to everyone when you arrive, this is the hardtop to do it.
For consignment, a somewhat rare bird in the form of a 1962 Lancer GT from Dodge. This car shows up in very good condition, has nice chrome and a futuristic rear of the car resembling a Buck Rogers spaceship. I'll put it into the category of and now for something completely different, but certainly not ugly by any means.
Exterior
Get your survivor awards ready because that glossy Vermillion Red and wonderfully curvaceous curved chrome is looking like it just drove from the showroom floor. Then again, you may say it's hard not to get excited about this Lancer. Dodge made their own version of the Valiant, but only for two years, and sticking true to the adage that classic Mopars are the rarest of the vintage set, with a mere 14,140 of these GT models, (with their exclusive hardtop style), produced in 1962. So they are quite hard to find more than 61 years later. The convex grille, wraparound chrome bumpers, plenty of bright trim, winged front quarter panel tops that run back to the doors and then some, and artful tailfins all come together to give this compact one of the most complex and substantial designs of the 1960s. So when all this shows up in our Hallowed Halls as clean and complete, you know you're looking at something special. Sexy steel in its own way and certainly owning it, has well minded gaps, shiny chrome and curved rear glass to die for. Nicely done!
Interior
A swing of the doors and you'll be seeing red and plenty of it. From the door panels to wide bomber styled tuck and rolled buckets to the artfully designed dash it's all in beautifully preserved red. When behind the wheel put your elbow out with the windows down on this pillarless hardtop. You can see all of this clearly thanks to the original-style interior remaining in stellar fashion. It has a full time capsule kind of presentation. The dash not only houses the usual pieces like the large speedometer and secondary gauges, but also the heat/defrost controls. Plus, mounted here are the nifty push-button controls for the three-speed automatic transmission. The dual spoke Mopar wheel is fronting the dash and has a 1/3 chromed horn ring within its confines on the lower portion. The factory AM radio is mounted on the dash bottom neatly inset. More red for the perfectly preserved carpeting below and above to add a bit of contrast a white headliner with slight folds at its edges but very clean. Welcome to the future!
Drivetrain
Lift the hood and see a very honest and original-style engine bay. The big red intake and block really add some aggressive distinction, and the GT model earns this characteristic. It was the only one to get an engine upgrade. So while its siblings received 170ci six-cylinder, this GT model is powered by a 225 cubic-inch slant 6 mill. Dodge claimed these larger power plants were good for a 40% increase in horsepower. Plus, it has a nice 1-barrel carburetor to feed it fossils and air and an easy to drive 3 speed Torqueflite transmission, all coupled with a 2.93 rear axle. Looking good under this hood.
Undercarriage
Totally rust free and sporting a heavy coat of undercoating. A stock like new exhaust sails its way to a chromed tip exit on the drivers side. Independent front suspension with torsion bars is in and for the back leaf springs. Drum brakes are seen in all 4 corners.
Drive-Ability
She fired right up and off to the test track with the obligatory panic stop test first and it passed with flying, (red), colors. Nice smooth acceleration and it went through the 3 speeds like buttah. Good handing and all functions were in working order. I felt like I was king of the hill in this piece of Dodge history and it definitely turns heads. The compact and lightweight Lancer GT moves with confidence and pep. In fact, this very American coupe feels a bit European in its manners.
Here's a cool coupe with survivor qualities that's a rare sight at most cruise-ins and events. I'll bet you're intrigued, and now have interest piqued to spend more time looking. Just don't wait too long or you'll be left holding the bag. Things move quickly n our halls of wonder and amazement.
7422528108
7-Dodge Lancer Slant 6
4-Lancer GT
2-1962
2-Detroit, MI Assy Plant
528108-Sequential Unit Number
Classic Auto Mall is a 336,000-square foot classic and special interest automobile showroom, featuring over 850 vehicles for sale with showroom space for up to 1,000 vehicles. Also, a 400 vehicle barn find collection is on display. This vehicle is located in our showroom in Morgantown, Pennsylvania, conveniently located just 1-hour west of Philadelphia on the I-76 Pennsylvania Turnpike. The website is www.classicautomall.com and our phone number is (888) 227-0914. Please contact us anytime for more information or to come see the vehicle in person.
Exterior Color
Vermillion Red
Stock #
5533

Estimated Monthly Payment
Classic Auto Mall

Call 888-227-0914

MORGANTOWN, PA

Mention

AutaBuy.com

when you call.
Do you have a similar car to sell? List It Now!