You auta tell them you saw the ad in AutaBuy when you call or email.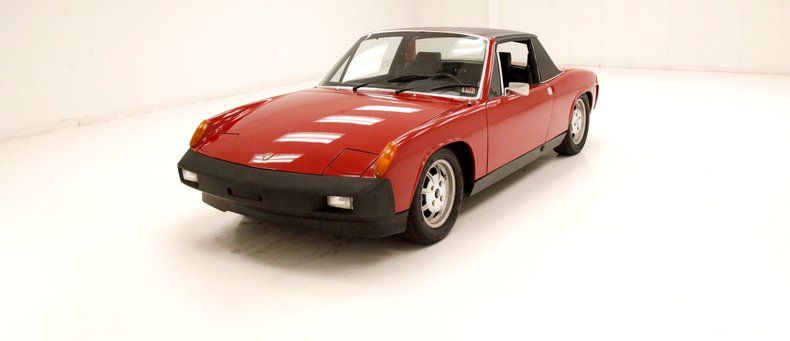 Exterior Color
Scarlet Red
Stock #
5539

Estimated Monthly Payment
1975 Porsche 914 2.0 Targa
1975 Porsche 914 2.0 Targa
The Porsche 914 or VW-Porsche 914 is a mid-engined sports car designed, manufactured and marketed collaboratively by Volkswagen and Porsche from 1969 until 1976. It was only available as a targa-topped two-seat roadster powered by either a flat-4 or flat-6 engine.
For consignment a 1975 version of the 914 collaboration, which by this time had fallen apart between VW and Porsche. This car spent 30 years in a climate controlled garage of a Porsche collector. Ours is the more desirable 2.0 liter however it has even been enlarged with an overbore and 44mm Weber IDA carbs.
Exterior
A long wheelbase stands out along with the Scarlet Red paint on all rust free steel straight well minded gapped surfaces throughout the car. It's boxy but still low and aero with an equally long hood and tail and short overhangs in the corners prior to the wheel wells. This also has vertical signal lighting on the corner edges of each front quarter panel. In the center is the two person cockpit sporting a removable roof on top of a high roofline covered in black for the B pillars and nicely trimmed in chrome. A removable fiber reinforced plastic top is on and we can note a vertical rear glass fading to the unique flying buttress B pillar look. Door handles are inset and in chrome, rockers are covered in black as are wide front and rear bumpers on this second to last year of production model. It has hidden pop up head lighting, and the back of the car has a nice badged wrap around tail lighting setup stretching across the back of the rear roll pan, (Shades of the 911 rear design). 15-inch steel wheels have 205/65HR15 rubber on all 4 corners.
Interior
A swing of the sleek doors reveals a totally black covered door panel within its confines is a large plastic molded armrest/storage bin, the actuator, and the window crank all in black. As we slip inside, directly on the floor are high back bucket seats that are covered with shiny black vinyl on the bolsters and these seats have thin blue gray vertical ribbed broadcloth inserts with a light tuck and roll. White stitching his noted on the bolsters. A wide center console is between these buckets and next to the seats is a large wide storage tray if you will. This seamlessly melts into the plastic molded shift lever tray and then meets up with the molded plastic that rises to the center of the dash. In this panel we see 6 circular gauges lined up vertically to keep track of the vitals and the time. The dash front is vertical and in here we see temp sliders and the Blaupunkt killer AM/FM/Cassette stereo. To add the the surround sound a Blaupunkt BEQ-65 mixing equalizer stick rises for the driver's hand. In front of the driver are a trio of sweep circular gauges fronted by a leather wrapped steering wheel with an interesting central pole setup, all in black. The bucket seats sit within a molded plastic and padded vinyl tub butting up to the rear glass which gives the interior a more finished look. The floors are covered in black clean loop carpeting. On its inside the removable top is not see through as it has the fiber texture .
Drivetrain
This mid engine mounted sports car has the 2.0 liter flat 4 cylinder engine and as noted it has been bored over to a 2.2 liters. The cylinder heads have been ported and have new valves and guides. It is fed by dual 1-barrel 44mm Weber IDA carburetors and we see model year 1973 SSI heater boxes are on and a Banana free flow muffler evacuates the spent gasses efficiently. A 5-speed manual transmission is on and this car has a 4.429 final drive gear. All work was done by a Porsche Werk 1 trained technician who trained in Zuffenhausen Germany.
Undercarriage
Under this car is the typical German steel coverings to make the car more aero efficient. This is true for everywhere save for underneath the engine. It's all rust free and undercoated in black. Suspension is front independent torsion bar and rear independent coil springs. Disc braking is on all 4 corners.
Drive-Ability
Your writer actually learned to drive a stick shifter on one of these cars, and that fact and $1.25 will get you a cup of coffee! But I digress to the quick fire up of the flat 4 and off to the test track where it ran smoothy, has good solid bias free panic stopping, and shifts easily. Good handling for that looong wheel base, and the car drives very easily.
An interesting collaboration which started out with VW then after a CEO change became a sole venture for Porsche. Looking like none other, an interesting piece of Porsche mid engine history, with some extras! Schnell!
Classic Auto Mall is a 336,000-square foot classic and special interest automobile showroom, featuring over 850 vehicles for sale with showroom space for up to 1,000 vehicles. Also, a 400 vehicle barn find collection is on display. This vehicle is located in our showroom in Morgantown, Pennsylvania, conveniently located just 1-hour west of Philadelphia on the I-76 Pennsylvania Turnpike. The website is www.classicautomall.com and our phone number is (888) 227-0914. Please contact us anytime for more information or to come see the vehicle in person.
Exterior Color
Scarlet Red
Stock #
5539

Estimated Monthly Payment
Classic Auto Mall

Call 888-227-0914

MORGANTOWN, PA

Mention

AutaBuy.com

when you call.
Do you have a similar car to sell? List It Now!