You auta tell them you saw the ad in AutaBuy when you call or email.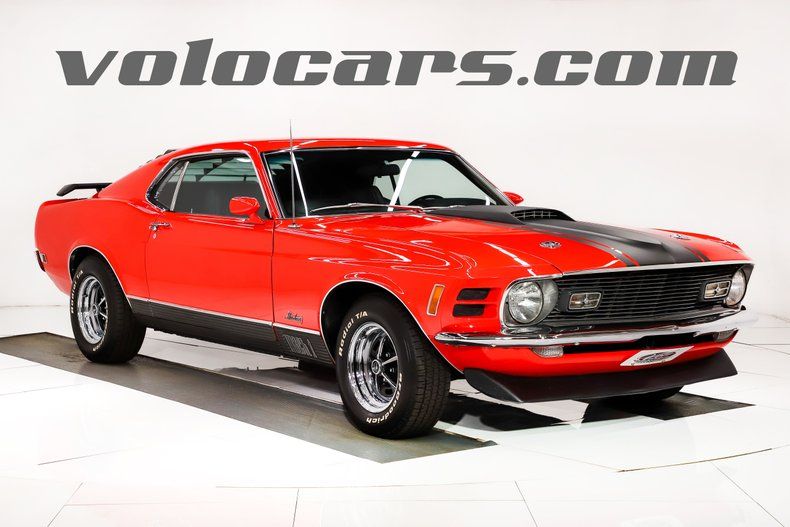 Exterior Color
Calypso Coral
Stock #
V21138

Estimated Monthly Payment
1970 Ford Mustang Mach 1
What a knockout of a car! It is absolutely stunning to look at. The lines, scoops, spoilers, and factory color are amazing. This one is documented with the Marti report. It's a real M code Mach 1 featuring power steering and power disc brakes. It's restored very nicely throughout. It has lived in North/South Carolina it's entire life.
EXTERIOR: One of the best looking bodies of all time! It looks like it's moving fast sitting still. This one's exceptionally clean. It's straight with no rust or damage and it fits very nicely. It's completely decked out with the hood scoop, front and rear spoilers, rear window louvers and sport mirrors. Repainted its original Calypso Coral color, it has a very smooth and glossy finish. Optional painted hood stripe. All the trim is in excellent shape. Working sport lamps in the grills. It sits proud on a set of 15 inch chrome Magnum 500 wheels with BFG tires.
INTERIOR: I'm sitting in this deluxe interior and it looks amazing. The deluxe includes the high back comfort weave bucket seats, molded door panels, carpet with the sewn in rubber mats and some wood grain trim. It has embroidered mats. The center console and shifter bezel look new, the handle is a little worn. It has a dash pad cap that fits really nice. The instrument panel and glove box area look really good. It has a retro stereo in the factory location and 6x9 speakers. New rim blow steering wheel that works. New headliner, visors and mirror. Interior lights all work.
ENGINE COMPARTMENT: It has the very desirable M code 351-300 hp Cleveland engine with a four barrel carb. The engine's painted real nicely and has the original manifolds, valve covers, air cleaner and even the right stickers. Distributor and coil look new. It features power steering and power brakes. Autolite battery topper, it's all bolted down nicely and has new battery cables. Clean radiator, shroud, reproduction hoses and clamps. The washer bottle is hooked up, hood insulation and buck tag are in place. Clean engine bay metal painted semi-gloss black.
TRUNK COMPARTMENT: Underneath the lid and the jamb are painted real slick. Inside is rock solid metal painted orange. New BFG tire on a painted rim for a spare, it has the jack assembly too. Reproduction mat and weather strip.
UNDERSIDE: It has a Grab a Track Pro Touring suspension for much better handling. This includes lowering springs, sway bars, shocks, bushings, control arms and tie rods. The power steering control valve system was replaced. New factory type dual exhaust system with the correct tips going through the valance. The fuel tank and sending unit were replaced. It has disc brakes in front, e-brake cables are hooked up. Looking up at the motor it is clean Ford blue, the starter looks new. It has the FMX automatic trans, and it has its original rear end with 3.25 gears. The floors are clean metal.
SERVICE: We inspected the car and changed the spark plugs, replaced the valve cover gaskets, replaced the return line for the power steering, replaced the axle bearings and seals, new fluid in the rear end.
It would be hard to improve upon this one! Whether you're at a car show, filling it with gas or simply peaking in the garage it will make you a proud owner.
I, Jay Grams, take pride in personally writing the descriptions for virtually every car for about the last 30 years now. A significant amount of effort goes into fact checking. What I am offering is my professional impression of the vehicle. Our salesmen are happy to assist with descriptions and making sure your questions are answered. One great suggestion is letting us do a walk around video that explains the car's condition in detail. **These cars are displayed in a museum. If interested in a particular car, make an appointment with a salesman to see that car. Without an appointment there is an admission fee to enter the showroom. If you buy a car, your admission will be refunded, and you will be given a 1 year membership.
815 385 3644 9-5 central
Sales@volocars.com Answered ASAP
Power steering
Power disc brakes
Hood stripes
Spoilers
Louvers
Magnum Wheels
Deluxe interior
Console
Marti Report
Exterior Color
Calypso Coral
Stock #
V21138

Estimated Monthly Payment
Volo Auto Museum

Call 815-385-3644

VOLO, IL

Mention

AutaBuy.com

when you call.
Do you have a similar car to sell? List It Now!