You auta tell them you saw the ad in AutaBuy when you call or email.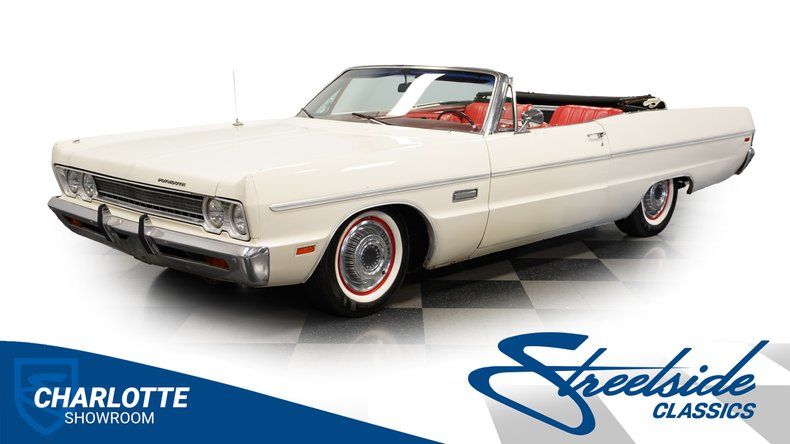 Exterior Color
White
Stock #
8234-CHA

Estimated Monthly Payment
1969 Plymouth Fury III Convertible
1969 Just felt like the right year to own a Plymouth Fury convertible. This year kicked off a new design that would be one of the largest and most imposing road-owning looks ever. Wide headlights, crisp fender tops, and a blocky stance gave the fifth-generation Plymouth Fury an instant presence. While this is not out to be an aggressive muscle car, it does give it a striking and memorable style. Everything on this car seems substantial: extra wide chrome bumpers, the long hood, and trim that basically runs from headlight to tail light. It even looks substantial inside where the wide bench seats are a drive-in favorite. But this is also quite a personal driver. A fold-down center armrest gives the front seat bucket-like comfort, and the gauges are all laid out around you. There's even an AM/FM/CD stereo with aux input to upgrade your driving music. And not only is this an appealing cruiser, but it's also rare. There were only about 5,600 Fury convertibles made in this benchmark year. So Chevrolet made more versions of some models in a week than Plymouth made Fury drop-tops all year! And it's this mix of rarity, distinction, and value that makes you want to take a closer look at this cruiser.
HIGHLIGHTS
*White paint and a white top make an alluring combo
*Vintage style, right down to the Plymouth wheel covers
*Distinct red interior with plenty of room in this full-size drop-top
*Power convertible top
*Provisions for air conditioning
*Upgraded AM/FM/CD stereo with aux input
*318 cubic-inch V8
*Three-speed automatic transmission
*Power brakes
*Modern touring tires behind classic whitewalls
This has a terrific cruiser vibe for every way that you want to enjoy this. The white top goes great with the white paint and whitewall tires, and when you take it down, the red ring of the wheels coordinates with the interior. So it just looks like it likes being out and showing off. Plus, good V8 power and an easy-cruising three-speed auto transmission make it a nice driver from day one. And when you think about classic 1960s convertibles, you realize just how affordable this one is. So you can upgrade the power, comfort, boldness... or just enjoy it exactly the way it is. It's all appealing when you have a rarely-seen road-owning Mopar in your garage. Call today!!!
Price: $24,995.
Price: $22,995.
Exterior Color
White
Stock #
8234-CHA

Estimated Monthly Payment
Price: $24,995.

Price: $22,995.

Streetside Classic Cars Charlotte

Call 704-598-2130

CONCORD, NC

Mention

AutaBuy.com

when you call.
Do you have a similar car to sell? List It Now!