You auta tell them you saw the ad in AutaBuy when you call or email.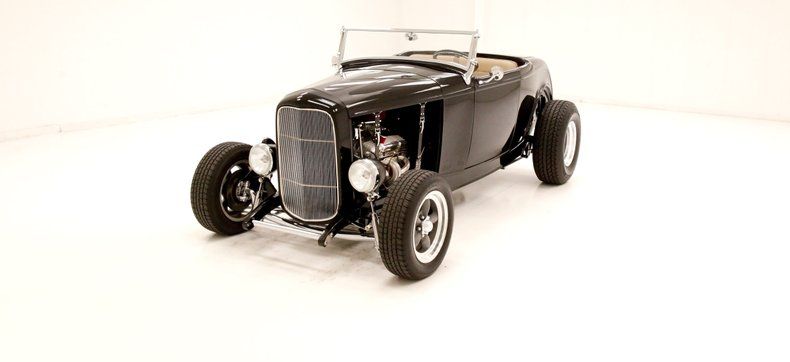 Exterior Color
Black
Stock #
5551

Estimated Monthly Payment
1932 Ford Roadster
1932 Ford Roadster
For as long as there have been cars, there have been people modifying them to make them go faster and look better. Auto racing goes way back to the 19th century. Hot rods-as we know them-came along sometime in the 1930s, when a bunch of amateur car enthusiasts in Southern California started stripping down cheap roadsters, mostly Ford Model A's and Deuce's, to race them on the dry lake beds in the Mojave Desert. Those young gearheads weren't thinking about starting a movement or launching a worldwide hobby and a gigantic aftermarket industry, but they did.
For consignment, the quintessential hot rod format with open engine compartment with extra gleam factor added on, big power, no top, no fenders, no running board, just a wide zoom pipes in dual form peeking out the back on either side now. A simple front windshield, hopped up suspension and California here we come. Drop the hanky baby...
Exterior
We have in our presence the quintessential California deuce hot rod! It's a Raven Industries reproduction body in fiberglass, so you'll never need to deal with rust. A huge vertical ribbed grille is in front and all in chrome, surrounded by a black radiator radiator cowl. This is flanked by stalk mounted headlights on either side and some small turn signals residing on their tops. The blinged out engine is uncovered on the sides and is looking fab for all the world to see. The rounded firewall cowl frames the simple straight low profile windshield. As we move downward, small shaved handle and rear hinged doors lead us rearward to the rounded off rear deck. Here we see no bumpers, no fenders, and just pointed oval teardrop style taillights and a shaved trunk lid. Chromed zoom pipes peek out of the rear central roll pan. Very stripped down, very lightweight, and very cool. 15-inch Torque Thrust wheels are wrapped in front by 195/65R15's and on back, wider 265/75R15's from the 19th wheel of 2012 but looking like new with their treads. All suspension is open and chromed beautifly as a nice detail and highlight to the full on fiberglass body all bathed in black. Let's go baby!
Interior
A swing of the front edge hinged doors and the ultimate in simplicity and weight loss is present with tan vinyl wide tuck and roll insert and smooth bolster piped bench. The door panels are matching and have vertical panels with some stitching in them. A full fiberglass curved dash front stretches from door to door and includes a full lineup of white faced SW vintage looking instruments to keep pulse of the car while driving. A modern banjo style steering wheel sits atop an adjustable steering column rising from the floor. It sports a billet style shifter and signal stalk on either side. Pristine like new darker tan carpeting covers the floors and is beautifully preserved with nary a mark. Hold on to your flapper hat...
Drivetrain
Wide open for inspection is the metal, cast chrome and machined 350ci GM crate V8. This has an Edelbrock 4 barrel carb on top, and it is protected and aided in airflow by round open sided chrome sandwiched red air filter. Also on top of the chrome valve coverings is a red open filtered breather cap. Strapped to the rear of this mill is a TH350 3-speed automatic transmission. Headers, supple wiring, and hoses abound. An aluminum radiator is now cooling this engine, and for the rear axle it's a Ford 8 inch 2.73 gears. The mufflers are of Flowmaster descent.
Undercarriage
This metal undercarriage supports the fiberglass body on a square tube frame which is painted in black. All the rest is with a coating of shiny black on it, and looking clean and of course rust free. Suspension is front transverse leaf springs all chromed, and on back ladder bars with coil overs are flanking the exposed rear. Front disc braking is on and rear drums are noted on back.
Drive-Ability
This old skool rodder fired right up and on the test track it wants to keep going in a straight line. I wrestled it though to take some turns and it did so effortlessly, it came to a quick stop, and did so bias free. The interior is comfy, and all functions were working at the time of my drive. Old school instruments are a trip back on memory lane, as is really the entire car. A good driver with easy access and egress.
A Rod and Race Hot Rod body all stripped down for less weight, which translates to more speed. Simple to wrench on with the open engine, and a quaint, but comfy and all encompassing interior. A souped up, rodded, shaved handle door, fender-less racer, yearning for the next run on the flats. Will this be coming soon to a neighborhood near you?!
Classic Auto Mall is a 336,000-square foot classic and special interest automobile showroom, featuring over 850 vehicles for sale with showroom space for up to 1,000 vehicles. Also, a 400 vehicle barn find collection is on display. This vehicle is located in our showroom in Morgantown, Pennsylvania, conveniently located just 1-hour west of Philadelphia on the I-76 Pennsylvania Turnpike. The website is www.classicautomall.com and our phone number is (888) 227-0914. Please contact us anytime for more information or to come see the vehicle in person.
Exterior Color
Black
Stock #
5551

Estimated Monthly Payment
Classic Auto Mall

Call 888-227-0914

MORGANTOWN, PA

Mention

AutaBuy.com

when you call.
Do you have a similar car to sell? List It Now!