You auta tell them you saw the ad in AutaBuy when you call or email.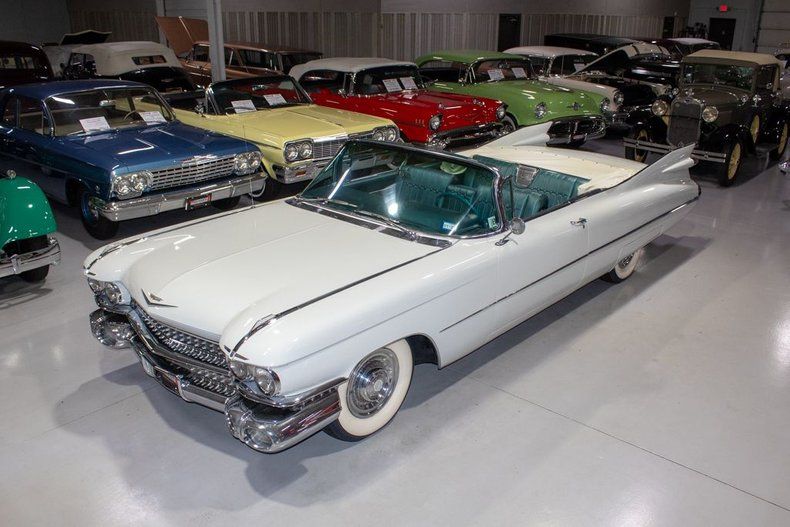 Exterior Color
Dover White
Stock #
8764

Estimated Monthly Payment
1959 Cadillac Series 62 Convertible
This 1959 Cadillac Series 62 Convertible underwent a cosmetic restoration after being owned by a single family since new. In the over 125 years of American automotive history, few cars were as iconic as the 1959 Cadillac. While some critics thought the design was too over-the-top at the time, the '59 Cadillac today is truly a beacon of classic automobile styling. Although Cadillac's final 50s body style remained styled like a Cadillac, a deeper dive reveals that 1959 was, to an extent, a transitional year for where Cadillac designers would be heading in the future. The antiquated "Dagmar" front bumpers were replaced with a brand new design that featured integrated driving lights and turn signals in oval-shaped pods, which gave the cars a lowered look. Sitting atop the new-look front bumper was a new bullet-style grille that spanned between two pairs of headlights on each side, retaining that classic Cadillac "egg-crate" flavor but with a more modern twist. The '59 hoods were also extended to the fender crowns that aligned with the chrome trim that extended down the belt line of the car. While the nose of the 1959 Cadillacs were significantly redesigned, the most famous update occurred to side and rear profile of the cars. The new rear quarter panels in 1959 were adorned with a pair of massive tail fins on each side that gives the '59 Cadillacs their iconic silhouette. At the rear, a pair of of "bullet-style" taillights on each fin give the perfect accent to an already iconic silhouette. Sitting between the rear quarters was a faux grille that matches the bullet-style of the front grille. On the inside, the 1959 Cadillacs were ultra-luxurious as well. The seat upholstery was both highly-appointed and comfortable, seemingly fit for royalty. The dashes were ornate and flamboyant, yet refined and modern-looking all at the same time. Like most previous model Cadillacs, the options were also quite plentiful and very ahead-of-their-time. The Series 62 Convertible was the entry-level convertible for Cadillac in 1959, and comparatively speaking, they were significantly more affordable than the top-tier Eldorado Biarritz and thus the Series 62s outsold the Biarritz by nearly tenfold in '59. This particular Series 62 Convertible was believed to have been in the same family since the car was purchased new, having been enjoyed by the previous owner and their mother for nearly 65 years. Powering this 1959 Cadillac Convertible is a 390 Cubic Inch V8 fed by a single 4 barrel carburetor that was said to have delivered 325 horsepower when new. The 390 V8 is backed by a recently rebuilt Hydra-Matic Automatic transmission that makes this iconic Cadillac easy for anybody to drive. Exhaust exits the Cadillac 390 powerplant via dual exhaust setup that generates a nice throaty sound out of the rear tailpipes. Being that this Series 62 Convertible is Cadillac, it comes loaded with numerous options! Equipped with power steering, this Cadillac is easily maneuvered in and out of tight spaces whether it's at the local car show or neighborhood drive-in. Power brakes are another welcome option of this '59 Cadillac 62 since it makes bringing this classic convertible to a complete stop much easier. You'll be able to stay cool even on the hottest summer days since this Series 62 Convertible comes equipped with dealer-added air conditioning. The white vinyl power convertible top is in wonderful condition and goes up and down with the simple flick of a switch. Riding on a set of wide whitewall bias-ply tires paired with a set of full wheelcovers, this 1959 Cadillac Series 62 has a great look going down the road. The exterior of this '59 Cadillac convertible has been beautifully and correctly refinished in Dover White, just how this car came back in 1959. The interior on this '59 Cadillac Series 62 Convertible is absolutely gorgeous! The front power seat and rear bench have been recently reupholstered in turquoise leather. The door panels, padded dash, steering wheel and carpeting are all correctly color-matched and appear to be in fantastic condition. All four power windows work great and go up and down, all with the push of a button. The instrument cluster is comprised of a 120 MPH speedometer, temperature gauge, and fuel gauge. The dash is completed with a clock, climate controls, and a push-button AM radio. Whether you're buying your first classic convertible or you are adding the car you've always wanted to your existing collection, this 1959 Cadillac Series 62 Convertible would make an excellent addition. Give Ellingson's a call at 763-428-7337!
*390 Cu. In. V8
*Single 4 Barrel Carburetor
*Hydra-Matic Automatic
*Power Brakes
*Power Steering
*Air Conditioning
*Single Family Owned Since New
*Correct Dover White Exterior
*New Turquoise Leather Interior
*White Vinyl Power Convertible Top
*Power Windows & Seat
*Odometer Reads: 12,364 Miles
If an inaccurate automobile price is inadvertently listed on this Website, Seller reserves the right to NOT honor the erroneous price.
For more information and a current list of vehicles, call 763-428-7337.
Exterior Color
Dover White
Stock #
8764

Estimated Monthly Payment
Ellingson Motorcars LLC

Call 763-428-7784

ROGERS, MN

Mention

AutaBuy.com

when you call.
Do you have a similar car to sell? List It Now!