You auta tell them you saw the ad in AutaBuy when you call or email.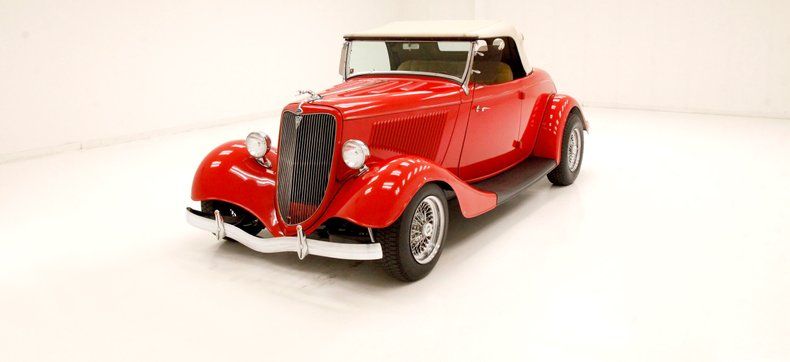 Exterior Color
Red
Stock #
5561

Estimated Monthly Payment
1934 Ford Model 40 Deluxe Roadster
1934 Ford Model 40 Deluxe Roadster
In March of 1932 the Ford Motor Company introduced the new Model 40 V8. V8 engines had been used for many years but they were expensive to produce and drove the cost of the vehicle into territory that only a few could afford. The cylinder block casting process was complicated. Ford, however, found a way to mass-produce the V8 engines making them the first low-priced V8 engines on the market. The cylinders were cast 'en block', meaning in one piece, which was a rather simple process resulting in inexpensive prices. The V8 engines went through their teething problems mainly because the engines were rushed into production. They were prone to overheating, cracked blocks and piston and bearing failures. Once these problems were corrected, the engines proved their potential and stayed in production for the next twenty years.
For consignment, a mild street rod version of the Model 40 drop top from the blue oval. This beauty checks all the boxes for a wonderful final presentation...paint, powerful engine, beautiful interior, and plenty of shiny chrome trimmings to contrast the arrest me red paint. She's all reliable, and a turnkey classic with no wrenching required you are in the game large and in charge!
Exterior
From its perfect curved and shiny bumper, which protects a shield style vertical ribbed grille flanked by a large single chromed bezeled headlight on either side, cowled hood, suicide doors and a curvaceous rear that will make Marilyn Monroe green with envy, this is a fabulous build. And for shits and extra giggles the radiator cap squirts water. Ahhhhhooga! All bathed in deep red, RED I said, paint over a fiberglass body with only a few scuffs and light scratches, it's definitely the deep end of the pool. Throw in some exterior fenders, steel for the front and fiberglass for the rear, that look like they have been fashioned from hours on an English wheel, a nifty running board, and a set of 4 15-inch throwback chromed wire wheels with polished blue oval badged center hubs to beat the band, and now we are talkin'! Throw in tinted side wind wing glass, wrap the front window with beautiful wide bodied trim, add a period correct white canvas convertible top that seen little use and sports some black piping and accenting and a rear glass window, side mounted chromed running lights and french curve door handles, and you my friend, are arriving in high style with some chutzpah under the hood. And lest I forget the rear of the curvaceous car is to die for. I think I have a Playboy centerfold open..Rabbit!
Interior
Camel vinyl with some stitched in panels and a lineup of buttons which covers the door panels and a tufted and multiple buttoned broadcloth velour tan bench seat and you can call on comfort city! A hand fashioned custom oak lacquered and dash front houses a grouping of SW Instrument gauges with analog pointers, black faces, and an analog odometer readout. A red thick and sturdy adjustable steering column fronts this dash and is topped by a wood rimmed tri-pointed star chromed steering wheel center with another blue oval badge. A shout out to the carpet which is a clean brown thick pile woven on edging and protected by black floor mats. A long armed shift lever grows upward from the carpeting and sits perfectly within reach of the driver's right arm. Way out back under the trunk lid is more camel velour for the mother in law rumble seat which dances to the same tufted and buttoned tune as the front bench. Lovely and STFU in the back there Ma!
Drivetrain
A lift of the louvered cowl and what to my wandering eyes does appear but none other than a Ford 239ci refurbished and rodded V8. It is fed air and fossils via dual 2-barrel carburetors and an Edelbrock aluminum intake manifold. On the back, a 4-speed Muncie manual transmission that sends power to a Ford 9" rear axle. Also seen are red highlighted finish ribbed Fenton cylinder heads, a chrome oval shaped open air cleaner assembly, supple hoses, some copper fuel lines, an electric fan setup, and a race ready distributor. Cue the undercarriage section!
Undercarriage
Thank you very much drivetrain, and any build of this quality one would only expect the best underneath and you're gonna get it. Turbo mufflers fed by dual exhaust and headers, a field of black for the frame, body hangers, flooring and below the running boards. All are now all buttoned up and structurally sound and certainly rust free. Transverse leaf springs hold the front end up, and ladder bars with coil overs are on back to provide the ride. Disc brakes are on upfront and the standard drums are in the back. WOAH!
Drive-Ability
Hopping in through the suicide doors, I was Al Capone all over again with my shiny painted, fully chromed, getaway car. I fired up the flathead and it was off to the test track with a neck snapping push of the accelerator. Here she performed flawlessly, with straight panic stopping, (I always test this first!), easy steering, good handling, and plenty of power at your toe tips. All functions were working and talk about turning and snapping heads...YOWZA. Also of note the horn has a bevy of animal sounds you choose, rrrrrribbit!
A meticulous build, no stone left unturned on this beautifully designed car right out of 1934 and talented builder's capable hands. Plenty of bling, lots of excellent paint, a snappy buttoned and tufted interior and trunk, and of course the power plant is unmatched with its add ons and extras, and it looks fab to boot! This wonderful power and great looks you will not only be the talk of the neighborhood, but also the talk of the whole town. Bring it on main street for the 1 car parade.
Classic Auto Mall is a 336,000-square foot classic and special interest automobile showroom, featuring over 850 vehicles for sale with showroom space for up to 1,000 vehicles. Also, a 400 vehicle barn find collection is on display. This vehicle is located in our showroom in Morgantown, Pennsylvania, conveniently located just 1-hour west of Philadelphia on the I-76 Pennsylvania Turnpike. The website is www.classicautomall.com and our phone number is (888) 227-0914. Please contact us anytime for more information or to come see the vehicle in person.
Exterior Color
Red
Stock #
5561

Estimated Monthly Payment
Classic Auto Mall

Call 888-227-0914

MORGANTOWN, PA

Mention

AutaBuy.com

when you call.
Do you have a similar car to sell? List It Now!