You auta tell them you saw the ad in AutaBuy when you call or email.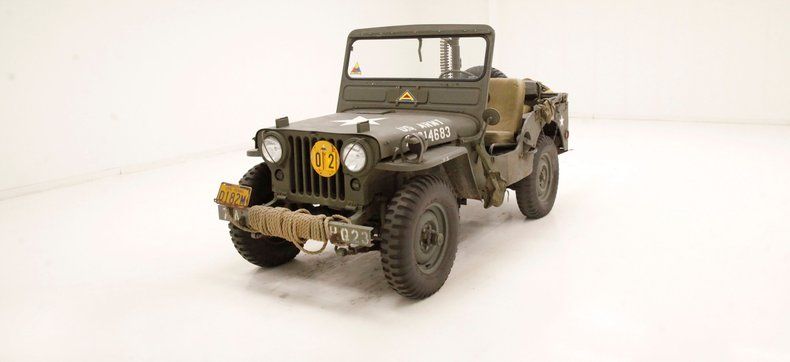 Exterior Color
Olive Drab
Stock #
5860

Estimated Monthly Payment
1945 Willys CJ2A Jeep
1945 Willys CJ2A Jeep
As its title alludes to in a roundabout way, this song is centered on the emotional disposition of a fictional character named ""Painless Pole"" Waldowski who was featured in the 1970 movie version of ""M*A*S*H"". Said character was indeed, at one point, suicidal. And the lyrics basically depict life as a progressively-depressing experience. As such, the singer concludes that, relatively-speaking, ""suicide is painless"". Or stated differently, he perceives the prospect of ending his life as being a less-painful option than continuing it. And yes, as Marilyn Manson, who later covered this song, himself concluded the lyrics are in fact ""depressing and offensive"". And that may be why, in the grand scheme of things, the instrumental to ""Suicide Is Painless"" has proven to be exponentially more popular than the lyrical version.
Sometimes we get ideas for a project which really doesn't seem realistic. They're those projects that, in our heads, sound like a really cool idea but in reality are probably going to be difficult, time consuming, and cause lots of migraines. Bringing one of these projects to completion and ending up with a really bitchin' vehicle, is something to be proud of. Here in, we offer up a 1945 CJ2A which will need some TLC but in the end you will have a truly unique original. This vehicle ""reportedly"" was restored about 15 years ago and came out of a private collection. It runs and drives well and comes with its soft top and doors and is complete on the looks and add-ons front, so let's just go with it's a very neato completeo project!
Exterior
Here we see some spotty invasive rust, surface rust along with some surface rust and body filler in need of some serious metalwork. It is all there though and bathed in Olive Drab paint which is in fairly good condition considering the faults in the metal. White Army stars abound on the body along with some stenciled on numbers on the hood and fenders. The iconic front grille with round headlights adorning either side leads the way with a rope wrapped Olive Drab bumper framing the bottom. A multitude of gear is strapped to the body and with canteens, medic bags, Jerry cans, shovels and axes you should be ready for anything that comes your way. A rear hitch, and small bed with tailgate are seen as well as the frame for an eventual canvas top is in the vehicle at present. 15-inch steel wheels in Olive Drab are wrapped by aged 7.00-16's on each corner from the 1st week of 2022 but do show with a decent amount of dry rot. ""Ok lets see Klinger, Mother dying, sister dying, brother dying, ooh and here's an oldie but a goodie Mother and sister dying...""
Interior
Inside, which is pretty much outside at this point, is a setup with 2 bomber style buckets wrapped in olive drab broadcloth. The dash is all original and also in olive drab with black faced round gages and some pulls on top. We note areas of paint peeling that reveal the original Strata Blue paint underneath, a sign this rig was used for Air Force duty at one point. The floors are bare metal and are also suffering from spotty rusting in various stages. Between the buckets are a trio of shifters well within the drivers reach and just aft of the seats is a tall round turret that is ready for your gun to be clipped to. In the back is a small olive drab bench seat and a belt of spent ammo casings. Further rearward we note the olive drab/brown canvas roof along with the black side curtains with slightly yellowed plastic windows. No radio and all electrics are updated to 12 volts...including the under dash heater! Choppers..
Drivetrain
Under the hood is a dusty and patined but nicely presenting 134ci flathead 4 cylinder engine. It has a 1-barrel carburetor and in back is a Borg Warner T90 3-speed manual transmission. The rear axle has 5.38 gears giving a very high engine sound when it rolls into the mobile hospital compound. A pull of the transfer case level will engage the front axle, also 5.38 geared, to help you get your platoon to the way-point.
Undercarriage
Some invasive rust has rotted the undercarriage in various locations, however the frame remains straight and solid. Also plenty of surface rust is in abundance. Leaf spring suspension, and drum braking are all around this undercarriage and single exhaust is on for the exhale.
Drive-Ability
I searched the mess hall, the infirmary, and even his bunk, but I couldn't find hide nor hair of my partner in crime and crack decoder. My best assumption leads me to think he's AWOL with the ladies of the village working on a case of cupid's itch...but I digress...I had to run this mission alone but managed not to get shot up on my drive. This was not due to luck being on my side, it was mainly due to the good acceleration, bias free braking, and agile handling that kept me on our well-hidden test track. This Willys performed wonderfully, however a few faults reared their heads during my time behind the wheel with none of the exterior lighting turning on and the brake lights not functioning when prompted.
An ambitious project to say the least, for the home tinkerer as that is the only way you could come close to carrying out your ambitions and not depleting your retirement fund. A classic though and it will keep you away from in front of the TV!
Classic Auto Mall is a 336,000-square foot classic and special interest automobile showroom, featuring over 850 vehicles for sale with showroom space for up to 1,000 vehicles. Also, a 400 vehicle barn find collection is on display. This vehicle is located in our showroom in Morgantown, Pennsylvania, conveniently located just 1-hour west of Philadelphia on the I-76 Pennsylvania Turnpike. The website is www.classicautomall.com and our phone number is (888) 227-0914. Please contact us anytime for more information or to come see the vehicle in person.
Exterior Color
Olive Drab
Stock #
5860

Estimated Monthly Payment
Classic Auto Mall

Call 888-227-0914

MORGANTOWN, PA

Mention

AutaBuy.com

when you call.
Do you have a similar car to sell? List It Now!