You auta tell them you saw the ad in AutaBuy when you call or email.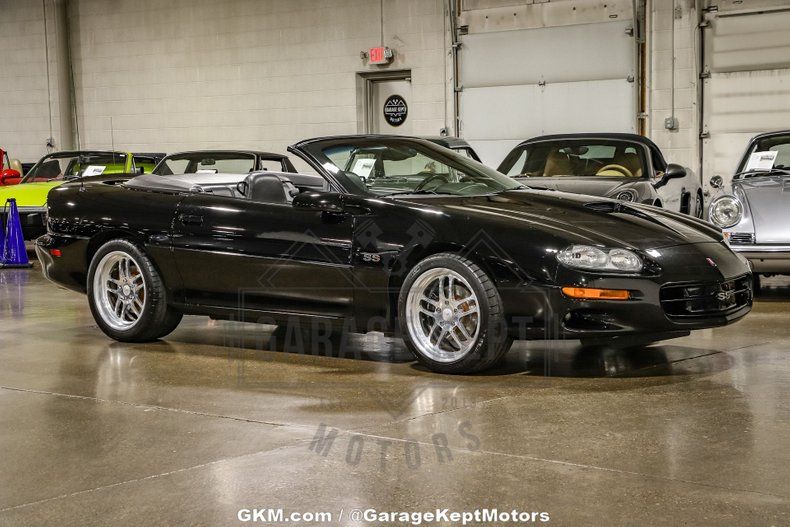 Exterior Color
Black
Stock #
23378

Estimated Monthly Payment
2000 Chevrolet Camaro Z28 SS Convertible
2000 Chevrolet Camaro Z28 SS Convertible
- 5.7L V8
- 6 Speed Manual Transmission
- Only 48k Miles
- Black Exterior
- Black Convertible Top
- Black Leather Interior
- Aftermarket Exhaust
- Short Throw Shifter With ""SS"" Shift Knob
- Original Window Sticker
The 2000 Chevrolet Camaro Z28 SS Convertible represents a pinnacle in American muscle car engineering, and this particular model stands out as a meticulously preserved example of automotive excellence. Under the hood, a robust 5.7L V8 engine delivers an exhilarating driving experience, with a powerful soundtrack that can be further appreciated through the aftermarket exhaust system. The thrill of control is heightened by the engaging 6-speed manual transmission, offering enthusiasts a direct connection to the 305 horsepower and 335 lb-ft of torque that lie at their command.
With only 48,000 miles, this Camaro Z28 SS Convertible is not just a car; it's a time capsule, capturing the essence of its era with a sleek and timeless black exterior. The matching black convertible top adds an extra layer of versatility, allowing the driver to bask in the sun and open-air freedom at their leisure. Inside, the black leather interior exudes a sense of refinement, creating a cockpit that seamlessly blends comfort and performance. The short throw shifter, adorned with the iconic ""SS"" shift knob, enhances the precision of gear changes, adding to the overall driving experience.
This Camaro Z28 SS Convertible comes complete with its original window sticker, providing a glimpse into its heritage and specifications as it rolled off the production line. Whether you're a seasoned collector or a passionate enthusiast, this 2000 Chevrolet Camaro Z28 SS Convertible offers a rare opportunity to own a piece of American automotive history that continues to turn heads with its iconic design and thrilling performance capabilities.
Please call if interested or e-mail with specific questions. Thanks for looking.
Exterior Color
Black
Stock #
23378

Estimated Monthly Payment
Garage Kept Motors

Call 616-888-3230

GRAND RAPIDS, MI

Mention

AutaBuy.com

when you call.
Do you have a similar car to sell? List It Now!