You auta tell them you saw the ad in AutaBuy when you call or email.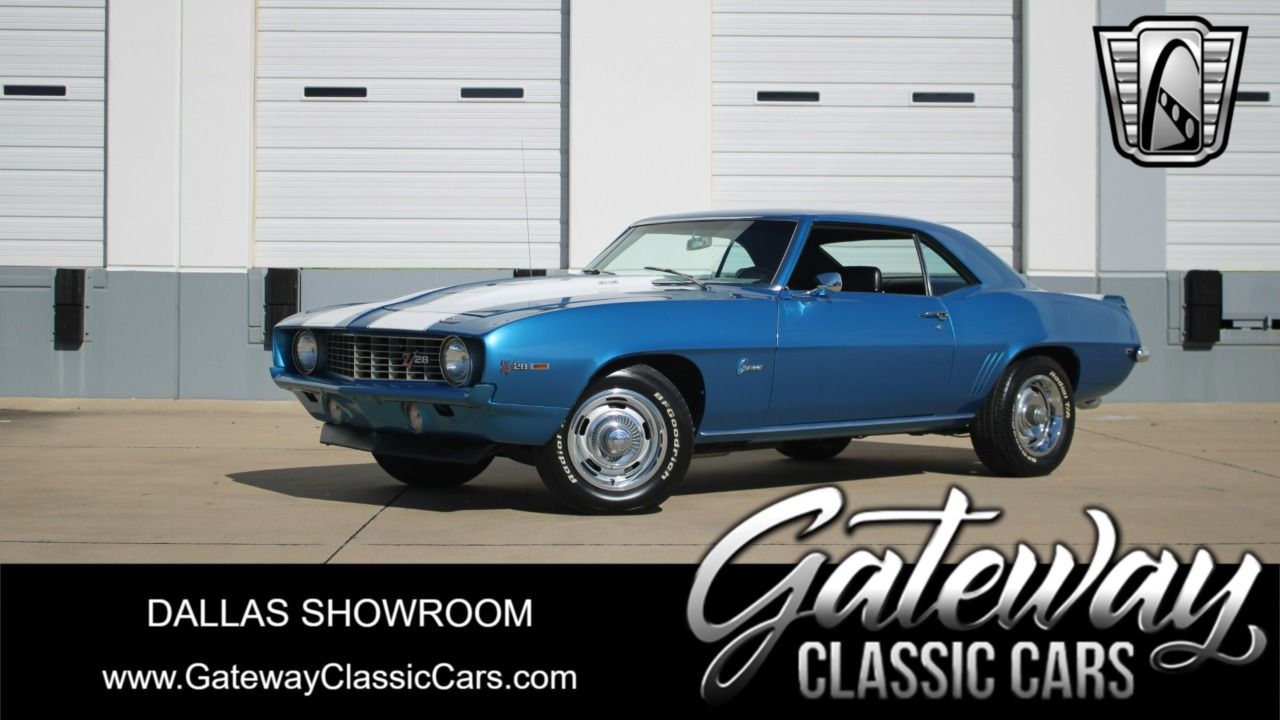 Mileage
28,374
Exterior Color
Blue
Interior Color
Black
Doors
2 Dr
Engine
DZ 302 V8
Transmission
4-Speed Manual
Stock #
DFW2497

VIN

GCCDFW2497

Estimated Monthly Payment
1969 Chevrolet Camaro Z28
Gateway Classic Cars of Dallas is very proud to present this very nice 1969 Camaro Z-28. It is a real Z-28 X77 code. It has a date correct engine, but not the one it was born with. The car was certified in 2016 by a well known classic muscle car dealer from Phoenix, AZ, Mike Kaiser of Arizona Muscle Cars.For those of you who prefer to read the stats instead of looking at all of the photos, here they are. Photos will back up all numbers:VIN#- 124379N565080 - First registered Feb. 196912437- V8 2-door coupe9N565080- Assembled Dec 1968Engine Pad- 19L514557 V1219DZV- Flint Michigan 1967 and up1219 Assembled Dec 19 1968DZ- 302 ci 290hp Z-28 4 speed manual19L 1969 model year Los Angeles Plant514557- production number indicates assembly started Dec. 1968Firewall- PBT-X-M21- BLUPaint, Body Trim -X Code- Muncie 4 speed- BlueDrivetrain- Engine casting number 3956618 -date-L 178 (Dec. 17, 1968)Heads ( 3927186 Date- J268 Oct. 26, 1968)Transmission 3885010- Muncie 4 speed - Date- P7T01 Dec. 1, 1967Rear End- BU-1213-G-EBU-3.73 Ratio 12 Bolt Posi1213- Dec 13G Detroit Axle Plant 2nd ShiftE EatonCowl Tag - 12C Car Assembly Started 3rd week of Dec. 1968 Norwood OH71-71 Lemans Blue711 Black Vinyl TrimX77- Z28- Special Performance Equipment/ Rally Stripes ( The X codes were a mid- production year addition to Norwood's Camaros beginning with trim tag body date 12B)Another original feature was the teak wood steering wheel. Tachometers were optional in 67,68, and 69 Z-28s. During the 69 production year there were 3 choices of tachs. Before Jan- Fe. the optional tach was the 6000 rpm redline with 7000 rpm maximum. Starting in Ja.-Feb, the 6000 rpm redline had an 8000 rpm max, and the very late production cars had the 6500 rpm redline with 8000 max.. The black bucket seat interior is very nice on this Z-28. This car is all about the numbers. The person who restored it painstakingly researched and found all of the correct engine and transmission parts with casting numbers all within the correct month and year that the car was originally built. The car was built starting the 3rd week of Dec. 1968. You will see photos of all of the casting numbers and block stamping showing that it is very accurate even though it's not the "born with" engine.There is no way to determine if a Camaro is a true Cross Ram because this was never an option from the manufacturer. It was something the dealer could get for you and install, or customers could order the set up and install it themselves. These full setups are selling for a great deal of money today. You will see that the block is stamped with the DZ code which is a 1969 302 /290hp manual transmission 4 speed. It also shows that it was built on Dec 19th which is also the same time frame as the car build. The Car does show all numbers including the transmission were built in Dec. 1968 at the same time the car was built. Below are the Winters intake numbers with their "snowflake" casting marks. Block date code shows December 1968. You can see the X77 on the trim tag showing that this is a real Z-28.The restoration was very well done right down to the factory markings on the firewall. It wasn't the fastest muscle car, but with single-season styling and a unique combination of brake, engine, exhaust, and induction options, the 1969 Chevrolet Camaro Z28 was arguably the most desirable Z28 of all and still is today. Factory rated at 290hp is said to have been done for insurance purposes for GM, the engines actually dyno at over 350hp. Not all 69 Z-28s came with 4-wheel discs. It was an option and cost about $500. there were very few units sold and half of them went to actual racing Z-28s. Another option was headers for the 69 Camaro. The factory would not install them but would put them in the trunk for the dealer to install if you wanted them. As stated on the Camaro Online Performance site, there is one dead giveaway that a high-performance Camaro is real. It is the placement of a reinforcement bracket welded to the rear frame rail to support an exhaust hanger on a dual-exhaust high-performance car. It is a small plate 2" by 4" and is welded on the surface edge of the rear frame rail just behind the driver's side wheel. The picture below is the plate on this Camaro. This is your opportunity to own a beautiful highly sought-after 1969 Z-28 Camaro with cross ram. 302 cu V-8 (non matching but date correct DZ code)Cross Ram Muncie 4 Speed Transmission12 Bolt Posi Rear End 3.73 Gears6000 rpm Redline Tach w/Maximum 7000 rpm12 Bolt Eaton Posi RearEndura Urethane Front BumperPower SteeringPower Brakes Discs Front Drums RearOriginal Trim TagCorrect Lemans Blue w/ Black Interior This 1969 Chevrolet Camaro Z28 is listed by our Dallas Showroom and can be viewed in greater detail including 100+ HD pictures and an HD video at www.GatewayClassicCars.com. For additional information, please call our knowledgeable staff at (817)-310-9400 or email us at Dallas@ GatewayClassicCars.com. Our Dallas Showroom is located at 1250 Mustang Drive Suite 500, Grapevine, TX 76051. Hours: Monday through Saturday, 9 AM to 5 PM CST, please reach out to set an appointment.
· Mileage: 28,374
· Color: Blue
Mileage
28,374
Exterior Color
Blue
Interior Color
Black
Doors
2 Dr
Engine
DZ 302 V8
Transmission
4-Speed Manual
Stock #
DFW2497
VIN
GCCDFW2497

Estimated Monthly Payment
Gateway Classic Cars

Call 866-767-9520

O'FALLON, IL

Mention

AutaBuy.com

when you call.
Do you have a similar car to sell? List It Now!