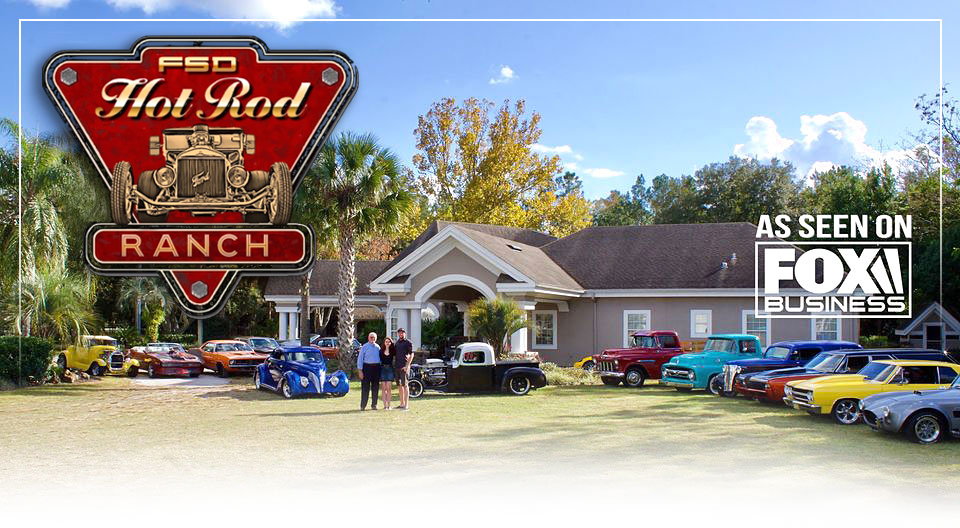 America's Fastest-Growing Classic Car and Hot Rod Dealer Online!
The FSD family treatment - Father Son & Daughter.
FSD Hot Rod Ranch is a family business that treats each of our customers as family. In fact … 1/3 of our sales are now from repeat customers that we are proud to refer to as our friends! We do everything we can to make your vehicle purchase as smooth and comfortable as possible. We are located just north of scenic Mount Dora, FL!
"My Family Treating Your Family Royally"
Current listing for FSD Hot Rod Ranch (29 Listings)

Feature

2006 Chevrolet Trailblazer LT

$14,950

189,000 Miles

Silver Blue Metallic

Our 2006 Chevrolet Trail Blazer LT is a powerfully built sleeper! Painted in its factory silver blue metallic with front...

FSD Hot Rod Ranch

689-688-6348

Special

1956 Ford Thunderbird

This ALL STEEL 1956 Ford Customline Victoria is a "One-of-a-Kind" Custom Fabricated Show Car! A 1957 Ford Thunderbird was graphed...

FSD Hot Rod Ranch

689-688-6348

Low Miles

1957 Willys Pickup

1957 Willy's Pickup Truck *Fully Restored* powered by a Super Hurricane 3.7L 226 Inline-6 and paired with a 3-Speed Manual...

FSD Hot Rod Ranch

689-688-6348

Must See

1966 Chevrolet El Camino Deluxe Restomod

$49,950

1,000 Miles

Orange Metallic

1966 Chevrolet El Camino Deluxe Resto-Mod! Powered by a 383 Stroker SBC V8 with FiTech Tri-Power EFI System and paired...

FSD Hot Rod Ranch

689-688-6348

Restored

1937 Ford Standard Model 74 Slant-Back Street-Rod

$34,950

1,000 Miles

Electric Blue Metallic

Our ALL-STEEL 1937 Ford Standard Model 74 Tudor "Slant Back" has been restored into a custom-built street rod! The Electric...

FSD Hot Rod Ranch

689-688-6348

New Arrival

1937 Ford Model 78 Deluxe Pickup

$30,950

1,000 Miles

Black

Our ALL-STEEL 1937 Ford DeLuxe Model 78 Pickup Truck has been restored into a custom-built street-rod with some "pro-street influence...

FSD Hot Rod Ranch

689-688-6348

Feature

1939 Ford Deluxe Convertible Streetrod

$44,950

1,000 Miles

Soft-White

Our 1939 Ford DeLuxe Convertible is a custom-built 3" Chopped Glass Body Street-Rod painted in a soft white with shaved...

FSD Hot Rod Ranch

689-688-6348

New Arrival

1937 Buick Century All Steel Street-Rod / Matching Trailer!

$79,950

7,000 Miles

TAN Sikkens Base/Clear Coat

This is truly a one-of-a-kind built ALL STEEL Street-Rod. Our 1937 Buick Century Series-60 4-Door Sedan has been fully built...

FSD Hot Rod Ranch

689-688-6348

Special

1941 Chevrolet Special (plymouth P12) Deluxe Convertible

$59,950

1,000 Miles

Bright Red

Custom Built "One-of-a-Kind" 1941 Plymouth DeLuxe Convertible Show Car! This Bright Red ALL STEEL Exterior features a Forward Tilt Front...

FSD Hot Rod Ranch

689-688-6348

On Sale

1941 Ford Model 11A Deluxe Tudor

$14,950

35,000 Miles

Satin-Cleared Patina

This may look like an old rusty sedan pulled from out of the woods or your granddad's barn, but it...

FSD Hot Rod Ranch

689-688-6348

Matching #'s

1938 Desoto Deluxe Toruing Sedan

$24,950

94,000 Miles

Brown Metallic

Our Beautifully restored ALL STEEL 1938 DeSoto DeLuxe Touring 4-Door Sedan is 1 of only 498 to be built with...

FSD Hot Rod Ranch

689-688-6348

Low Miles

1954 Ford F-100 Restomod

$49,950

5,000 Miles

Deep Red Metallic

1954 Ford F100 Resto-Mod powered by a Pro Built 5.8L 351W V8 paired with a C6 Automatic transmission. Fully Restored...

FSD Hot Rod Ranch

689-688-6348

Low Miles

1948 Chevrolet 3100 Thriftmaster Panel Truck

$49,950

5,000 Miles

Gloss Black & Purple Metallic

Our 1948 Chevrolet 3100 Thriftmaster Panel Truck is Fully Restored and Built into a custom, Stand-Out Classic Restomod. Painted in...

FSD Hot Rod Ranch

689-688-6348

Must See

1938 Packard Six Toruing Sedan

$24,950

35,000 Miles

Burgundy

This 1938 Packard Six Touring sedan is a beautiful piece of American antique car history. With just one repaint in...

FSD Hot Rod Ranch

689-688-6348

Must See

1941 Ford Super Deluxe Convertible

$59,950

1,000 Miles

Bright Red

Custom Built "One-of-a-Kind" 1941 Plymouth DeLuxe Convertible Show Car! This Bright Red ALL STEEL Exterior features a Forward Tilt Front...

FSD Hot Rod Ranch

689-688-6348

Must See

1936 Ford Model 68 Tudor

$44,950

900 Miles

Mirror Black

This is our all-steel 1936 Ford Model 68 Tudor Sedan "Humpback" that has been expertly restored and reborn into a...

FSD Hot Rod Ranch

689-688-6348

Must See

1973 Chevrolet Corvette Stingray Coupe

$30,950

85,000 Miles

Classic White

Our Number's Matching 1973 Chevrolet Corvette Stingray is a true factory LS4 7.4L 454 V8/4-Speed Car Survivor! All original and...

FSD Hot Rod Ranch

689-688-6348

Feature

1946 Ford Super Deluxe Tudor Street-Rod

$39,950

20,000 Miles

Bright Red

All-Steel and Fully Restored 1946 Ford Super DeLuxe Tudor Sedan Street-Rod Painted in a head-turning bright red with chrome bumpers...

FSD Hot Rod Ranch

689-688-6348

Low Miles

1939 Ford Standard 5-Window Coupe

$44,950

10,000 Miles

Laser Red Metallic

Beautifully restored and all steel, our 1939 Ford Standard 60-Series 5-Window Coupe is a fun-driving cruiser! Painted in Laser Red...

FSD Hot Rod Ranch

689-688-6348

Must See

1931 Ford Model A Phaeton

$23,950

24,000 Miles

Red & Black 2 Tone

Rare 1981 Glassic Ford Model A Phaeton Cabriolet Convertible (Glass Body) with only 24,000 Original Miles! Powered by a Mustang...

FSD Hot Rod Ranch

689-688-6348

New Arrival

1950 Chevrolet Sedan Delivery "Blue Hawaiian"

$39,950

39,000 Miles

Blue

Known as the "Blue Hawaiian", this 1950 Chevrolet Series 1508 Sedan Delivery has been beautifully restored and is ready to...

FSD Hot Rod Ranch

689-688-6348

Low Miles

1995 Ford F-150 XLT

$19,950

91,000 Miles

Sunrise Red Pearl Metallic

ALL ORIGINAL (SURVIVOR) AND WELL-MAINTAINED 1995 Ford F150 XLT Short-Bed Pickup Truck Painted in a beautiful sunrise red pearl and...

FSD Hot Rod Ranch

689-688-6348

Matching #'s

1989 Chevrolet Suburban Silverado

$19,950

114,000 Miles

White

This well-maintained 1989 Chevrolet R1500 Silverado Suburban has just 114K miles. Repainted white with custom styling graphics and fitted with...

FSD Hot Rod Ranch

689-688-6348

Must See

1951 Chevrolet Styleline Bel Air Restomod

$45,950

5,000 Miles

GM Colonial Yellow

Beautifully Restored and Modified 1951 Chevrolet Styleline Bel Air 2-Door Coupe Restomod! This Coupe is painted GM Colonial Yellow with...

FSD Hot Rod Ranch

689-688-6348

New Arrival

1941 Ford Super Deluxe Convertible

$44,950

86,000 Miles

Cayuge Blue

1941 Ford Super DeLuxe Convertible *Family Owned Since 1960* powered by a Rebuilt 3.6L 221 Flathead V8 with Tri Power...

FSD Hot Rod Ranch

689-688-6348

1 2 Next»