You auta tell them you saw the ad in AutaBuy when you call or email.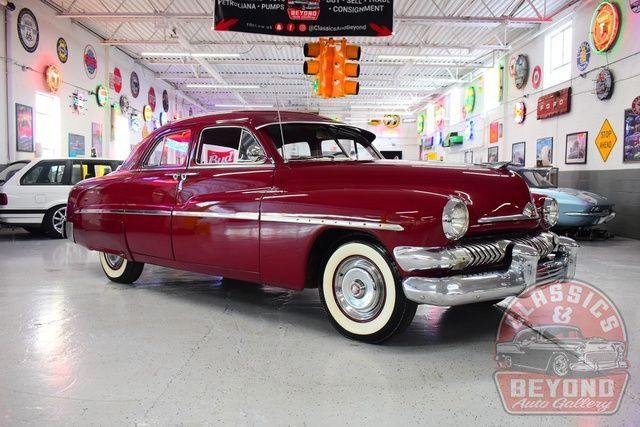 Exterior Color
Burgundy
Stock #
240

Estimated Monthly Payment
1951 Mercury Sedan
Please visit our website to view a full HD photoset of this vehicle
www.classicsbeyond.com
Get ready to turn heads with this classic 1951 Mercury 4 door sedan in a beautiful burgundy color. This vehicle is a true piece of American automotive history, with its distinctive design and powerful 255ci flathead V8 engine. The 3 speed manual transmission provides a thrilling and interactive driving experience, giving you complete control over the car.
The interior of this 1951 Mercury sedan is upholstered in a matching burgundy cloth, adding to the elegant design of the vehicle. The spacious and comfortable seats provide a luxurious driving experience, while the simple yet functional dashboard gives the car a classic feel. The manual windows, mirrors, and locks provide a touch of nostalgia, while the heater system ensures a comfortable ride on cool days.
The exterior of this 1951 Mercury sedan is just as impressive as the interior. The elegant curves and classic design elements, such as the chrome trim and bumpers, create a timeless appearance that is sure to turn heads. The hood ornament and classic hubcaps add a touch of sophistication to the car. The wheels are a classic design element that provide a smooth ride and improved handling.
This 1951 Mercury 4 door sedan is a true classic and a must-have for any car collector or vintage car enthusiast. The 255ci flathead V8 engine, 3 speed manual transmission, and burgundy cloth interior make this car a stylish and comfortable ride. Don't miss out on the opportunity to own this stunning vehicle and make it a part of your collection today!
If you are interested please reach out to our knowledgeable sales staff today! We offer shipping and financing as well! You can call or text us at 248-721-4343
Want to stop by and see it for yourself? Come check it out at Classic & Beyond Auto Gallery's indoor showroom! Give us a call to schedule a viewing appointment beforehand if you are interested in seeing a specific vehicle
35815 Clinton Street
Wayne Michigan, 48184
248-721-4343
Info@ClassicsBeyond.com
www.classicsbeyond.com
Need financing? Not a problem! We have multiple lenders servicing the classic car industry. For the best service available, contact one of our knowledgeable sales members at (248) 721-4343
Price: $29,995.
Price: $28,995.
Exterior Color
Burgundy
Stock #
240

Estimated Monthly Payment
Price: $29,995.

Price: $28,995.

Classics & Beyond Auto Gallery

Call 248-721-4343

WAYNE, MI

Mention

AutaBuy.com

when you call.
Do you have a similar car to sell? List It Now!
More from this Dealer View All
Share this Listing
Additional Services: