You auta tell them you saw the ad in AutaBuy when you call or email.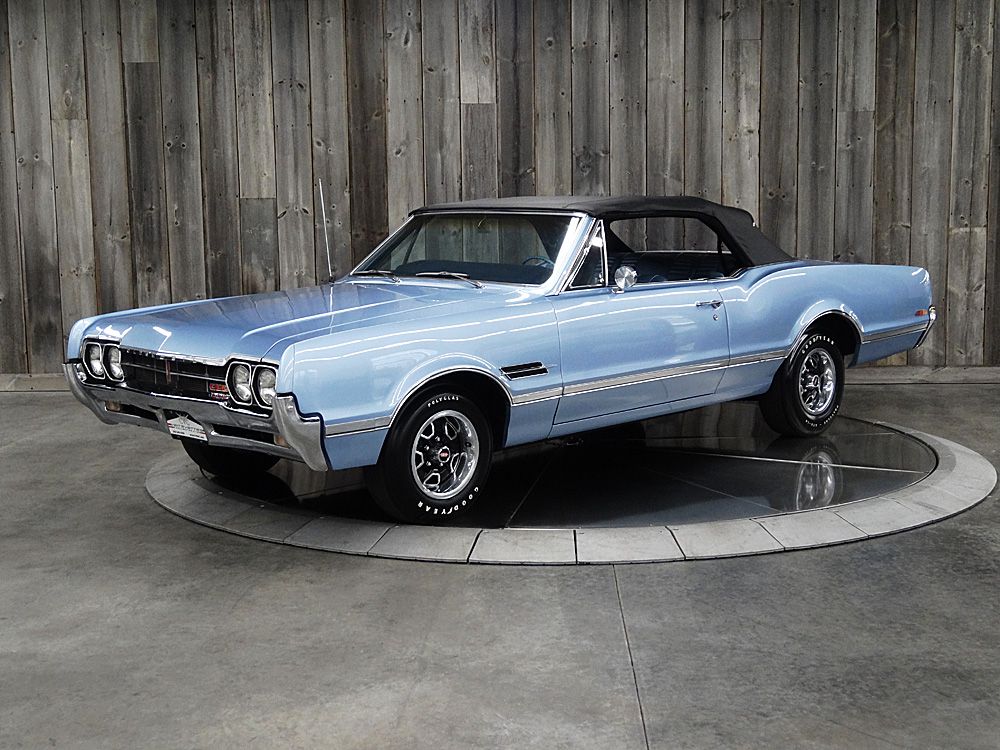 Mileage
0
Exterior Color
Blue
Interior Color
Blue
Doors
2 Dr
Engine
8 CYL
Transmission
4 Speed Manual

VIN

338676M140606

Estimated Monthly Payment
1966 Oldsmobile 442
This car is a true documented 442 option car. New rebuilt engine summer 2019!!! This 1966 Oldsmobile Cutlass 442 Convertible is a stunning rare example and hard to find triple blue vehicle (came with a blue vinyl soft top). A three year frame-up restoration makes this 442 highly desirable. Power equipment includes a 4 speed Muncie M-22 transmission with a Hurst floor shift console, a Modestly restored 350 Rocket engine, power steering, manual brakes, power trunk release and power convertible top. The convertible top and motor has been restored. March 2019 a new black vinyl soft top was installed. Black was chosen over the factory blue because blue gets dingy easily like white quickly. Small dash pad cracks throughout top of pad. This restoration features new paint, new seats, some hardware and some panels, new paint, new rubber molding bumper to bumper, new suspension, new carpet, and newly chromed bumpers. A highly detailed and sanitary engine compartment adds to the appeal of this 442 Olds Cutlass convertible.
Documented Vin # Codes
- First 3 stands for Oldsmobile
- The following 3867 is the 442 option.
- Only 1448 442 4-speeds made in '66.
- 5VY also indicates the 442 option.
The following was written by the previous owner for us to provide to the new owner....
The 1966 442 cutlass convertible was a car that found its way through my wife's family locally. In 2014 I bought the car from my wife's step dad whose son owed it for many years. His son tragically passed away 6 years ago. In the late 70's he took it to California for 15+ years and then eventually found its way back to Iowa. It was then covered and parked in his dads place for several years where I came across it and over time eventually drew my interest to restore it after his sons passing.
The body and paint was professional done by a gentleman who worked for Karl's Chevrolet paint and body in Ankeny Iowa for many years. He now owns his own shop in Bondurant IA. his work is top notch. The car was disassembled, soda blasted bumper to bumper new metal was installed and then painted and assembled. The car was also undercoated. It was painted with a factory code PPG DuPont metallic base color (Lucerne Mist 13042) with a deep clear coat.
I have owned the car for about 4-5 years and drive it to and from car shows throughout the summer. I drove it about 200 miles every summer and always on nicest summer days, it's never left me stranded! The car drives and rides down the road very nice and turns a lot of heads.
It's been to the Good Guys Car show at the Iowa State Fair for the past 5 years and gets all kinds of buyer hits. That event draws thousands of classic cars from all over the nation and I have not come buy another '66 442 convertible at that show or in the area. The car has drawn a lots of interest by Oldsmobile lovers over the years.
I do not know where the original 400 engine went. My restoration goal was to keep it all stock the way I found it and make it a desirable and dependable driver. Many people complement how well the car shows.
The engine in the car is a 70-72 Oldsmobile rocket 350 engine. The motor was pulled last winter (2017) and gone though the top end with new valve seals, and a complete engine gasket seal kit installed
(intake, oil pan, valve covers) did not pull the heads. The car dose not leak fluids like most of them do. In cooler weather and cool startups the carburation is finicky. The Rochester 650 four barrels are stock carbs on the '66 Oldsmobile but they require some fine tuning adjustments to seasonal temperature change.
DEALER UPDATE July 2019, the car started smoking on startup so we had it checked and found a couple bad rings. After tear down discovered more wear and tear and decided to completely rebuild the engine. Among other things, tear down engine, steamed block, turned the Crank, Bore Block, did a head job with guide work, new valve seals, full engine kit including Pistons+ Cam+ Lifters and Timing chain set. Repainted and reinstalled early August 2019.
Last winter I finished restoring the convertible top and motor. Out of the factory it was a triple blue car which was a rare combo. Late 2018 I had new upper and lower rear axle control arm bushings installed. Also new:
-New chromed bumpers.
-New trunk pan
-New felt in windows.
-New weather molding
-New sill plates
-New carpet.
-New blue convertible top boot
-New interior for the exception of the door panels.
-Heat/sound barrier insulation on doors and floor pan.
-New front/rear suspension.
-New Heater Core
-New fluids thought-out.
Great "Top down" 442 Muscle Car with only a couple thousand miles on the rebuild. Car comes with: 1966 Assembly Manual, Assorted receipts, Folding Top Operations manual, Warranty Booklet with Protecto Plate Inside, Owners Manual, Color Swatch Card and 442 Fender Cover.
· Mileage: 0
· Color: Blue
Mileage
0
Exterior Color
Blue
Interior Color
Blue
Doors
2 Dr
Engine
8 CYL
Transmission
4 Speed Manual
VIN
338676M140606

Estimated Monthly Payment
Veit's Vettes & Collector Cars

563-323-3107

BETTENDORF, IA

Mention

AutaBuy.com

when you call.
More from this Dealer View All
Share this Listing
Additional Services: