You auta tell them you saw the ad in AutaBuy when you call or email.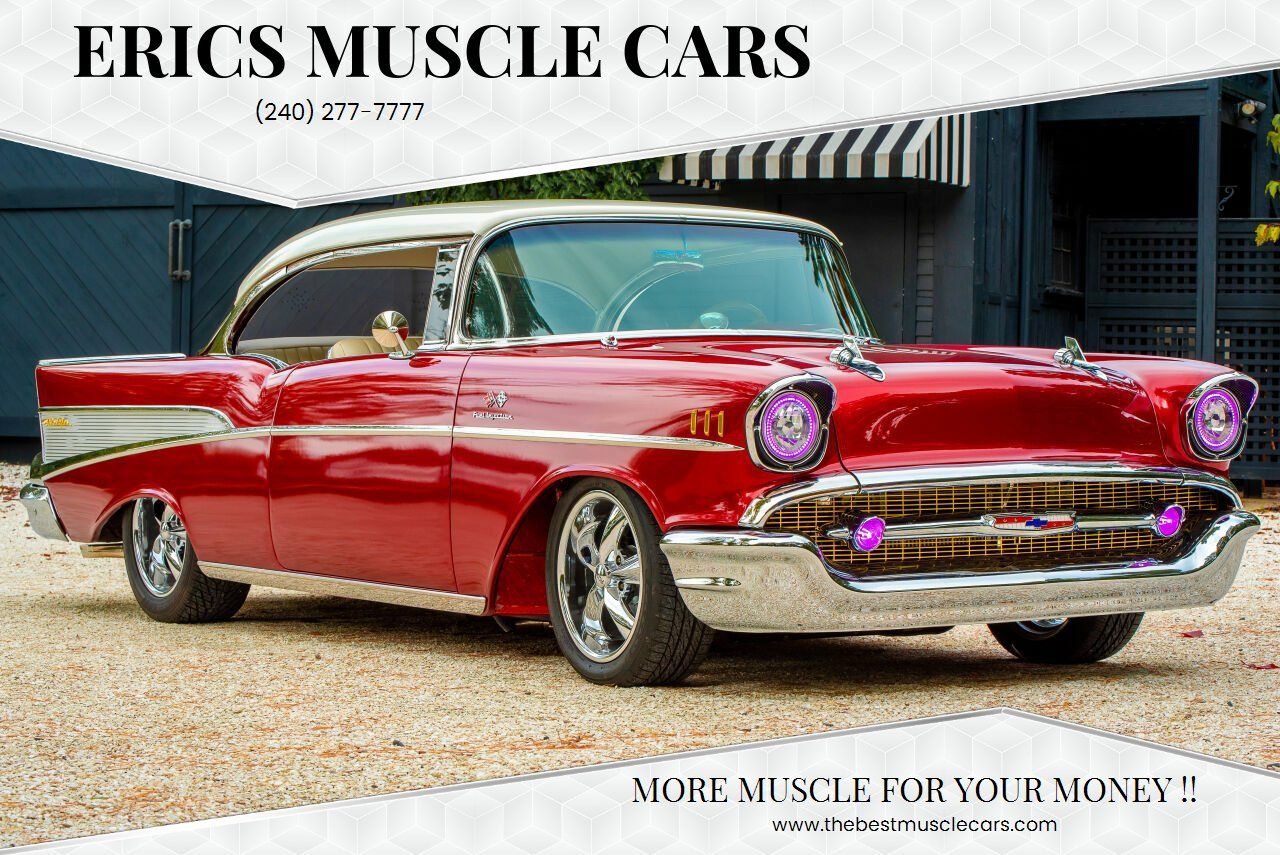 Mileage
1,000
Exterior Color
House Of Kolors Tangerine
Engine
Other V8
Transmission
Manual
Stock #
55010242

VIN

3953044049R830R84

Estimated Monthly Payment
1957 Chevrolet Bel Air Pro Touring Restomod
***** LOCATED IN MAINE ******* Eric's Muscle Cars is proud to offer this no expense spared 57 Chevy Restomod !!! This magnificent Tri 5 was meticulously restored and shows it in the Detail !! Body Chassis : 1. The body is all steel. 2. The body has very little filler 3. The color is House of Kolors Tangerine, with 3 layers of metal flakes called Fusion in carrier coats. 10 coats of clear coat. 4. The roof is Adobe Beige. 5 I shaved the door handles, emblems of the front and back. 6. California Smooth front bumper. 7. Rear Bumper cut for trailer hitch. 8. Classic Chevy tubular front control arms 9. Firestone Air Bags front and rear with Airlift Performance Computer controlling the system. One can either control it with your Smart Phone of the device attached. Interior: 1. The interior has 62/64 Impala bucket seats 2. The interior was in it when I bought the BelAir 3. The Carpets are new. 4. Purple LEDS under the front and rear seats. 5 Vintage Air is also ducted to the rear seats through the console. 6. I installed electric door poppers, managed by a key fob and an emergency button in the trunk. 7. I installed electric windows on 4 windows. 8. Dyna Max sound deadening used through out the interior 9. New Flaming Rivers Rack and Pinion. Drive Train/Running Gear/ Engine Compartment 1. The motor is an LS3 with a ProCharger it has 75 lbs. Injectors , Heaver valve springs, and a Crower Blower cam shaft. 2. We have Dyno slips to 625 HP to the rear tires. 3. The transmission is a new Tremec 6 speed. 4. New drive shaft 5. The rear end has a Posi , dont know whos, it is a 10 bold GM. 6. Wheels are Chip Foose Legend design came with the purchase. 7. The exhaust system is 3 with 3 cutouts. You open and close the a key fob. 8. The clutch is McLeod 450 hp with a hydronic throw out bearing. 9. The firewall is custom recessed 3 inches, smoothed and recessed. 10. The hood hinges are Billet aluminum from Eddies Motor Sports. 11. The is a delete panel on the passenger side behind which are the ECM and fuses for the LS3. 12. The radiator is manufactured by Be Cool. 13. The inner cooler for the ProCharger is amount in low position to allow maximum air flow. 14. I had a a Snow Performance system installed. It has never been activated. It is in the trunk with the battery in a custom built box, which also holds the battery. There is a battery shut off switch in the same compartment. 15. Disk brakes on all corners 16. Tires are Nitto NT 450X250/50 R17 front, Nitto 215/50ZR 17 rear. 17. Trunk has custom chrome hinges, Stainless Steel polished trunk latch 18. The Brake Master Cylinder is Wilwood, the disks are drilled and slotted and the calipers are GM. Electronics: 1. Vintage looking radio with blue tooth so you can use your Smartphone or table to communicate with the stereo. 2. The BelAir has cruise control. 3. Just installed a new XXXXXXXamplifier and 10 subwoofers, there is a separate volume control in the glove box. 4. All new wiring is new. Fuse panel in the trunk drivers side. Allows for easy access. 5. There are Purple LEDs under the BelAir . 6. New Digital Dash Instruments 7. There is a GPS system installed that can be programmed to shut down the fuel pump or disable the ignition if the BelAir is moved or stolen. There is small annual fee for this service.
· Mileage: 1,000
· Color: House Of Kolors Tangerine
Mileage
1,000
Exterior Color
House Of Kolors Tangerine
Engine
Other V8
Transmission
Manual
Stock #
55010242
VIN
3953044049R830R84

Estimated Monthly Payment
Eric's Muscle Cars

Call 240-277-7777

CLARKSBURG, MD

Mention

AutaBuy.com

when you call.
Do you have a similar car to sell? List It Now!
More from this Dealer View All
Share this Listing
Additional Services: