You auta tell them you saw the ad in AutaBuy when you call or email.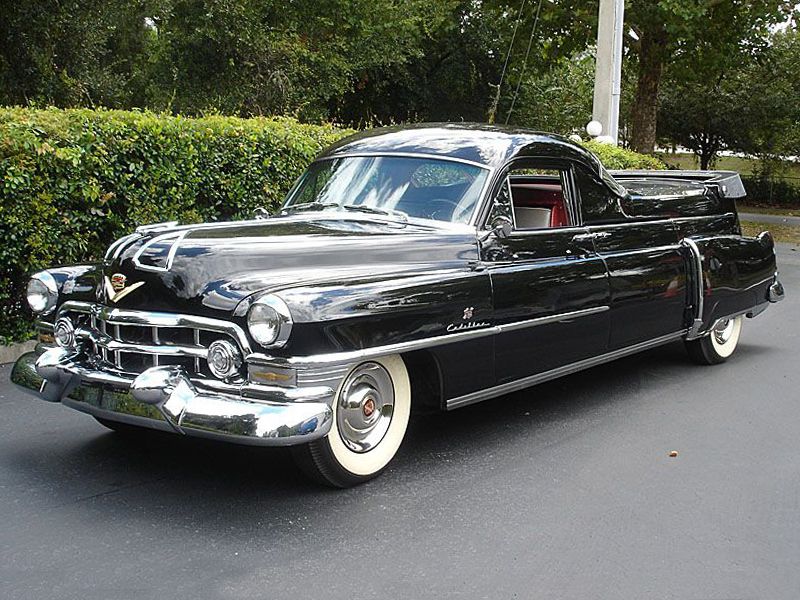 Mileage
42,062
Exterior Color
Ebony Black
Interior Color
Burgundy & Grey
Doors
4 Dr
Engine
8 CYL
Transmission
Automatic
Stock #
CASKET BEARING HEARSE & FLOWER CAR- 1 OF 9

Estimated Monthly Payment
1952 Cadillac Hearse S&S Florentine Flower Car
1952 CADILLAC S & S FLORENTINE FLOWER CAR-HEARSE- CASKET BEARING MODEL
Dating back to the late 18th Century, funeral flowers and sprays were traditionally transported in an Open Carriage and driven in front of the horse-drawn Hearse. By the 1900's, the first Automobile Hearses were equipped with special trays to display the flowers around the casket in the car. These racks were often chrome or wood and were built-into the vehicle on hinges. At large funerals, Touring Car Phaeton's carried the flower sprays with the top down. This body concept has carried through the Centuries straight through, till now. Sometimes, as many as TEN Flower Cars would proceed the procession. Especially, when Dignitaries, Famous Movie Stars or Gangster-types.
The 'special purpose' Flower Car began to reach huge favor by the 1930's. However, by the Fifties the much improved, long-low slung Flower Car 'Limousine' Style Cars had indeed 'arrived', reaching the pinnacle of success! By that time, the now purely ornamental rear boot, that resembled a folded-down and Stacked Convertible Top, became the 'Hallmark' of every single Flower Car built.... even true to this day. Back then, there weren't many Funeral Car Fleets that didn't contain at least ONE Flower Car. Some of the big city Funeral homes had multiple Flower Coaches. With the exception of Flexible Motor Coaches, all the big Coach Builders offered Coupe-Style Flower Cars as the "Crown Jewel" of their Funeral Car Fleets. Even the small, economy coach builders like Barnette, Acme, Meteor and National offered customers smart looking, Coupe-Stylized Flower Cars on Long Wheelbase Pontiac and Chevrolet Chassis.'
For many of us, as Auto Enthusiasts, the 1950's also marked the High Point of the Automobile as the American Icon of Cultural History. Who could ever forget the Flashy Fins, Styling and Flamboyance as America celebrated the End of War with cars that not only 'looked like' P-38 Aircraft but, were designed/rendered after actual Airplanes. Every manufacturer offered a 'new 'body-style each year. It was the Beginning of Good Times....a Generation of over excess! It was a time of over-use of chrome, Big Dagmar Bumpers (aka: "Bumper Bombs"), Huge Fins, 3-Tone Paint Schemes, 4-Door Hardtops, Wide Whitewall Tires and Big Gaudy Convertibles.
Sales of 'new' cars soared with their increased popularity and even the Pro Car Builders found they had little choice but, to follow the lead. No matter how Conservative...they found themselves using wrap-around windshields, large fins, and gobs of chrome on every surface. Fueled by the increase in Post-War Sales the Packard (Henney) took a backseat, and were considered ultra-conservative, "a High Buttoned Shoes" Automobile which allowed Cadillac to shift into high gear. For 1950, Cadillac redesigned their entire Commercial Chassis and it's biggest customers (Superior, Meteor, A.J. Miller, Eureka and Hess & Eisenhardt- S&S ) fought to build the most attractive Ambulances, Hearse and Flower Cars. Packard Henney sales, still camped out in "Oversized Bathtub Land" withered to a fraction of what they normally produced, as the body styles they produced appeared, and were, 'dated' looking. They closed for good in 1954.
Back then, you could choose from 2 traditional Funeral Hearse styles the Landau and Limousine Style (the model with abundant windows). Both were endowed with real Chrome, yards of Heavy Drapes and Mohair interiors. But, the Top of the Fleet was always considered the Flower Car. The 'Fifties', was indeed, the year the Flower Car reached it's all-time top popularity.
In Flower Cars: There are only two different basic Versions you could order. The "Western-Style" which had an open cavern behind the passenger cabin which flower baskets were carried on. That was fitted with a Canvas or Stainless Steel protected area. The Tonneau cover snapped, or buttoned into place, over or under the flowers. The far more popular (and more expensive) "Eastern Style" came equipped with a hydraulically adjustable steel deck. The floral sprays were artistically arranged across the deck, held in place by chrome rails for display, as the car moved to the graveside at the Cemetery. The Deluxe versions had a hydraulically operated flower deck that could be adjusted to accommodate a cot, or casket and, could also be lowered to protect the flowers in the wind. The 'boot', or faux convertible top, was hinged to move out of the way. The rear door opens to expose a full stainless compartment for a casket. Some Funeral Homes used the Flower Car for both needs, but for the most part as an active duty hearse. Thus, they earned the name "Floral Funeral Coaches". This was one of a few made with an Automatic Transmission.
This Coach is a very rare "Florentine Model" designed to carry a casket, with a flip-up Boot, and a wide rear door to accommodate casket entry. It is equipped with a full stainless coffin chamber and casket rollers. The rear side doors allow for the Church Truck, Chairs or Pulpit.
Today , due to the high cost to build, late model Flower Cars are only built in very limited numbers. It's only by popular demand, and the latest trend to return to "The Old Ways", that they have seen a resurgence of these great new tribute Coaches and Classic Hearses. This great Coach just underwent our re-restoration process and is now priced at $96000 obo. I've SOLD over 32 Classic Hearses, Ambulances and Flower Cars at Classic Dreamcars in the last 6 years! New Phone (352)217-9868
· Mileage: 42,062
· Color: Ebony Black
Mileage
42,062
Exterior Color
Ebony Black
Interior Color
Burgundy & Grey
Doors
4 Dr
Engine
8 CYL
Transmission
Automatic
Stock #
CASKET BEARING HEARSE & FLOWER CAR- 1 OF 9

Estimated Monthly Payment
Classic Dreamcars

Call 352-217-9868

MOUNT DORA, FL

Mention

AutaBuy.com

when you call.
Do you have a similar car to sell? List It Now!
More from this Dealer View All
Share this Listing
Additional Services: