You auta tell them you saw the ad in AutaBuy when you call or email.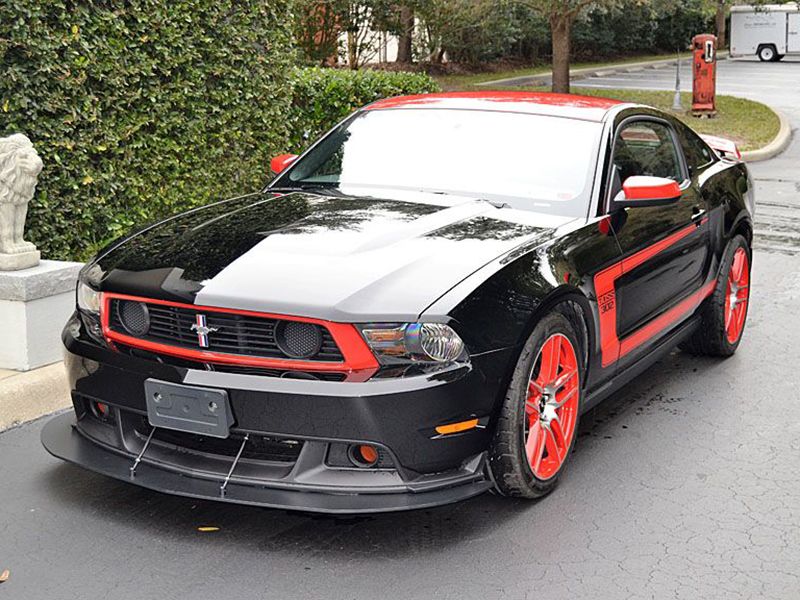 Mileage
2,026
Exterior Color
Black
Interior Color
Black
Doors
2 Dr
Engine
8 CYL
Transmission
6 Speed Manual
Stock #
AUTOGRAPHED BY PARNELLI JONES

Estimated Monthly Payment
2012 Ford Mustang Boss 302 Laguna Seca Edition
Ford took thEIr time reviving the Boss 302 nameplate for 2012. Perhaps, it was the reception at the 40th Annual Barrett-Jackson Auction to The First 2012 Boss 302 Mustang Laguna Seca Edition. It sold for an amazing $450,000 with the proceeds going to the Juvenile Diabetes Foundation. The only Blue Laguna Seca caused such a commotion, there is no surprise Ford would decide to add it to their line-up. It was built on the 2-door- 2+2 Sports Coupe format (actually a 5th generation Mustang) and carried the 5.0 Liter V8 6 speed manual transmission with a 107" wheelbase (188.1" length), and a curb weight of 3621 lbs. This revived nameplate took the Standard 5.0 V8 and enhanced it' with an upgraded intake system, forged rotating assembly, CNC ported heads, revised camshafts and high flow "runners in the box" intake taken from Ford's 302 Racecar. It produces 444+ horsepower 32 hp over the standard GT's 412 hp. Though the engine loses about 10 lb ft). of torque at peak when compared to the standard GT. It is rated at 380 lb ft and comes with a Six-Speed MT-82 Manual Transmission. A solid rear axle with 3.73:1 differential uses carbon fiber plates in its Limited Slip Differential or the optional Torsen Differential. The quad exhaust system was created with two standard Mustang GT outlets and two side pipes that exit on either side of the rear crossover. The side pipes send the exhaust through metal "Attenuation" discs to create an appealing 'growling' exhaust sound. The discs are removable and include a spacer plate sized to match aftermarket exhaust dump valves.
The Boss 302 takes the Mustang GT's suspension and adds higher-rate coil springs, stiffer bushings, and a much large diameter rear stabilizer bar. The body is lowered 11 mm (0.433 in) up front and just 1 mm (0.039 in) in the rear to give it a more raked stance designed to recall the original. The shock absorber's are actually manually adjustable at the shock tower by using a flat head screwdriver. The standard Mustang traction control system and electronic stability control programs have been altered with a new intermediate 'Sport Mode' designed to allow for more flexibility on the track. The Aero Package ( spoilers, splitters, etc.) is almost entirely copied from the Boss 302R race car. The 19-inch-alloy racing wheels are 9-inches wide up front and 9.5-inches out back and come fitted with 255/40-19 (front) and 285/35-19 (rear) Pirelli P-Zero tires. The last thing you're likely to see if you race against one is the map of the Laguna Race Track on the Rear badge... :-)
The Boss 302 Laguna Seca edition is actually a further Performance Boosted version of the Boss 302. Additions include Recaro Sport Seats, a Torsen Limited Slip Rear Differential (both optional on the standard Boss 302), revised Suspension Tuning with unique Spring and Tamper rates, and a Larger Rear Stabilizer. The Laguna Seca model loses its rear seats, which are replaced by a Cross-Car X-Brace to increase structural rigidity approximately 10%. It rides on 19x9-inch front (255/40-19) and 19x10 inch rear (285/35-19) Light-weight Alloy Wheels with R-compound Ultra High-Performance Tires. Ford Racing Front Brake Ducts help cool the brakes. Each Laguna Seca Model comes with a RED KEY that activates the Computer Performance to Race Track Level. This can only be done at the FORD Dealership.
The 2012 Laguna Seca Boss 302 came in two colors Black (626) or Ingot Silver (159) with a red roof and red accents. For 2013, color choices included both 'School Bus Yellow' and 'Black', both with reflective matte silver stripes. Both carry a more aggressive front splitter and a larger rear spoiler increase downforce for high speed track use. It was revealed Ford supposidly produced 750 Laguna Seca versions for both 2012 and 2013 years (1500 total). In actuality, it was 787 for 2012. These would be considered the Last & Best of the Straight-Axle Mustangs, yet the FIRST re-use of the coveted "Boss 302" nomenclature by Ford. Used 'Laguna' Sales (Auction & Private Retail) have proven The First Issue will always be worth more (Manheim Auction sales).
The limited-edition Laguna Seca is designed to bridge the gap between the Boss 302 and the Boss 302R. Since Ford was initially lax in revealing any serious details from the testings performed on the 'new' Mustang Boss 302 Laguna Seca , Sport-Auto Magazine took it upon themselves to run a performance test on the car at Hockenheim. The results were more than impressive: The Laguna Seca had better braking then the Porsche 991, was faster then the Aston Martin DBS, Audi R8, Ferrari California and BMW M3 ! So, it's definitely a 'Road Rocket'.
Our car is equipped with all the options as follows:
A GREAT 'FUTURE COLLECTIBLE' 1 OF 787 BUILT,
ONE OF 626 IN BLACK & RED- LOADED WITH THE OPTIONS,
BLACK 'RECARO' SEATS IN ALCANTRA SUEDE,
REAR SEAT 'DELETE' WITH X-TORSION BRACE,
MT-82 6-SPEED TRANSMISSION,
3:73 REAR W/ 'TORSEN' HELICAL LIMITED SLIP DIFF.
STAGGERED SIZE RED PAINTED WHEELS / 'R' COMPOUND TIRES,
SIDE STRIPES / LAGUNA LOGO'S & SPEC. GAS CAP,
BOSS 302 PACKAGE W/ 'RUNNER IN THE BOX' INTAKE,
AIR CONDITIONING AND PREMIUM SOUND STEREO /CD,
'JOB 1' PACKAGE / RED ACCENT STRIPES/ SPEC.GAUGES,
5.0 L 4V DOHC ENGINE 444+ HP / 7,500 RPM / HI-LIFT CAMS,
BREMBO 4W DISC BRAKES & LOWER DIFFUSER 'SPLITTER' SPOILER,
ADDITIONAL OPTIONS:
FORD RACING OIL COOLER, FORD TRANSMISSION AIR SCOOP,
BOSS 'PACKAGE': CAR COVER WITH SPECIAL R. SPOILER (558),
SPECIAL ORDER FORD 'RACING SHORT SHIFTER' & BOSS SHIFT BALL.
NOTE IMPORTANT: 'RED KEY ACTIVATED' by dealer
APPROX. 2,026 ORIGINAL MILES #LS121 NEVER 'TRACKED' SHOWROOM CONDITION,
PERSONALLY SIGNED BY 'PARNELLI JONES' RACE DRIVER,
( BASED ON MILEAGE, CONDITION, AUTOGRAPH, LOADED WITH OPTIONS + 4 DEALER OPTIONS & DOCUMENTATION ),
ALL RESEARCH DONE THROUGH FORD MOTOR CO. RESOURCES, 'SPORT-AUTO' MAGAZINE, FORD SHOWROOM BROCHURES. AND INTERNET SITES..
Laguna Seca edition has map of track on rear badge
The Boss 302 a Seca Boss 302 is still powered by the same 440 horsepower 5.0-liter V-8 found in the Boss 302 but engineer's decided to concentrate their focus on how to move this beast around a track quicker than anything in its class including the BMW M3. Ford engineer's started with weight reduction by removing the rear seats and than in its place they added a cross-car X-brace that stiffens the rear chassis by as much as 10 percent. Also on the inside Recaro seats built by Ford SVT are standard plus an Alcantara wrapped race steering wheel provides the driver unmatched grip for any situation they may encounter on the track.
In the wheels and tires department the Laguna Seca package uses lightweight 19-inch alloy racing wheels with an R-compound ultra-high-performance tire.
Other enhancements over the standard Boss 302 include higher rate springs, larger rear stabilizer bar, aggressive front splitter. NOW OFFERED FROM THE MUSEUM DISPLAY COLLECTION: $52,500. Phone (352)217-9868
· Mileage: 2,026
· Color: Black
Mileage
2,026
Exterior Color
Black
Interior Color
Black
Doors
2 Dr
Engine
8 CYL
Transmission
6 Speed Manual
Stock #
AUTOGRAPHED BY PARNELLI JONES

Estimated Monthly Payment
Classic Dreamcars

Call 352-217-9868

MOUNT DORA, FL

Mention

AutaBuy.com

when you call.
Do you have a similar car to sell? List It Now!
More from this Dealer View All
Share this Listing
Additional Services: