You auta tell them you saw the ad in AutaBuy when you call or email.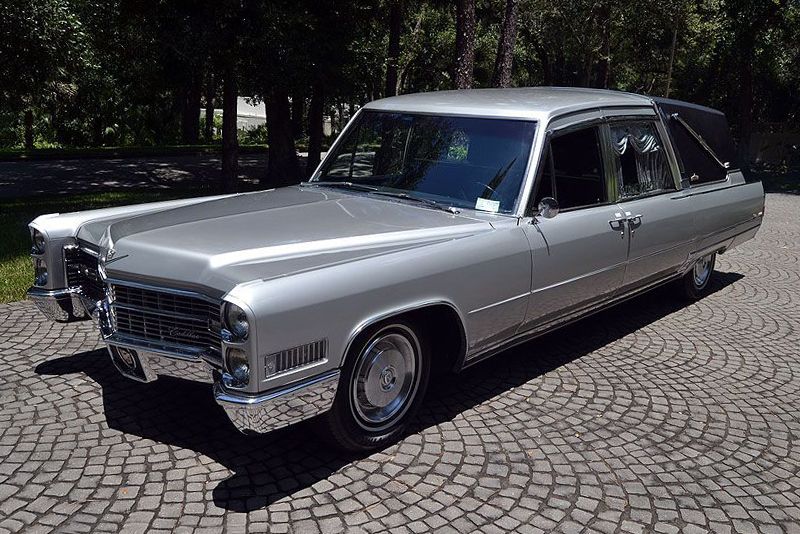 Mileage
88,000
Exterior Color
Silver
Interior Color
Black
Doors
4 Dr
Engine
8 CYL
Transmission
3 Speed Auto
Stock #
SORRY, SHE SOLD!!

Estimated Monthly Payment
1966 Cadillac Crown Sovereign Hearse Landau Hearse
SOLD-SOLD- This 55 year old Vintage Funeral Coach gives testimony to the incredible quality of the Superior Coach Works spawned from Lima, Ohio. Back in 1966, Superior offered numerous Models from the base model 'Royale' to the "Crown Royale", to the 'Sovereign", to the most luxurious: 'Crown Sovereign'. This model was the Top of The Line...the Finest this Coach Builder had to offer. Total production of ALL Coachbuilders that year was 2,463 units. So, in the big scope of things, this model Coach represents about 10% of production. While Cadillac Passenger Car Sales exceeded 200,000, Superior had to 'make it's mark' in order to rise above the rest of the Coachbuilders so, they offered a beautiful new-styled Funeral Coach. The Superior Crown Sovereign succeeded with a "traditionally conservative" Coach featuring a more sculptured enclosed rear quarter section. The Coup Degras' was, it carried a magnificent full Chrome Crown Molding over the roof (copied later for years by every single major Coach Builder). It had a matching Stainless Crown inside the coffin chamber. Then, top it off with beautifully crafted Chrome Crown Embellishments throughout the Cabin, on the exterior sides of the Coach and even the backdoor, inside and out. Plus, only this model carried ALL the luxury frills, including a better grade upholstery carroied out in the door panels and sides, as well as, a large Chrome Medallion on the backdoor. The rear fender quarters displayed the "Crown" Signature nameplate next to the "Superior" badge and testified to onlookers & admirers.... that it's owner was a First Class Funeral Home that could afford 'better service' by offering a Deluxe Version Funeral Coach, truly worthy of it's Crown, literally "The King" of The Coachbuilder's Line. Built on the traditional Extended Cadillac Commercial Frame (224.5 " in length) it offered a Standard of Luxury unmatched by the others. The Crown Model was offered in two different versions a Limousine Style, with Glass Side Windows , or a Closed Rear Cabin Style with Chrome Landau Bars on the sides. The Funeral Director, or Mortician, could choose from not only the color to match his Fleet but, the color of flooring or carpet and even the option of a Vinyl Roof Covering or, Stippled Finish Roof Coating. Engines offered were the same for all models built on the Cadillac Commercial Chassis with the 429 (7 liter) 340 hp @4600rpm V8 and 3 speed Turbo-Hydra matic Automatic Transmission, standard. As usual, following the Conservative Funeral Director format, unlike production Cadillac's, other typical luxury amenities were offered at extra charge, but seldom ordered. For instance All Superior Coaches came from the factory with Tinted ("Shaded Glass"), Choice of Door Post Hinging, Aux. Door Locks, Top Grain Genuine Leather Seating, Power Steering & Brakes, Loading Lights, Dual Sun Visors, Custom Made Front Armrests on the door panels, complete Triple Undercoating, "Super Zinc" Steel Rockers, and to combat rust, Even the Partition Glass was fitted with Non-Glare Glass, at no charge, to eliminate reflection while driving. According to the Convention Brochure on this Model, 10 casket rollers, Bier Pins, Church Truck Well, and 5 Draperies were also included. This was the year Superior booted-up their paint process by adding "Advanced Professional Paint Booths", employed by Cadillac, which provided multiple coats of Acrylic Lacquer. These were baked on, and color sanded-then, baked again and rebaked a 3rd time. This process gave the highest possible gloss and long lasting finish.
Superior was the Largest , Most Successful Professional Car and Bus Manufacturer in the USA in 1966. This particular Coach is finished in it's original color of "Nevada Silver" with Black Vinyl Roof (refurbished) and Black Brocade Interior Appointments w/ restored ( Real not faux) Leather Seating w/ White Piping. It has the original AM/FM Radio, Clock, Power Antennae, and Remote Mirror. It carries the optional White Wall Tires and the Standard Cadillac Hubcaps, which will probably colorize. Only the Crown Sovereign model had the smaller rear window but, the attractive Brushed Aluminum Chrome Lower Rear 1/4 Fender Moldings were Standard on ALL Crown Models. We will replace the original , Ivory Drapery with new, Custom professionally Made Drapes. The engine cavity, usually ignored by most FD's, is detailed 'show worthy' still retains the original Makers stamped data plates and Cadillac Motor Car ID plates. This Coach has all it's original Paperwork, including Owners Manuals, Warranty Booklet, Protect-O-Plate/Booklet illustrating the original owner's name "Valley Hearse Service" in Eugene, Oregon ("delivered 5/24/1966"), Showroom brochure, and even includes the original custom "Especially Made For" Chrome Nameplate normally fastened to the dash ... a bragging point for any 'FD'. This Coach cost new: $11,625.00 (+ options). That computes today to: $76,357.16. This is a Model DL 604 and McPherson's Superior 'Complete History' Book shows that would be One of 241 made. (Total Superior Cadillac Pro Car production was 983 in 1966). The Coach Body is numbered "#950", which makes it 33rd from last built. It also features all Eureka Co. Casket Rollers and equipment inside the Casket Chamber, as Superior was known to have purchased all the (expensive remaining Chrome) hardware from Eureka when they closed their doors in 1964 (Eureka unable to bear the cost of re-tooling for the new body style). Thereby, making this Coach not only attractive but, a bit more unique.
The 1966 Model is also unique in that it's one of the 'stacked headlight' versions offered 1965-68 which has it's own following among hobbyist. Despite it's age this Coach runs like new and just had a compression test (3x) showing supreme compression per cylinder ! It has plenty of power and floats down the highway as you would expect a Classic of this caliber. This Coach hails from Oregon where it was part of a Professional Livery Service. It then moved to California during it's caring ownership. The chrome is remarkable, the paint excellent and Vinyl Top near new as we Just completed a re-restoration. Ready for Service and Front-Line Duty. Phone (352)217-9868 SOLD
· Mileage: 88,000
· Color: Silver
Mileage
88,000
Exterior Color
Silver
Interior Color
Black
Doors
4 Dr
Engine
8 CYL
Transmission
3 Speed Auto
Stock #
SORRY, SHE SOLD!!

Estimated Monthly Payment
Classic Dreamcars

Call 352-217-9868

MOUNT DORA, FL

Mention

AutaBuy.com

when you call.
Do you have a similar car to sell? List It Now!
More from this Dealer View All
Share this Listing
Additional Services: