You auta tell them you saw the ad in AutaBuy when you call or email.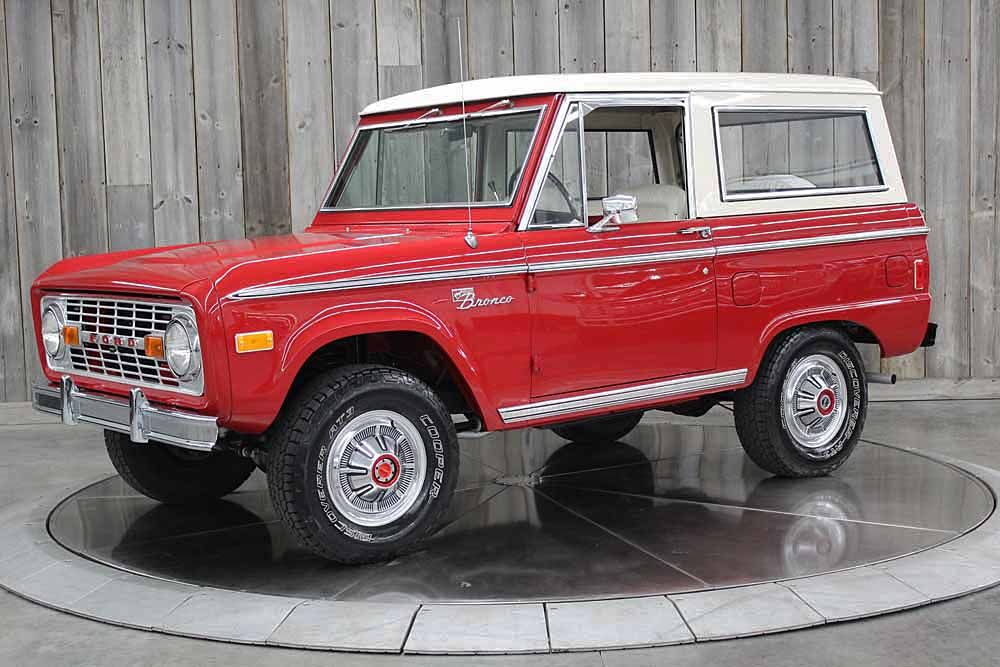 Mileage
0
Exterior Color
Red
Interior Color
White
Doors
2 Dr
Engine
8 CYL
Transmission
4 Speed Auto

VIN

U15GLY11418

Estimated Monthly Payment
1977 Ford Bronco Sport
1977 Ford Bronco Sport. Retaining the original date code correct Engine 302 CID V8, Horsepower 135 hp @ 3,400 RPM
Torque 243 lb-ft @ 2,000 RPM. Original C4 Automatic transmission. Highly Detailed restoration performed on this rust free and flawless body Bronco (some resto pics available). This outstanding restoration kept true to it's original specs., THIS ONE IS A SHOW STOPPER. Painted in it's factory Candyapple Red and equipped with the correct Parchment Vinyl interior, also has its very rare and sought after original rubber floor mat and equally rare white spare tire cover. THE PICTURES SPEAK FOR THEMSELVES.
It runs and drives beautifully even at highway speeds.
When the first-generation Bronco debuted in 1966, it was Ford's answer to the Jeep. Ford wasn't the only one with the idea, and soon every auto manufacturer had a small, competent off-roader.
Competitors, like the Chevy Blazer, offered comfort and convenience options at launch.
By 1977, the Blazer outsold Broncos at a 5:1 ratio.
Ford adapted, and by 1977 the Bronco offered comfort features like power steering and power brakes. But these features didn't come in time to save the first-generation Bronco. Over time, these additional options became why the 1977 Bronco is so well-regarded. It was the year the Bronco managed to find its stride.
For the next generations, Ford would completely reinvent the Bronco.
1977 FORD BRONCO PRICE - Original Retail Price was $5,620 (Price Adjusted for Inflation $22,452)

1977 was the final year for the first-generation Ford Bronco. Though the Bronco name lived on, there's a clear split. 1978 ushered in the second generation, and with it the first of the "large Broncos."
The second-generation lasted only two years, a remarkably short time. Its effects were felt throughout the rest of the Bronco's history though. What started as a small Jeep-like vehicle stretched itself out quickly.
Larger SUVs were gaining popularity at the time, so expanding the Bronco was a good choice. While the first-generation Bronco's sales were less than noteworthy, the second generation saw a huge increase.
Over time, the retro first-generation became more desirable and collectible though.
The demand for small Broncos is high, and unfortunately the supply is low. Considering how desirable the 1977 Bronco is today, it's hard to see why there were so few produced.
302 CID ENGINE SPECIFICATIONS
At least part of the 1977 Ford Bronco's disappointing sales performance was due to a lack of options.
Ford didn't offer an automatic transmission for the Bronco until 1973. The engine options remained the same, but sales started to increase. In 1974, the Ford Bronco's first generation hit an all-time sales-high of 25,824. It's likely the expanded options accounted for the Bronco's rising success.
In 1975, Ford reduced the engine options to just one. Without a V6 automatic option, fewer people were interested. The 1975 Bronco, following the '74's success, was the worst year for sales. Only 13,125 Broncos were sold that year. Unfortunately, Ford didn't decide to expand engine selections, and the first-generation Bronco's fate was sealed.
The 302 CID V8 that the 1977 Bronco had was certainly tried, tested, and worthwhile. But there aren't many successful vehicles that only have one engine option.
1977 BRONCO ENGINE SPECIFICATIONS-
Engine 302 CID V8
Horsepower 135 hp @ 3,400 RPM
Torque 243 lb-ft @ 2,000 RPM
Bore x Stroke 4.00" x 3.00"
Compression Ratio 8.4:1
TRANSMISSION SPECIFICATIONS-
Only four years of first-generation Bronco offered both manual and automatic transmissions. Unless you wanted to splurge on a Baja Bronco, which first offered an automatic transmission in 1971.
In 1977, Ford's three-speed Toploader was still the standard transmission option. But you could also get a C4 automatic transmission.
We may never know why it took Ford until 1973 to offer the C4. They'd certainly had it as an option for the Mustang from launch day.
Classic Ford Broncos that come with an automatic transmission typically sell faster and for more money. Some Bronco enthusiasts have reduced their cost by performing a manual to automatic transmission swap.
1977 Bronco Features-
Larger Fuel Tank, Gas Door Replaced Gas Cap, Heavy-Duty 9" Rear Axle Housing, Optional Power Brakes, Larger Rear Drum Brakes.
The major distinguishing features for the '77 Ford Bronco related primarily to fuel storage. It is the only first-generation Bronco with a gas door instead of a cap. It also has the largest fuel tank at 14.4 gallons instead of 12.
The 1977 Bronco featured a Dana 44 front axle, and a Ford 9" rear axle. This axle is considered especially desirable. With equal-length, 31-spline axle shafts, it's a durable axle. An interesting addition for this year was a heavy-duty 9" rear axle housing.
Power brakes were optional for 1977. Disc brakes came standard for the front. The rear brakes were improved for the 1976 and 1977 Bronco as well. The rear drums were 11 x 2 ¼" brakes.
APPEARANCE SPECIFICATIONS
Because a gas door replaced the gas cap, the taillights also required minor restyling. Otherwise the body of the Bronco was the same as the year before.
Though it was the first generation Bronco's last year, there were still many color changes.
The color palette was a mix of "inspired by nature" and "fun" which was what Ford tried to create with the Bronco. This is echoed through all the paint shades offered on the early Bronco. To allow for further degrees of personalization, a variety of appearance packages were available.
The Sport Bronco package (represented here) added bright accents. Chromed bumpers, bright metal wheel covers, a silver grille, and bright trim created an eye-catching exterior. On the interior, the sport package added a sport steering wheel, padded instrument panel, and hardboard headliner.
The first-generation Bronco is sometimes referred to as the "92-inch wheelbase" model. The 1978 Bronco featured a 104-inch wheelbase, which the Bronco retained for all following generations.
Not all first-generation Broncos even had a backseat. When they did, seatbelts were optional. It was very much a small off-roader for one or two people.
1977 BRONCO DIMENSIONS-
Height 70.8 inches
Width 69.1 inches
For a fun family camping or fishing trip, the Bronco is a great choice. Not only that, but it will look sharp on the way.
· Mileage: 0
· Color: Red
Mileage
0
Exterior Color
Red
Interior Color
White
Doors
2 Dr
Engine
8 CYL
Transmission
4 Speed Auto
VIN
U15GLY11418

Estimated Monthly Payment
Veit's Vettes & Collector Cars

Call 563-323-3107

BETTENDORF, IA

Mention

AutaBuy.com

when you call.
Do you have a similar car to sell? List It Now!
More from this Dealer View All
Share this Listing
Additional Services: