You auta tell them you saw the ad in AutaBuy when you call or email.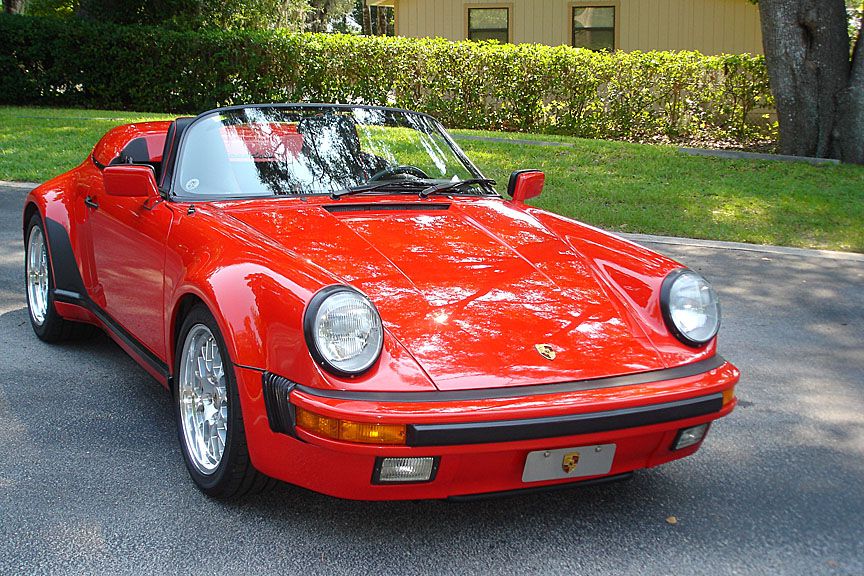 Mileage
30,800
Exterior Color
Guards Red
Interior Color
Black Leather/Red Piping
Doors
2 Dr
Engine
6 CYL
Transmission
5 Speed Manual
Stock #
LOADED W/ OPTIONS

Estimated Monthly Payment
1989 Porsche 911 Widebody Speedster
A beautiful mint condition South Florida, 2-OWNER Guards Red Speedster , complete with "Dream Documentation", an original in classic Guards Red w/ Black Supple Leather - Red Piping and Black Canvas Top. Documented Mileage is low at 30,800 with original paint. This Speedster carries the optional Factory Air Conditioning ('boosted' system by Klub Sport $2,000), plus: Short Shift w/ Leather Shift Knob, Power Seats L/R Piped in Red $3,257, G-50 5-Speed Gearbox, Upgraded Steering Wheel $489/ +Original Raised Hub St.Wheel, Upgraded Stereo w/ CD (+ orig radio), Embroidered Mats $166, Limited Slip Differential, Upgraded Bosch Headlights & Rims (+ orig.'s), $1,700 Twin Exhaust Stainless Steel Muffler $1755, (plus orig.) and $6,000 17" BBS w/ Polished Caps / Tires. Always Babied, all Services were performed by Braman Porsche, Orbit Racing & Klub Sport in the Palm Beaches.
By the time Porsche released their "new" 3.2 liter motor in 1984 the "big news" was overshadowed by the release of the M491 "Turbo Look" Body (dubbed the "Supersport" in the United Kingdom). It's body style resembled the Porsche 930 Turbo race car with the Wide Wheel Arches and distinctive 'Tea Table" Rear Spoiler. It, too, featured the Turbo Suspension, Brakes and wider 8" Turbo Rear Wheels.
Sales were particularly strong in the USA but, nothing compared to the commotion caused by the release of the 911 Porsche "Speedster" in 1989. Code named the Porsche M503 "Speedster" it was Porsche's 1st Dedication to the original low-roof version of the Cabriolet which was a direct descendant ....evocative of the 356 Speedster.
Once again, It was produced in low volume with only 2104 built for the USA and ROW (Rest of World) total out of 76,473 911 Models! . Production started in January and continued through the Summer of July 1989. Of the 2,104 built, 171 were the Narrow Body Version. That leaves 1933 Widebody Versions, and only 823 of those were U.S.A. bound.
This design was actually conceived in 1983 by Helmut Bott but, was not finished / released for production until 1989. Just like the original 356 1600 Speedster this model was created to bolster diminished sales in 1989.

The factory brochure read : "this 1989 six cylinder engine model range is enriched with a new model version , the "911 Speedster". It is based on the 911 Carrera. A shorter windshield and manually operated temporary canvas top, which is stored underneath a rear lid made of plastic ( sic: fiberglass), are the main features of this 911 Speedster".
Dr. Ing. F. Porsche Aktiengesellschaft also inserted further notes in the U.S. supplemental brochure that stated: "The 911 Speedster was essentially designed as a fine weather vehicle specially for those who love 'open air driving'. In contrast to the 911 Cabriolet, which naturally has a fully adequate folding top, your 911 Speedster is fitted with a light emergency folding top....the 911 Speedster cannot be washed in car washes and therefore must be washed by hand".
Many folks that bought these didn't even realize the windshield was completely removable so, if you loved the idea of smiling with the wind in your face (and bugs in your teeth), you'd love this model.

The 911 Speedster became a 'instant collectable' and sale prices exceeded Factory list price (Muhroney Sticker) as much as $37-39,000. Most 'Porschefiles' see these as one of the greatest PORSCHE Collectibles' ever.
Others celebrate it's re-issue as.......... "The Second Coming"..

DIRECT FROM THE FLOOR OF OUR MUSEUM COLLECTION WHERE IT WAS ON STATIC DISPLAY IN AIR CONDITIONED SPLENDOR FOR 10 YEARS OFFERED 'AS IS' FOR $160,000.00
· Mileage: 30,800
· Color: Guards Red
Mileage
30,800
Exterior Color
Guards Red
Interior Color
Black Leather/Red Piping
Doors
2 Dr
Engine
6 CYL
Transmission
5 Speed Manual
Stock #
LOADED W/ OPTIONS

Estimated Monthly Payment
Classic Dreamcars

Call 352-217-9868

MOUNT DORA, FL

Mention

AutaBuy.com

when you call.
Do you have a similar car to sell? List It Now!
More from this Dealer View All
Share this Listing
Additional Services: