You auta tell them you saw the ad in AutaBuy when you call or email.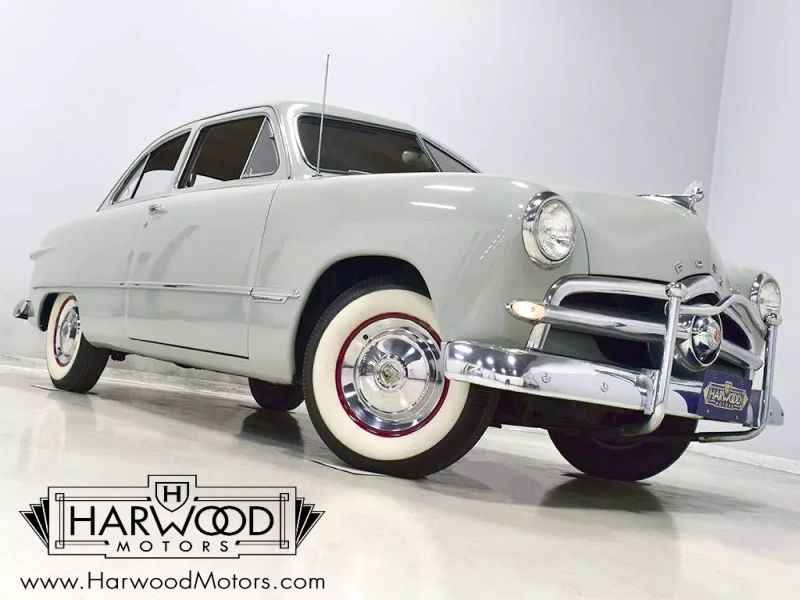 Mileage
20,823
Exterior Color
Birch Gray
Interior Color
Blue Cloth
Doors
2 Dr
Engine
239 Cubic Inch V8
Transmission
Manual
Stock #
118149

VIN

98BA257746

Estimated Monthly Payment
1949 Ford Club Coupe
Older restoration in great colors. Smooth flathead V8, 3-speed with overdrive, desirable 2-door club coupe body style. Extensive documentation going back decades. Iconic good looks with great road manners!
The 1949 Fords saved the company. Despite a strong market after the war, Ford was struggling in the post-war era by offering pre-war designs in the face of ever-mounting competition. New highways promised faster travel and with more women drivers than ever, the cars had to be easy to handle and sized right. That's why this 1949 Ford is such a remarkable car—it does everything well. It was thoroughly modern with a clean-sheet design that neatly broke with tradition and shone the light on the future of automobile design. The "bullet nose" grille became a symbol of Ford's resurgence and the cars were wildly popular with a buying public. With this one dressed in handsome Birch Gray paint, the bodywork looks especially sleek and the smooth curves of the all-new Ford are emphasized. Panel fit is quite good and the finish shows well for being an older restoration that's probably 25 years old or so. Note details like the accessory bumper guards front and rear, which were probably dealer-installed, as well as the delightful hood ornament that resembles a Roman helmet with a Plexiglas crest. In back, the taillights are part of the design rather than simply bolted on as an afterthought, and this car carries optional back-up lights. The chrome and stainless trim is quite nice with no major demerits, again suggesting someone spent good money on this restoration.
We have receipts for the interior restoration from 1996, and they did a nice job. It's not 100% authentic, but the blue fabric does look period-appropriate, especially with the gray piping and darker gray carpets. Matching door panels wear OEM trim and hardware and the dash was painted metallic gray, as original. The big steering wheel makes the Ford easy to handle in traffic or tight maneuvers and the column-mounted shifter is light and direct. The simple single-gauge design houses all the important information: speed, fuel level, temperature, oil pressure, and ammeter, as well as the turn signal indicators. All the auxiliary gauges are operational, keeping an eye on the engine's vitals, although the car is not equipped with the (still optional in 1949) turn signals so those lights are not connected. It does have an optional Magic Air heater/defroster unit as well as an AM radio and clock, the latter two of which are sadly not working. We believe the headliner might just be original and it's in great shape, and at some point most of the weather seals have been replaced so it seals up well. The coupe also offers a massive trunk, complete with a rubber mat, full-sized spare tire, and jack.
Ford's 239 cubic inch V8 really needs no introduction, and in the 1949 Ford it's just as smooth and torquey as ever. It's the same hardware that's been beloved for decades, so it's easy to service, parts are plentiful, and knowledge is easy to find, so you'll have no problems keeping it healthy. It's wearing a coat of Ford corporate blue engine enamel, as well as a correct oil bath air cleaner and Ford scrip hoses, all of which make it look very proper under the hood. It fires up easily with a little choke (Ford was still using manual chokes in 1949) and idles nicely with an awesome V8 burble from the exhaust. The heads are marked 8BA, which is good news if you're a flathead fan, and it still runs its original 6-volt electrical system that has no problems turning it over. The 3-speed manual transmission offers crisp shifts and an overdrive for highway driving, and there are 4.10 gears out back that make it feel quick around town. You'll note that the undercarriage is tidy but not show car perfect, and the critical areas like the rockers, body mounts, and floors are solid. Even the spare tire well, a notorious place for rust to start, is completely intact. Nice! The brakes are effective and ride quality is excellent thanks to modern tube shocks, a welcome innovation for 1949. Steel wheels are painted dark red for a bit of contrast and wear a set of 6.00-15 wide whites and correct Ford hubcaps.
Extras include a set of color-matched fender skirts, owner's manuals, and extensive documentation dating back decades—the original owner was still having the car serviced at the dealership as late as the 1980s!
The 1949 Fords are some of the best hobby cars to own—they're reliable, fun to drive, handsome, and easy to maintain. With a great ownership history showing only two owners and lots of paperwork, it's a fascinating glimpse into the past, too. These have always been popular and it's easy to understand why. Call today!
Harwood Motors always recommends and welcomes personal or professional inspections of any vehicle in our inventory prior to purchase.
· Mileage: 20,823
· Color: Birch Gray
Mileage
20,823
Exterior Color
Birch Gray
Interior Color
Blue Cloth
Doors
2 Dr
Engine
239 Cubic Inch V8
Transmission
Manual
Stock #
118149
VIN
98BA257746

Estimated Monthly Payment
Harwood Motors

Call 440-565-5335

MACEDONIA, OH

Mention

AutaBuy.com

when you call.
Do you have a similar car to sell? List It Now!
More from this Dealer View All
Share this Listing
Additional Services: