You auta tell them you saw the ad in AutaBuy when you call or email.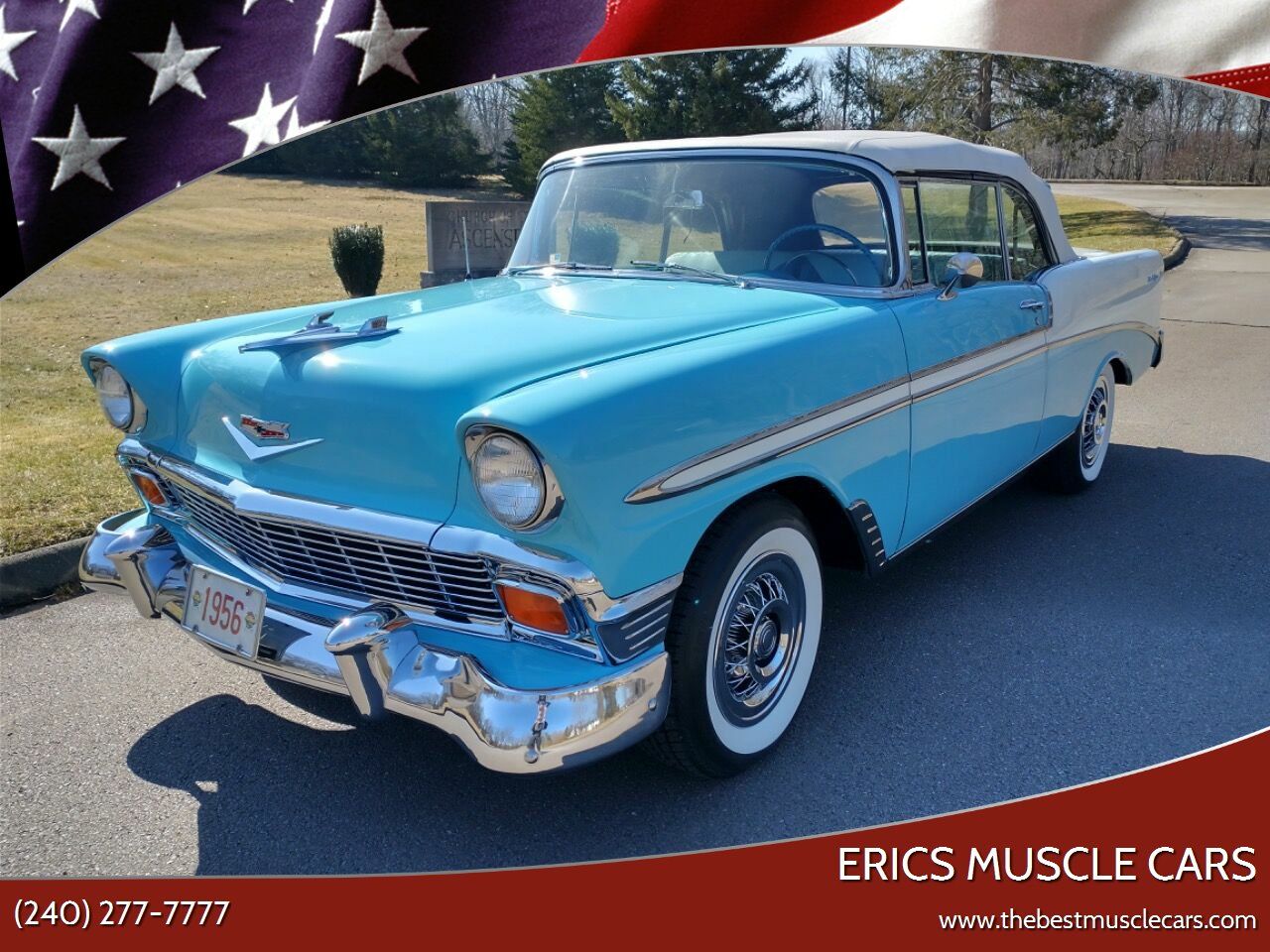 Mileage
79,275
Exterior Color
Nassau Blue/India Ivory
Engine
Other V8
Transmission
Automatic
Stock #
59111103

VIN

45858685UR8448RI4

Estimated Monthly Payment
1956 Chevrolet Bel Air
*****LOCATED IN CONNECTICUT ***** Erics Muscle Cars is proud to offer this magnificent 1956 Chevrolet BelAir Convertible. Same owner for 36 years. The owner drove this car in many scenes on the set of the Indiana Jones and the Kingdom of the Crystal Skull movie which was partly filmed at Yale University here in New Haven CT. He and many of his club Members had so much fun driving our cars in this movie. The car did make it in one Scene in the actual movie. It was a wonderful experience driving my car in the chase scenes with Harrison Ford and Company throughout the streets of New Haven for 4 days an unforgettable experience. Another unique part of this car: Danbury Mint made a limited addition numbered diecast model of my 56. They took over 8 hours at the owners home and measured all aspects of the car. He reviewed the first model and had many comments that needed to be fixed, such as the engine paint color I have a dual master cylinder on the car which I had them change, and many incidental items. (I have the original Diecast car with the mistakes) plus 4 other numbered finished models. DRIVETRAIN: 1. ENGINE: This Car has the 265 CI Numbers Matching Engine, which was rebuilt 3,000.00 miles ago. I added the dual quad Carter WCFB Carburetors Which were rebuilt and colorized by Bob Kunz Himself from Saint Louis Missouri. It was amazing to catch up with Bob after so many years. The dual quads are not numbers matching for this car but are period correct. The intake manifold, and dual point distributer are numbers matching 1956 original parts. The Heads have the correct markings but are 1958 Fulie heads by the numbers which are better than the 1956 Dual Quad Heads. The heads have been ported and polished and have all new stainless-steel valves. I decided to go with a 327 Crank shaft and make it a stroker engine, Balanced as a unit. Since made up my mind to do that we went with a (COMP cams Part # 12-408 Cam) with Magnum Roller Arms, so I was able to use the original rocker covers with no modifications. The air cleaner is an all-metal Batwing 1956 Chevrolet Oil Bath Air Cleaner. 2. Transmission: Numbers Matching Cast Iron Powerglide Transmission, taken apart, inspected, and re-sealed by a Certified GM transmission person who worked on GM Powerglide transmissions for a living. 3. Rear end: Numbers Matching Rear with a New 1957 Posi traction unit installed in the original case with 3:55 Gears. 4. Exhaust system: All Stainless Steel 2 with Original Stainless Power Pack Exhaust Tips. 5. Wheels and Tires: This Combination is unique, The Rims are 7 1968 Corvette Rally Rims, with Large Center Caps, the 1968 Corvette wheel was the only year that Corvette had a 7 wide offset rim. The rims are powder coated harbor blue; (look like original wheels with accessory spoke hub caps) until you look close at them, The Tires are BF Goodrich Silvertown Radial wide white wall tires P-215/75R15 With the original 1956 accessory spoke hub caps. 6. INTERIOR: 1. Dash and interior metal components are painted the original color Harbor Blue. The upholstery is Nassau Blue and White Vinyl Made in 1955 Style design all in excellent like new condition, recently replaced the original style rugs, has Day night rearview mirror, all dash stainless has been replaced, in dash clock is in working order, replaced the kick panels with the speaker type kick panels, all of the original window frames has been re-chromed and in excellent condition. 2. Radio is original AM Radio Converted to Solid State FM by My Mike Hagan Antique Auto, which also has RAC inputs for CD or XM and MP-3 output capability. 3. All Glass except windshield has been replaced with original tint date coded glass during the restoration. 4. Convertible top and weatherstripping were all replaced during the restoration. 5 Suspension, including ball joints, and all components were replaced during the restoration. 6. Body, and Paint: Frame Off Restoration, all mechanical compone
· Mileage: 79,275
· Color: Nassau Blue/India Ivory
Mileage
79,275
Exterior Color
Nassau Blue/India Ivory
Engine
Other V8
Transmission
Automatic
Stock #
59111103
VIN
45858685UR8448RI4

Estimated Monthly Payment
Eric's Muscle Cars

Call 240-277-7777

CLARKSBURG, MD

Mention

AutaBuy.com

when you call.
Do you have a similar car to sell? List It Now!
More from this Dealer View All
Share this Listing
Additional Services: