You auta tell them you saw the ad in AutaBuy when you call or email.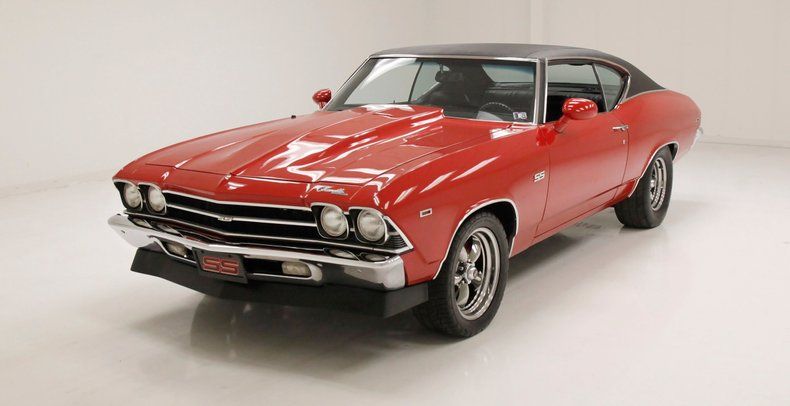 Exterior Color
Red
Stock #
4082

Estimated Monthly Payment
1969 Chevrolet Malibu Chevelle
1969 Chevrolet Malibu Chevelle
The storied Chevelle is one of those timeless designs that looks good no matter how it's built. Stock, modified, race, pro-touring, whatever; the clean lines and balanced stance on these tough classics create a confident swagger that's universally admired. That means, if you're looking to ride in style, you really can't go wrong with a Chevrolet A-Body. And when you factor in this ride's big block drivetrain, tastefully restored interior and first rate, all-American sheet metal, you get the picturesque profile of an incredible muscle car!
For consignment, a Chevrolet Chevelle SS clone from 1969. A mostly original looking car for the exterior but has a snappy engine under the hood, fuel injection, disc brakes, and there are now tubular A arms along with new shocks to provide the ride. A full build book with receipts, instructions and photos is included with this professionally done build.
Exterior
A side view has this car setup with a very neutral stance, giving the car a very racy look. To add to the effect, it is bathed in a nearly flawless coating of red paint which has also been ceramic coated. Most of the side trimmings have been left off, and the only ones still visible are the wheel well highlight moldings and trimmings around the nicely complimenting black vinyl top. A nicely curving rear glass melts seamlessly into the trunk lid and moves to the back of the car where angled inward tail lighting is seen on each corner. Chromed bumpers and window trimmings are looking nice and shiny, and it is badged with modern SS badging on the fenders, blacked out tail panel and the new chrome highlighted egg crate grille. A chin spoiler resides below the front bumper adding to the racy look. Hovering above the grille and new halo headlights we also note a cowl induction style hood has been added, while not factory correct, it adds a lean and mean look to the long front end. Lightly tinted polished 17 and 15-inch American Racing Torque Thrust wheels are wrapped in 235/50ZR17's in front, and 275/60R15's on back for that extra smokkin'.
Interior
Nicely straight black vinyl covered door panels are on the inside of the 2 doors, along with some shiny cranks and door actuators. Thin strips of chrome delineate different panels and an SS396 badge is near the center of the sill. Moving inside we see split bench seating in the front and a full bench in the rear. The seats are also covered in black vinyl and have some smooth bolsters on the seat and back and shallow tuck and rolls inserts. Headrests are present as well on these chairs and in the back, a bench seat is stretching from side to side. All this seating is floating in a sea of clean, fade free black carpeting. The original dash styling has been retained but now houses a bevy of indigo backlit Dakota gauges has an added digital readout for the clock, odometer and temperature gauge. A FAST fuel injection controller hangs from the top of the dash with a central tachometer and auxiliary gauges circling around like vultures to carrion. A snazzy billet style rally style steering wheel is fronting this updated dash. In addition, an aftermarket digital AM/FM sound system is installed into the original niche where the radio from the factory resided. Above a black headline shows a few wrinkles, and a Junsun camera/navigation equipped rear view mirror hangs proudly.
Drivetrain
As we lift the hood we can unequivocally say ""Toto we are not in Kansas Anymore!"". Here we see a large 402ci V8 stuffed into the engine bay that has been fitted with forged pistons and an Edelbrock .560i/.573e lift camshaft. It has Edelbrock Performer aluminum heads, 1.7 ratio roller rockers, FAST EFI and a full FAST ignition system including a FAST EFI 2.0 ignition module. A new R134a A/C system is on to keep the passengers cool. A TH350 3-speed transmission in automatic format is bolted on the back and a12-bolt rear with Positraction and 3.55 gears is now on. The engine is a very nice presentation with a concerto of cast aluminum, polished valve coverings, a chrome master cylinder, and it's making use of all braided stainless-steel hoses, and high output wiring. Lookin' good under this hood.
Undercarriage
A coating of black covers the undercarriage. Floor pans, rockers, and suspension parts are involved and barely any surface rust is noted. Wilwood power disc brakes are on the front and in the rear, we have power drum brakes. All new stainless-steel lines have been added for the brake system. For the suspension we note an independent front coil spring arrangement with tubular control arms and in the rear we see a 4 link with a UMI lift bar and more coil springs. We note the springs are Moroso trick racing springs and all new shocks are seen. There is a new fuel tank and new EFI fuel pump and handling the removal of spent fossils are Hooker Super Comp headers and a pair of Flowmaster mufflers on the 3"" dual exhaust system.
Drive-Ability
A quick fire up, and on the test track is performed just swimmingly. Plenty of power from that ""custom engine"", ability to stop on a dime for the big disc brakes now on front, and the interior is comfy with the factory bench seats in front. A good driver and excellent cruiser that likes to lift the front end a bit when one gets a bit goosey with their boot!
A nice example of the Chevrolet Malibu Chevelle. Some badging gives it an identity crisis, but to be clear it's a Malibu Chevelle with a built 402ci V8, some new suspension, and tubular A arms. Paint is very nice, and the red is just a delicious choice for this muscle.
VIN DECODE
136379Z305615
1-Chevrolet
36-Malibu V8
37-2 Door Hardtop Sport Coupe
9-1969
Z-Fremont, CA Assy Plant
305615-Sequential Unit Number
TRIM TAG
ST 69 13637-1969 Malibu 2 Door Hardtop Sport Coupe
BDY BF02883-Fremont Body #
TR 753-Black Rior Cloth Coated Fabric
B80-Drip Rail Moldings
PNT-65-Olympic Gold
10A-1st Week October Build
Classic Auto Mall is a 336,000-square foot classic and special interest automobile showroom, featuring over 650 vehicles for sale with showroom space for up to 1,000 vehicles. Also, a 400 vehicle barn find collection is on display.
This vehicle is located in our showroom in Morgantown, Pennsylvania, conveniently located just 1-hour west of Philadelphia on the I-76 Pennsylvania Turnpike. The website is www.classicautomall.com and our phone number is (888) 227-0914. Please contact us anytime for more information or to come see the vehicle in person.
Exterior Color
Red
Stock #
4082

Estimated Monthly Payment
Classic Auto Mall

Call 888-227-0914

MORGANTOWN, PA

Mention

AutaBuy.com

when you call.
Do you have a similar car to sell? List It Now!
More from this Dealer View All
Share this Listing
Additional Services: