You auta tell them you saw the ad in AutaBuy when you call or email.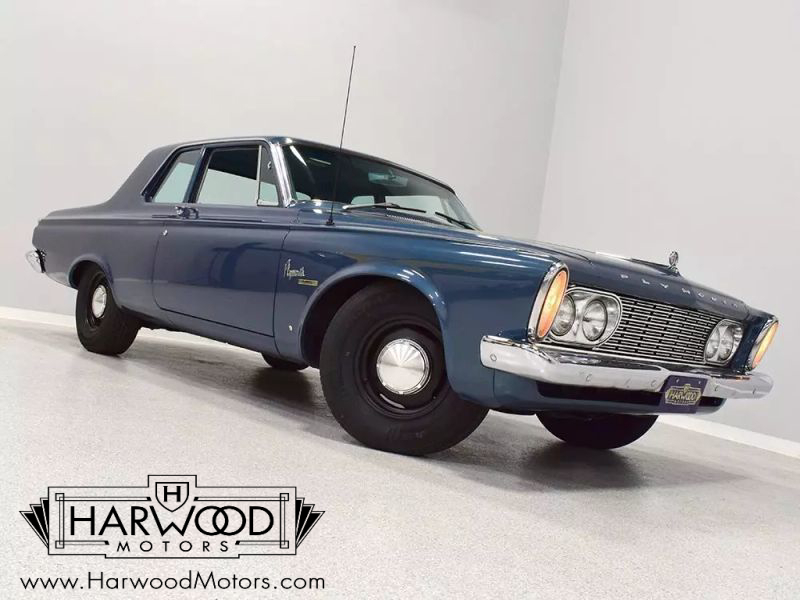 Mileage
23,861
Exterior Color
Dark Blue
Interior Color
Blue Vinyl
Doors
2 Dr
Engine
400 Cubic Inch V8
Transmission
Automatic
Stock #
119046

VIN

3131231739

Estimated Monthly Payment
1963 Plymouth Savoy
23,861 original miles. Built 400 cubic inch V8, TorqueFlite automatic. Stunning dark blue paint, fantastic bodywork underneath, beautiful original interior. Upgraded front disc brakes, new exhaust, heavily documented. Fantastic industrial-strength Mopar!
You already know why a Savoy like this has such low mileage: it spent its life on the drag strip. That also explains why the original engine is gone and the transmission was converted to an automatic. But let's not focus on what it was, but rather what it is today: an ultra-clean, tight, and still very nasty Mopar from the early days of the horsepower wars. Thanks to spending its early life on the track, it never saw winter weather or the grind of commuting to work, and as a result the sheetmetal is laser-straight and 100% original with no patches, cutting, or damage. It was recently refinished in its original dark blue metallic color scheme and the bodywork stands up to scrutiny under the glossy blue finish. Just look how straight those massive quarter panels are! Check out the alignment from front fender to door to quarter, emphasized by the character line that stretches from nose to tail. Gaps are even, the trunk lid and hood sit flush, and it's unlikely you'll ever find a straighter, cleaner early B-body. Also check out the beautiful original grille, the bright chrome bumpers, and crisp emblems, all of which are original and in fantastic condition.
The interior speaks loudly of its low-mileage status with minimal wear and only minor signs of age. This Savoy is minimalist, as you'd expect, but the details are still quite nicely done. The seats are comfortable and spacious—take five friends with you and nobody will complain about space. The original steering wheel frames big, round gauges with a funky look featuring three different-sized circles and old west style fonts. Pushbutton controls for the heater/defroster are to the right of the wheel and the original Music Master AM radio is still in the center of the dash. It's still got some remnants of its track days, including a line lock over there on the left, a B&M shifter for the TorqueFlite automatic underneath, and an accessory temperature gauge under the dash. The original headliner is in excellent condition and the giant trunk offers a correct plaid mat, full-sized spare, and complete jack assembly. Peek underneath the mat and you can see just how clean this car really is—that's original seam sealer and paint!
The original Golden Commando 383 cubic inch V8 gave up the ghost shortly after its warranty expired and was replaced by a later 383 cubic inch block with a 400 crank inside, making it, obviously, a 400 cubic inch unit. It was built for combat with aluminum heads, an Edelbrock intake manifold, and a big 4-barrel carburetor up top. No frills, just the hardware needed to launch this big car down the track at borderline insane speeds. The radiator is assisted by an electric pusher fan to help with cooling at low speeds or in the staging lanes, and it's been upgraded with front disc brakes and a dual master cylinder for safety. If you checked the fender tag you already know this is an original 4-speed car, but at some point in the distant past, it was converted to an automatic because the second owner didn't like the 4-speed (go figure). Today it works properly, shifting gently when you're just cruising but snapping off crisp upshifts at full throttle—enough to bark the tires on the 1-2 shift. You'll note the undercarriage and floors are incredibly well-preserved and the tub is reinforced with a set of subframe connectors that really do make a difference. The 8.75-inch rear end is full of 3.55 gears which are easy to live with on the street, and nothing looks better on an industrial-strength Mopar than plain steel wheels with dog dish hubcaps. Fat 235/75/15 blackwall radials fill the fenders and give it a heavy-duty performance look.
This car is also extremely well documented, with the original window sticker and Chrysler Corporation Broadcast Sheet, as well as original manuals and advertising materials. It also includes receipts on the service work.
We dig these cars—they were the first real factory attempts to make track performance a priority. Built to take no prisoners, they were brutally effective. This beautiful Savoy preserves that history and delivers a surprisingly street-friendly ride while remaining seriously quick. It has the right performance look, subtle but not quiet, and it delivers exactly what the looks promise. If you were there and appreciate what Chrysler Corporation was doing, this is a fantastic car to put in your garage. Call today!
Harwood Motors always recommends and welcomes personal or professional inspections of any vehicle in our inventory prior to purchase. '
· Mileage: 23,861
· Color: Dark Blue
Mileage
23,861
Exterior Color
Dark Blue
Interior Color
Blue Vinyl
Doors
2 Dr
Engine
400 Cubic Inch V8
Transmission
Automatic
Stock #
119046
VIN
3131231739

Estimated Monthly Payment
Harwood Motors

Call 440-565-5335

MACEDONIA, OH

Mention

AutaBuy.com

when you call.
Do you have a similar car to sell? List It Now!
More from this Dealer View All
Share this Listing
Additional Services: