You auta tell them you saw the ad in AutaBuy when you call or email.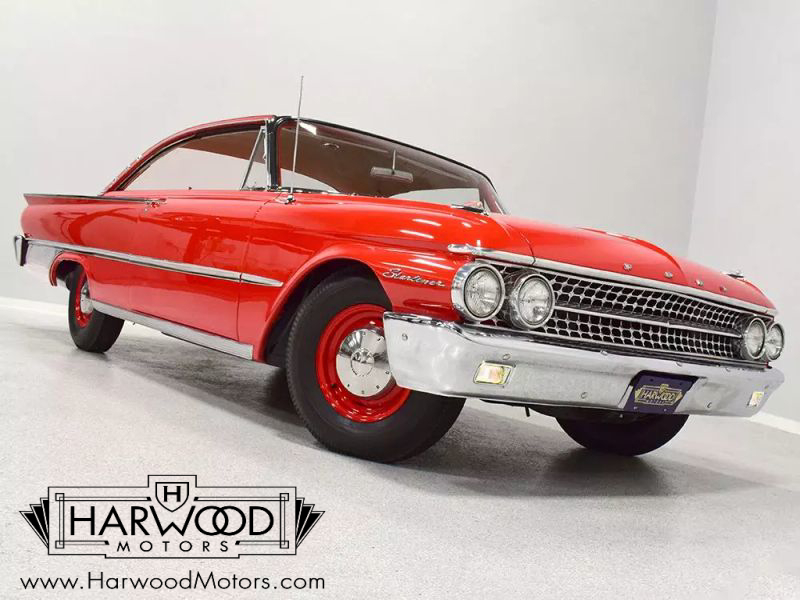 Mileage
11,106
Exterior Color
Red
Interior Color
Red And White
Doors
2 Dr
Engine
390 Cubic Inch V8 6V
Transmission
Manual
Stock #
119099

VIN

1N53Z115139

Estimated Monthly Payment
1961 Ford Galaxie
Z-code 390/401 horsepower with 6V induction and solid lifter cam. 4-speed manual transmission. Very high-quality frame-off restoration in excellent condition. Fantastic colors and highly detailed. This is a very special car!
Ford didn't seem to want to engage in the horsepower wars in the early 1960s, but NASCAR kind of forced them into it. For 1961, they actually offered a variety of 390 cubic inch V8s at the top of the pecking order, offering 2-, 4-, and 6-barrel induction systems and making 300 to 401 horsepower. Opting for the 375 or 401 horsepower versions also got you a manual transmission, heavy-duty suspension and brakes, and special 15-inch wheels, but little else. They weren't meant for the guy commuting to the office, they were built for combat. This bright red 1961 Starliner hardtop is what you got when you checked the '401' horsepower box on the order form: a gorgeous full-sized coupe with enough blasting powder under the hood to make it one of the meanest cars on the road in 1961. Painting it red certainly didn't hurt, and there's really no point in trying to be subtle in a car like this. The dynamic Starliner look is pure rocket-age awesome, with fins, jet-exhaust taillights, and the beautiful curving roofline that features three "stars" on the C-pillar just to emphasize the name. Thanks to a comprehensive restoration in the early 2000s and exemplary care ever since, this one remains in fantastic condition throughout with very few miles on the work. The massive quarters are laser-straight, the doors fit beautifully and close easily, and the brilliant red paint is a mile deep. Of course, there's also plenty of chrome and stainless trim, all of which was restored and remains in show-quality shape today, including the brilliant strip of stainless that lives behind the rear wheel arches. There's simply no angle from which this car doesn't look fantastic.
The interior is no-frills flying, but that was the point here—frills add weight and when you're going racing, weight is the enemy. Instead, this Galaxie carries a pair of wide bench seats, a big steering wheel, and a proper 4-speed shifter on the floor. The red and white upholstery is quite correct and all the details, from the fluted foil trim on the door panels to the 'Starliner' script on the dash was accurately re-created. The gauges cover the basics only (they assumed a racer would add his own) and accessories include only a heater and an AM radio (the radio is unfortunately not operational, but do you really need it?). It's probably worth noting that this car was originally equipped with 3-on-the-tree shifting, but late in 1961, a proper 4-speed was offered by the factory, so this car was converted during the restoration and it looks quite correct today. The seats and carpets are in virtually new condition, the headliner is taut, and there's very little evidence of use since the restoration was finished. Even the trunk is neatly outfitted with a correct mat and a matching full-sized spare tire assembly.
Early in production, the intake manifold and carburetors were shipped in the trunk and installed by dealers, but at some point Ford started installing them at the factory. Ford didn't make a distinction in the VIN regarding the 4V vs. the 6V (they were both Z-codes) and it's not known how many people selected the 6V setup. Notably, the details in this car are correct, including the trio of Holley 2-barrel carburetors on an aluminum intake manifold, the oval-shaped air cleaner, and a special progressive linkage that runs the car on the center carb until you really lean on it. The hardware inside was the same as the 375 horsepower 4-barrel version, including a solid lifter cam that sounds racy, a dual point distributor, hand-selected pistons and rods, and bigger oil passages inside the block. Thunderbird valve covers, special '390' decals, and unique cast iron "headers" were part of the Hi-Po package, too. The engine bay is beautifully detailed with correct colors and finishes throughout, and if anything, it's probably nicer than it was in 1961—the finish on all the parts is show-quality. It's also ready to rock, because it starts easily, idles pretty well once it's warmed up (there's a pretty darned big cam in there), and pulls hard out on the road. Drive gently and it's happy to inhale through that center carb, but lean on it and you can hear those outer carbs come online and the big hardtop just lunges forward. It's impressive as hell for such a massive machine.
As we mentioned, the original 3-speed manual was replaced with a 4-speed during the restoration, and it's the right choice. Gear ratios are well-chosen and with 3.89 gears out back, it steps off the line easily and rips through the gears with enthusiasm. Bigger drum brakes (manual only) were part of the Hi-Po package, as was an upgraded suspension, and you couldn't get power steering, either. You'll note that this car wears proper red oxide primer on its floors, and all the ancillary components are correct, from the Rotunda oil filter to the reproduction exhaust system that has just the right tone, and all the factory markings were accurately reproduced. Special 15-inch Kelsey-Hayes wheels were part of the Hi-Po package, too, with these wearing NOS (not reproduction) 7.10-15 Firestone bias-ply tires. Yes, they're correct, but if you're planning any long-distance, high-speed runs, a change of shoes is probably a good idea.
Documentation includes the original owner's manual and a binder full of information on this car as well as the 6V 401 horsepower package.
This is a very special car. Ford didn't keep records on how many 6V 390 Starliners were built, but it was surely a very small number with fewer still surviving today. Add in the exceptional restoration, fantastic road manners, and just plain outrageousness of the car itself, and you have a winning formula today, just as in 1961. Take a careful look at the details, then give us a call.
Harwood Motors always recommends and welcomes personal or professional inspections of any vehicle in our inventory prior to purchase.
· Mileage: 11,106
· Color: Red
Mileage
11,106
Exterior Color
Red
Interior Color
Red And White
Doors
2 Dr
Engine
390 Cubic Inch V8 6V
Transmission
Manual
Stock #
119099
VIN
1N53Z115139

Estimated Monthly Payment
Harwood Motors

Call 440-565-5335

MACEDONIA, OH

Mention

AutaBuy.com

when you call.
Do you have a similar car to sell? List It Now!
More from this Dealer View All
Share this Listing
Additional Services: