You auta tell them you saw the ad in AutaBuy when you call or email.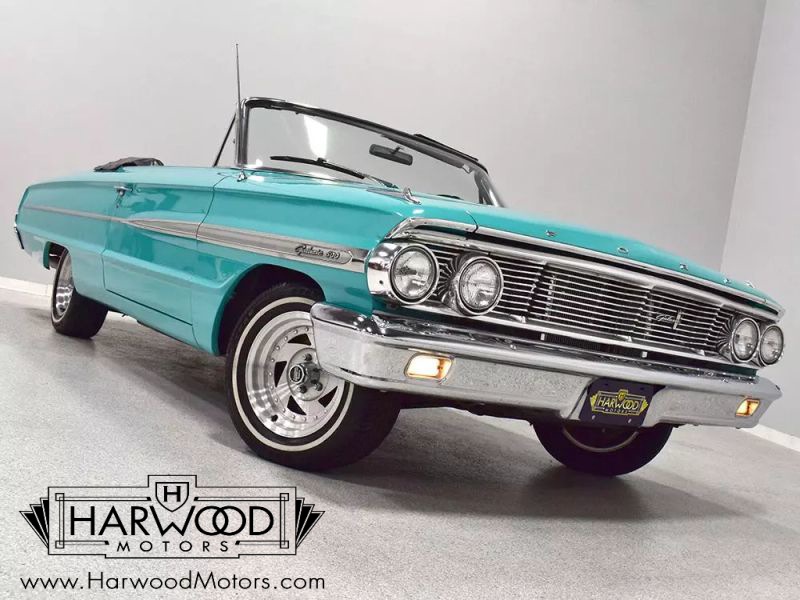 Mileage
30,899
Exterior Color
Pagoda Green
Interior Color
Black Vinyl
Doors
2 Dr
Engine
289 Cubic Inch V8
Transmission
Manual
Stock #
119075

VIN

4W65C122671

Estimated Monthly Payment
1964 Ford Galaxie
Attractive full-sized Ford convertible in period-perfect colors. Smooth 289 cubic inch V8 with rare 3-speed manual transmission. Clean bodywork, solid throughout, nice interior, upgraded wheels. Full-sized Ford luxury with a reasonable price tag.
We didn't expect to like the code B Pagoda Green on this Galaxie as much as we do. It's definitely a bright aqua color but it stands out and works rather well—the mid-60s were a pretty boring time for most consumers and the splash of color is a welcome sight. On Ford's full-sized convertible, it turns a ho-hum car into something special and really lets the details stand out. There's a lot of sheetmetal here, and fortunately it's all in great condition with none of the usual maladies you'd expect, from good door gaps to those super straight quarter panels that are probably seven feet long. Ford took a conservative route with the Galaxie in 1964, but the slash of brightwork running down its flanks and the neat concave depression that runs the length of the bodywork makes it look flashy in a grown-up way—impressive but not over-the-top. Add in the little fender ornaments, the anodized grille, and the jet-inspired taillights, and the car is undeniably Ford and undeniably the top-of-the-line. The paint is probably 20 years old, but it has a nice shine and only modest signs of use, so it's a car you can enjoy right away and it will surely draw a crowd at the next cruise night. This is definitely a car that gets noticed.
The black vinyl interior is probably original and remains in excellent shape. The handsome seat covers feature silver piping for an upscale look and wide bench seats mean there's plenty of room for everyone. You'll quickly spot the Hurst shifter on the floor, which manages a 3-speed manual transmission—it was converted from a column shift and we think it's all the better for it. The formerly conservative Galaxie now has a bit of attitude. Factory gauges are joined by a pair of Stewart Warner auxiliary dials to help with the sporty demeanor. The original door panels are in good condition with only some light peeling of the foil along the lower edges and we're guessing that the carpets have been replaced at some point, as they're almost too nice to be 60 years old. The back seat looks almost new and hasn't hosted a lot of traffic, and the power convertible top works like it should and includes a crystal clear rear window. There's also a massive trunk that features the original mat and a full-sized spare tire assembly.
The great thing about cars of this vintage is that you could spec them any way you wanted, from basic to luxurious. This ragtop fits somewhere in-between, carrying the entry-level V8, a smooth 289 cubic inch mill that's a good match for the manual transmission. I know some of you are bemoaning that it doesn't have a 390 under the hood, but remember that you'll also have to feed a 390, and it likes a steady diet of premium fuel. In today's world, this more affordable Galaxie makes a lot of sense with its thrifty 289 that happily runs on regular. The engine bay is tidy and well-maintained, with a new aluminum radiator and fresh water pump, a rebuilt carburetor, new belts and hoses, and a tune-up, so it's healthy enough to enjoy right away. Long-tube headers may add a few horsepower and definitely help the torque curve, and the handsome V8 just goes about its business without any fuss—easy starts, nice idle, and pleasing road manners. The 3-speed manual gearbox shifts nicely with that Hurst shifter and there are easy-cruising 3.00 gears out back, making this a good car for highway work. The undercarriage is unquestionably original, so it's not shiny and detailed, but if you look closely you'll see that the floors are in good condition and there's only surface scale on the heavy-metal parts—this is not a rot box. The dual exhaust system features glasspack-style mufflers so it has that mellow '60s sound and with air shocks out back, it's easy to keep it on an even keel. Modern aluminum wheels add a little flash and it sits on recent 215/65/15 whitewall radials.
Documentation includes the original owner's manual.
This is a lot of convertible for the money. If you like the color, you'll also like being the center of attention wherever you go. It's entertaining to drive with the manual gearbox and full-sized convertibles are fantastic hobby cars that are welcome just about anywhere. Unusual and with good bones, this is an enjoyable old convertible that doesn't ask for much in return for all the fun you'll have. Call today!
Harwood Motors always recommends and welcomes personal or professional inspections of any vehicle in our inventory prior to purchase.
· Mileage: 30,899
· Color: Pagoda Green
Mileage
30,899
Exterior Color
Pagoda Green
Interior Color
Black Vinyl
Doors
2 Dr
Engine
289 Cubic Inch V8
Transmission
Manual
Stock #
119075
VIN
4W65C122671

Estimated Monthly Payment
Harwood Motors

Call 440-565-5335

MACEDONIA, OH

Mention

AutaBuy.com

when you call.
Do you have a similar car to sell? List It Now!
More from this Dealer View All
Share this Listing
Additional Services: