You auta tell them you saw the ad in AutaBuy when you call or email.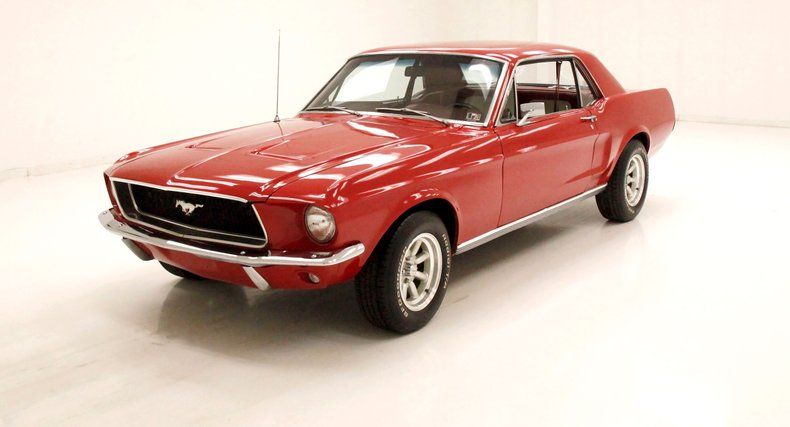 Exterior Color
Rangoon Red
Stock #
4771

Estimated Monthly Payment
1967 Ford Mustang Hardtop
1967 Ford Mustang Hardtop
From the 1967 Mustang advertising, bred first... to be first. Then going on to list various features and at the end that say and I quote ""Smitten? Great! I now pronounce you man and Mustang?""
A marriage made in heaven with Rangoon Red on the exterior, a shiny snazzy two toned red and white interior, new center console, and plenty of new bodywork and improvements to remediate all rust. I do, I do..... really love this car!
Exterior
Complete with the hockey stick vented panel in the front of the rear quarter, and extending into the doors, this gleaming red example has been expertly massaged on the body work front with new frame rails, rear partial frame rails, floor pans, door skins, trunk lid, rear quarters and wheel wells, battery apron, front fender lowers and then a new fresh respray. The gaps are now spot on and all is nice and tight. For this year, the grill remains virtually the same but the rear has gone to inverted V triple tail lights which is just the opposite of the previous version of the back of this car. All chrome is excellent including all trimmings and in all 4 corners are Koenig wide 8-spoke mag wheels wrapped in BFG raised white lettered Radial T/A's Shine on you crazy red rust free diamond!
Interior
A swing of the doors and what's inside is eye popping! Shining like the showroom, the front buckets and rear bench welcome you to get in and drive into new style. That style being low back bomber styled buckets with red bolsters and white inserts. The white utilizes some tuck and roll with smooth edges. Chromed trimmings run up the center of the edges and hide the hinges for the folding backs to access the rear seating. On the hump is a new console also in matching red with a high deep glovebox/armrest and dual cup holders. In front of this, also residing on the hump is the shift lever. Slipping past the 3 point seat belts I climbed in the back onto a nice bench that matches the front seats perfectly and all in excellent condition. Speaking of which, on front is the factory dash also upgraded from the original design and harkening back to the 1964.5 models still with dual round instruments, but now with the addition of 3 more rounds in smaller format just above and between the larger rounds. Black vinyl with a bit of texture is the background and then it changes to white steel, which goes back and forth between the white and red for that horizontal strip which runs entirely across the dash in front. I note a new AM/FM/CD player and a Grant GT rally padded steering wheel replacing the original. Beautiful red carpeting covers the floors and has badged mustang stitched carpeted floor mats protecting it. The dash top is pristine with no cracks and above a tight deep red headliner floats above all this finery, which is literally all new!
Drivetrain
The standard 200ci inline 6 cylinder is in an original engine bay which is clean and presents with a nice patina, all in blue painted glory. A single 1-barrel carburetor and a 3 speed manual transmission from the factory is attached. On the back, a Ford 7.25 rear pumpkin resides. New wiring and hoses and a new clutch and pressure plate with less than 3800 miles is now in.
Undercarriage
I note a solid rust free aged gracefully frame. Noted above are the new undercarriage parts plus new torque boxes for better structural rigidity for this car. Some surface rust is on the usual suspects but nothing invasive is seen. All structurally sound under here, with drum brakes and stock exhaust. Independent coil spring suspension in front and leaf springs for the rear.
Drive-Ability
A test drive reveals just how nice this restoration really is with a totally comfy interior and the new console is fab! The car fired right up and off I went for my drive which included the necessary initial Panic stop test which out assed with flying bias free colors. Nice acceleration from the I-6 which runs super smooth and smooth easy shifting. All functions were working swimmingly at the time off the test drive.
With new parts aplenty to remediate any rust, we now have virtually a new structurally stable 67 model 'Stang with an I-6 and snazzy interior all new. Hurry on in as this will not last long. The public loves this kind of restoration and so will you when you lay your short little hands in it, you will not be able to take them off! You wild horse, you..!
7T01T229127
7-1967
T-Metuchen, NJ Assy Plant
01-Mustang Hardtop
T-200ci Inline 6 Cylinder
229127-Sequential Unit Number
BUCK TAG
D-Dealer Car
271-Rotation Number
21-Welding Bay #
D13-April 13th
65A-Mustang Hardtop, Standard Buckets
I-Lime Gold
2A-Standard Buckets
Classic Auto Mall is a 336,000-square foot classic and special interest automobile showroom, featuring over 850 vehicles for sale with showroom space for up to 1,000 vehicles. Also, a 400 vehicle barn find collection is on display.
This vehicle is located in our showroom in Morgantown, Pennsylvania, conveniently located just 1-hour west of Philadelphia on the I-76 Pennsylvania Turnpike. The website is www.classicautomall.com and our phone number is (888) 227-0914. Please contact us anytime for more information or to come see the vehicle in person.
Exterior Color
Rangoon Red
Stock #
4771

Estimated Monthly Payment
Classic Auto Mall

Call 888-227-0914

MORGANTOWN, PA

Mention

AutaBuy.com

when you call.
Do you have a similar car to sell? List It Now!
More from this Dealer View All
Share this Listing
Additional Services: